What's New in March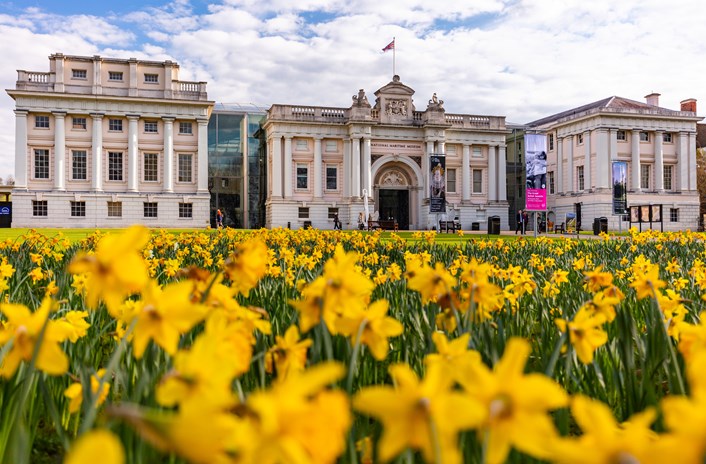 Watch London bloom into spring with great outdoor events, exhibitions and theatre offerings.
Whether it's seeing a brand new musical based on Sleepless in Seattle or visiting the much-anticipated Andy Warhol exhibition, embrace the new season and bluer skies with one of the many activities London has to offer.
For more information on What's New in London, go to visitlondon.com  
You can also follow the London & Partners communications team on Twitter at @londonpartners 
Events
Trafalgar Square, 15 March 2020
Every 17 March, Ireland celebrates one of its patron saints, St Patrick, with a national holiday and a traditional feast. London marks St Patrick's Day with fun and spectacular events every year. Watch St Patrick's Day performances by well-known Irish acts, rising stars and special guests. Then browse craft stalls, and tuck into traditional and modern Irish food from the market. For more information, contact stpatricksday@london.gov.uk
Southbank Centre, 6 – 8 March 2020
WOW – Women of the World is a global movement celebrating women and girls, taking a frank look at the obstacles they face. WOW London 2020 is the 10th anniversary of WOW and will feature three days of unforgettable events, performances and debates from the world's leading speakers, activists and performers. For more information, contact hello@thewowfoundation.com
Copper Box Arena, 14 – 24 March 2020
Watch more than 350 professional boxers compete to secure one of just 77 places to participate in the Tokyo 2020 Olympic Games. The event will be the first major international Olympic boxing competition to be held in Great Britain since the London 2012 Olympic Games and will include eight men's and five women's weight categories. For more information, contact info@gbboxing.org.uk
Central London, 29 March 2020
The London Landmarks Half Marathon is a closed road, central London run and is the only half marathon to go through both the City of London and City of Westminster. From cultural landmarks and heritage to the city's quirky and hidden secrets, this is a chance for runners to explore the capital on a route like no other. For more information, contact LLHM@promotepr.com
River Thames, 29 March 2020
The Boat Race is an annual contest between rowing crews from Oxford and Cambridge Universities that takes place each year on the River Thames in south west London between Putney and Mortlake. The first Men's Boat Race took place in 1829 in Henley on Thames following a challenge between old school friends. Since the second Race in 1836, the contest has taken place in London. For more information, contact moconner@theboatrace.org
Exhibitions
Serpentine Gallery, 4 March – 17 May 2020
Born in 1978 in Guangzhou, Cao Fei is one of the most innovative young Chinese artists to have emerged on the international scene. She mixes social commentary, popular aesthetics, references to Surrealism and documentary conventions in her films and installations. This exhibition will bring together new and existing works in an immersive, site-specific installation, expanding on the themes of automation, virtually and technology that Cao Fei continuously draws on. For more information, contact RoseD@serpentinegalleries.org
Tate Britain, 4 March – 25 May 2020
Aubrey Beardsley shocked and delighted late-Victorian London with his sinuous black and white drawings. He explored the erotic and the elegant, the humorous and grotesque, winning admirers around the world with his distinctive style. Spanning seven years, this exhibition will cover Beardsley's intense and prolific career as a draughtsman and illustrator, cut short by his untimely death from tuberculosis, aged 25. For more information, contact pressoffice@tate.org.uk
Tate Modern, 12 March – 6 September 2020
This major retrospective is the first Warhol exhibition at Tate Modern for almost 20 years. Not only will his iconic pop images of Marilyn Monroe, Coca-Cola and Campbell's soup cans be displayed, it includes works never seen before in the UK. Twenty-five works from his Ladies and Gentlemen series – portraits of black and Latinx drag queens and trans women – are shown for the first time in 30 years. For more information, contact pressoffice@tate.org.uk
National Portrait Gallery, 12 March – 7 June 2020
This major new exhibition will explore the extravagant world of the glamorous and stylish 'Bright Young Things' of the twenties and thirties, seen through the eye of renowned British photographer Cecil Beaton. This show will chart Beaton's transformation from middle-class suburban schoolboy to glittering society figure and the unrivalled star of Vogue. For more information, contact press@npg.org.uk
Guildhall Art Gallery, 13 March – 14 June 2020
The Enchanted Interior explores the recurring motif of female subjects in art, as depicted in enclosed, ornate interiors. Such images are inherently alluring yet sinister, carrying implications of enforced isolation. This theme is prevalent in nineteenth-century British painting, with many Pre-Raphaelites and Orientalists showing a fascination with the so-called 'gilded cage'. For more information, contact john.park@cityoflondon.gov.uk
The National Gallery, 16 March – 14 June 2020
In 1551, Prince Philip of Spain, the future King Philip II, commissioned Titian, the most famous painter in Europe, to produce a group of paintings showing classical myths primarily taken from the Roman poet Ovid's 'Metamorphoses'. This exhibition will combine Titian's remarkable talent as artist and storyteller and will reunite five of the six paintings in the series for the first time in over three centuries. For more information, contact press@ng-london.org.uk
Canary Wharf, 16 March – 26 June 2020
Canary Wharf Group presents the largest solo exhibition to date of the work of Helaine Blumenfeld OBE. Her lyrical and dynamic sculptures will be shown in the Lobby of One Canada Square until 26 June and in outdoor locations across the Estate, including Jubilee Park, throughout the summer. For more information, contact Svetlana@suttoncomms.com
Royal Academy of Arts, 29 March – 14 June 2020
The Ordrupgaard Collection in Denmark is home to some of the most important impressionist paintings in northern Europe. In the spring of 2020, the Royal Academy of Arts will showcase 60 of its works by painters such as Manet, Monet, Renoir, Pisarro, Morisot and Degas – many of which have never been seen in the UK. For more information, contact press.office@royalacademy.org.uk
Entertainment & Theatre
Duke of York's Theatre, 5 March – 11 April 2020
Novelist Charles Condomine and his second wife Ruth are literally haunted by a past relationship when an eccentric medium – Madam Arcati – inadvertently conjures up the ghost of Charles' first wife, Elvira, at a séance. Jennifer Saunders, one of the UK's most popular comic actresses, stars in Blithe Spirit. For more information, contact lewis@thecornershoppr.com
Various Venues, 5 March – 10 April 2020
The London Handel Festival is an annual celebration of the life and work of composer George Frideric Handel. Founded in 1978, the London Handel Society has played a crucial role in the revival of interest in Handel's music and each year, the London Handel Festival presents around 40 events held in venues across London to celebrate Handel's extraordinary creative life in the city which he made his home. For more information, contact administrator@londonhandelfestival.org.uk
Trafalgar Studio Two, 10 March – 4 April 2020
Critically acclaimed, award-winning writer Stephen Laughton has written One Jewish Boy as an urgent response to overt anti-Semitism. Stephen Laughton explores one young family's struggle against fear, prejudice and identity. For more information, contact dbradbury@trafalgarentertainment.com
Playhouse Theatre,11 March – 30 May 2020
Emilia Clarke will make her West End debut as she takes on the role of Nina in Anton Chekov's play The Seagull, in a new version by Anya Reiss. A young woman is desperate for fame and a way out. A man is pining after the woman of his dreams. A successful writer longs for a sense of achievement. An actress wants to fight the changing of the times. In an isolated home in the countryside where dreams are in tatters and there is nowhere left to turn, the only option is to turn on each other. For more information, contact freya@katemorleypr.com
Troubadour Wembley Park Theatre, 21 March – 3 May 2020
SLEEPLESS - A Musical Romance is based on the original screenplay Sleepless in Seattle. Performances will begin in 2020 from Saturday 21 March at the newly opened Troubadour Wembley Park Theatre, London. A fresh and lively look alongside a brand-new musical score bring this most timeless of romantic comedies to life on stage. For more information, contact info@amandamalpass.com
Food & Drink
Alexandra Palace, 14 - 15 March 2020
The Vegan Life Live London show returns in 2020, showcasing all the amazing food one can eat whilst being vegan, from pizzas to burgers to curry. For those who want some ideas to take home to their own kitchens, learn from some amazing vegan chefs in cookery demos. They'll be whipping up quick family dinners to delicious desserts, and everything in between. For more information, contact sian@primeimpact.co.uk
Olympia London, 27 March – 13 April 2020
Eat & Drink Festival returns packed full of delicious food and marvellous mixology. Take home ingredients, condiments, sweet treats and drinks from over 100 of the best artisan and independent producers. Learn how to create your very own culinary masterpieces from TV personalities and celebrated chefs and discover tips and tricks from drink industry experts. For more information, contact info@eatanddrinkfestival.com
Marylebone, March 2020
Santiago Lastra will be opening his debut restaurant, KOL, on Seymour Street, Marylebone in March. KOL, taken from the Spanish word for cabbage (col), represents Santiago's belief that the simplest things can be made extraordinary if treated with the care and attention they deserve. Originally from Mexico, Santiago's menu draws inspiration from ideas and techniques developed from extensive exploration of Mexico's culinary hotspots and heritage. For more information, visit https://kolrestaurant.com/
About London & Partners:
London & Partners is the Mayor of London's official promotional agency. Its purpose is to support the Mayor's priorities by promoting London internationally, as the best city in the world in which to invest, work, study and visit. We do this by devising creative ways to promote London and to amplify the Mayor's messages, priorities and campaigns to international audiences. Its mission is to tell London's story brilliantly to an international audience.
London & Partners is a not-for-profit public private partnership, funded by the Mayor of London and our network of commercial partners. For more information, visit londonandpartners.com
About visitlondon.com:
visitlondon.com is the most influential source of information for overseas visitors to London and features thousands of attractions both large and small across the entire city. Every year the site attracts 28 million unique users.
For high res, rights-free images of London, please register at https://photos.london/press/
Media Enquiries:
London & Partners Media & PR Team
Tel: +44 (0)20 7234 5710
Switch: +44 (0)20 7234 5800
Email: press@londonandpartners.com