What's New in April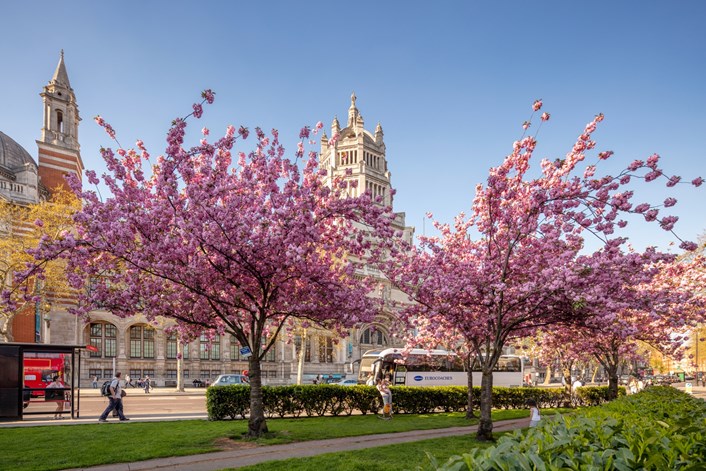 Explore the latest exhibitions in London from the Art of Banksy to British Royal Portraits this season.
For more information on What's New in London, go to visitlondon.com   
You can also follow the London & Partners communications team on Twitter at @londonpartners  
Events
RHS Horticultural Halls, 7 – 8 April 2020
In this new season, the RHS London Spring Launch and Orchid Show is celebrating colourful and scented early-flowering plants alongside exotic orchids from around the world with displays and exhibits focused on resourcefulness, sustainability and our relationship with plants. Learn about different aspects of gardening in urban environments; from houseplants to balcony gardening and growing your own fruit and veg. For more information, contact pressoffice@rhs.org.uk
Trafalgar Square, 23 – 24 April 2020
The Mayor of London invites Londoners and visitors alike to join in celebrating the nation's patron saint, with live music, food and free fun for all ages in one of London's most iconic locations. Trafalgar Square will turn red and white in honour of England's national day. For more information, contact mayorspressoffice@london.gov.uk
Trafalgar Square, 25 April
This spring, in celebration of the Sikh and Punjabi tradition, the Vaisakhi festival returns to showcase their many traditions. There'll be fun activities for all including a chance to wear a turban, an art exhibition and Gatka, Sikh Martial Arts. For more information, contact mayorspressoffice@london.gov.uk
Across London, 26 April 2020
This year, the world-famous London marathon will reach another landmark moment in its extraordinary history – The 40th Race. From the legendary hand-in-hand finish of joint winners Dick Beardsley and Inge Simonsen in the very first London Marathon to countless world records; from crazy costumes to the incredible and inspiring examples of spirit and courage, The 40th Race will celebrate them all. For more information contact, press.office@viriginmoneyukplc.com
Southbank, April – September 2020
The Underbelly festival returns this year to deliver a series of live entertainment, alfresco eating and drinking at the Southbank. Stretching throughout the summer, the festival returns in 2020 with stages full of affordable circus, theatre, cabaret, comedy, music and children's shows on the south bank of the Thames. For more information, contact gregor@borkowski.co.uk
Various venues, April – June 2020
The ground-breaking global hockey competition returns in 2020, bringing together the world's best men's and women's teams and renewing some fierce rivalries as nations battle it out ahead of Tokyo 2020. For more information, contact craigortimer-zhika@englandhockey.co.uk
Exhibitions
Design Museum, 1 April – 26 July 2020
This year, the Design Museum's latest exhibition showcases how people, art, design, technology and photography have developed the electronical music landscape. Step into the visual world of The Chemical Brothers for one of their legendary live shows, as visuals and lights create a new three-dimensional experience. For more information, contact pr@designmuseum.org
National Maritime Museum, 3 April – 31 August 2020
Tudors to Windsor's will feature over 150 works from some of the most important artists ever to have worked in Britain, from court painter Sir Peter Lely to photographers Cecil Beaton and Annie Leibovitz and contemporary artists such as Andy Warhol. The artworks will span five royal dynasties: the Tudors, Stuarts, Georgians, Victorians and Windsor's. For more information, contact press@rmg.co.uk
Museum of London Docklands, 3 April – 1 November 2020
This spring, the Museum of London Docklands' major exhibition will showcase the largest ever Bronze Age hoard, recently unearthed in Havering. As part of the exhibition, 453 bronze objects will be on display including, axe heads, spearheads, fragments of swords and knives alongside some other unusual objects rarely found in the UK. For more information, contact press@museumoflondon.org.uk
National Gallery, 4 April – 26 July 2020
In this first major exhibition of Artemisia's work in the UK, see her best-known paintings including two versions of her iconic and viscerally violent 'Judith beheading Holofernes'; as well as her self portraits, heroines from history and the Bible, and recently discovered personal letters, seen in the UK for the first time. For more information, contact press@ng-london.org.uk
British Museum, 23 April – 26 July 2020
The British Museum's major exhibition for spring 2020 is devoted to the Tantras, sacred Indian texts from the 6th century that shaped the meditational and devotional practices of Tantric Hinduism and Buddhism. The exhibition will explore the rebellious spirit of Tantra and how it has challenged political, sexual and gender norms around the world. It is it the first major exhibition ever held in the UK on the history of Tantra. For more information, contact communications@britishmuseum.org
South Kensington venue TBC, 23 April 2020 – ongoing through summer season
A touring exhibition featuring works by famous painter, graffiti artist and social activist, Banksy, is set to open in London this April. The exhibition will hold the world's largest collection of privately-owned Banksy art including iconic works such as 'Girl and Balloon' for the general public. On display will be prints, canvasses, screen prints, sculptures, unique works and limited editions from 1997 to 2008, the period in which Banksy's most recognisable works were created. For more information, contact julie.holman@target-live.co.uk
V&A, 25 April 2020 – 31 January 2021
This spring, the V&A will open Bags: Inside Out, the UK's most comprehensive exhibition dedicated to the ultimate accessory. From designer handbags to despatch boxes, vanity cases to military rucksacks, the exhibition will explore the world's longstanding fascination with the bag. Margaret Thatcher's iconic handbag, Winston Churchill's despatch box and a World War II gas mask bag belonging to Queen Mary will all make an appearance. For more information, contact c.walker@vam.ac.uk
Entertainment & Theatre
Old Vic Theatre, 6 April – 19 May 2020
Matthew Warchus directs Eileen Atkins and Oscar nominee Timothée Chalamet in his London stage debut this spring in Amy Herzog's Pulitzer prize nominated play 4000 Miles. At the beginning of the summer 21-year-old Leo sets out from the West Coast cycling across America. After weeks of radio silence, no one is more surprised than his 91-year-old grandmother, Vera, when Leo turns up on her Manhattan doorstep in the middle of the night. His life just starting, hers nearly ended, in a faded Greenwich Village apartment their griefs collide. For more information, contact enquiries@oldvictheatre.com
National Theatre, 7 April – 6 June 2020
Moira Buffini's, Manor features Diana and Ted played by Nancy Carroll and Ben Daniels in this thrilling new witty play. As a violent storm sweeps the coast, Diana Stuckley and her daughter are struggling to keep the roof on their run-down manor house, when neighbours and strangers begin to appear on their doorstep, seeking shelter from the floods. Stranded together, this explosive mix of people must survive the weather, and each other. For more information, contact lterry@nationaltheatre.org.uk
Shakespeare's Globe, 14 April – 12 July 2020
This spring, Shakespeare's classic, Romeo and Juliet returns to showcase the tragedy of two, young star-crossed lovers from two feuding families and their famous love story. For more information, contact jessica.s@shakespearesglobe.com
Royal Albert Hall, 17 April – 3 May 2020
Love Classical returns to the Royal Albert Hall in 2020. Hear some of today's finest artists perform much loved repertoire in the heart of classical music. Join Welsh bass-baritone Sir Bryn Terfel for an incredible evening of music, hear pieces by Beethoven, Mendelssohn and Saint-Saens performed by UK's most brilliant rising stars celebrate timeless choral classics with the Royal Philharmonic Orchestra. Expect a night to remember in their spectacular auditorium. For more information, contact rickb@royalalberthall.com
Duke of York's Theatre, 20 April – 11 July 2020
On an ordinary day, a young woman fights for her life. A priest arrives to save her soul. Her doctor refuses him entry. An exploration of medical ethics and many other issues, from identity politics to media witch hunts, The Doctor is directed by Robert Icke and starts Juliet Stevenson. For more information, contact emma@emmahollandpr.com
London Coliseum, 23 April – 19 July 2020
Baltimore, 1962, Tracy Turnblad is a big girl with big hair and big dreams. Can she make it on the local TV dance show, win the heart of teen heartthrob Link Larkin and bring everyone together – whatever their colour, size or hairdo? Michael Ball reprises his Oliver Award-winning role as Edna Turnblad in Hairspray the Musical. For more information, contact mediaenquiries@eno.org
Food & Drink
Spitalfields, 2 April – 5 April 2020
The largest festival of its kind in the UK, the London Coffee Festival will be celebrating London's vibrant coffee culture featuring gourmet coffee, speciality tea, artisan food, demonstrations from world-class baristas, live music and a comprehensive 'lab' seminar programme that will educate eve the keenest of coffee lovers. For more information, contact info@londoncoffeefestival.com
Fitzrovia, 7 April
This spring, Akoko, the new west African restaurant opens, dedicated to serving traditional dishes from across West Africa, with an emphasis on their sustainably grown ingredients from African and British suppliers. While their interior showcases the natural beauty and earthiness of West Africa, Akoko offers a memorable experience of exotic flavours of Africa. For more information contact, info@akoko.co.uk
Old Billingsgate, 17 – 18 April 2020
The Vintage Festival will deliver a spectacular array of tastes from around the globe in 380 wines, along with artisan food, fun events and special tasting features – not to mention the opportunity to discuss your favourite wines with the experts behind them. For more information, contact info@vintagebyhemingway.co.uk
About London & Partners:
London & Partners is the Mayor of London's official promotional agency. Its purpose is to support the Mayor's priorities by promoting London internationally, as the best city in the world in which to invest, work, study and visit. We do this by devising creative ways to promote London and to amplify the Mayor's messages, priorities and campaigns to international audiences. Its mission is to tell London's story brilliantly to an international audience.
London & Partners is a not-for-profit public private partnership, funded by the Mayor of London and our network of commercial partners. For more information, visit londonandpartners.com

About visitlondon.com:
visitlondon.com is the most influential source of information for overseas visitors to London and features thousands of attractions both large and small across the entire city. Every year the site attracts 28 million unique users.
For high res, rights-free images of London, please register at https://photos.london/press/
Media Enquiries:
London & Partners Media & PR Team
Tel: +44 (0)20 7234 5710
Switch: +44 (0)20 7234 5800