London enlists locals to help tell city's story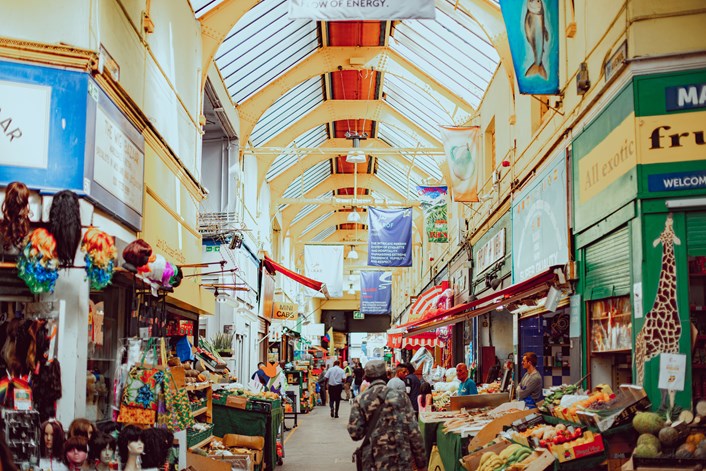 You know the city, now meet the people who make it tick
18 June 2020 – Today, Visit London is launching London Stories, a new weekly online series developed to shine a light on the people who make up the very fabric of the city, and part of the Because I'm a Londoner campaign.
As people around the world continue to adapt to their new lives in the wake of the coronavirus outbreak, the series seeks to embrace the shared experience people around the world are going through together, encouraging us to listen and learn from each other.
Shot only on phones and by the guests themselves, this social media led series will offer a unique glimpse into the lives of real Londoners from various walks of life and highlight their special relationship with the city.
From the Chief Yeoman Warder 'locked down' at the Tower of London to a Brixton Village restaurant legend embracing the new dining out scenario, a range of real Londoners will give visitors and residents alike a closer look at their life in the capital, as well as a glimpse into the "new normal" in segments up to ten minutes long.
The first episode will go live on the Visit London Instagram and Facebook pages at 5pm BST on Friday 19th June and each episode will air weekly going forwards. Preview of the first episode will be made available to media upon request.
Viewers are encouraged to get involved by sharing their own London story using #BecauseImALondoner.
Guest Schedule
5pm Friday 19 June: Pete McGowran, Chief Yeoman Warder at the Tower of London
5pm Friday 26 June: Ryan Chetiyawardana (A.K.A Mr Lyan), cocktail bartender and owner of Lyaness at Sea Containers London and restaurant Cub
5pm Friday 3 July: Richard Moore, botanical horticulturalist at Royal Botanic Gardens of Kew
5pm Friday 10 July: Sarah Ciacci, Emily Dell, Antony Robbins and Danny Parlour, members of the British Guild of Tourist Guides (Blue Badge Tourist Guides)
5pm Friday 17 July: Brian Danclair, Executive Chef and Founder of Fish, Wings n Tings restaurant at Brixton Village
London Stories forms part of Because I'm a Londoner, a new city-wide campaign launched to build consumer confidence and support a responsible recovery as lockdown eases. This collective response to the coronavirus outbreak is being orchestrated by London & Partners and supported by the Mayor of London and Transport for London and brings together businesses from across the city.
For more information on the Because I'm a Londoner campaign, visit londonandpartners.com/JoinAlliance
Laura Citron, Chief Executive Officer of London & Partners which runs Visit London said:
"The coronavirus has forced destinations around the world to find new, creative and more authentic ways to stay in touch with their audiences and inspire them. Our city is only as good as our people and, given the distressing time we've all been through, taking a step back and letting Londoners tell their stories felt like the right thing to do. As London starts reopening, there is no one better placed than them to help fellow locals and visitors discover and rediscover their city through a new lens. We hope our viewers enjoy this little piece of London in their home during a time when we all miss it very much."
Ryan Chetiyawardana said:
"I'm hugely proud to be part of the diverse threads that make up London, so taking part in London Stories and talking about what excites and inspires me was a real honour. There are so many different aspects that make London great, and I'm excited to join in and shine a light on some of these. London to me is the most exciting city in the world!"
Brian Danclair said:
"Right back from my early years in Trinidad and then Washington, D.C. I've always been passionate about food, but it's in London that I have been able to turn that passion into a business. I love being able to share my heritage, my culture and experiences with everyone coming to visit at Brixton Village. We're a really close-knit community in the Village, and I'm really proud to be able to represent it as part of London Stories."

Pete McGowran said:

"Here at Historic Royal Palaces we've been pleased to take part in the London Stories campaign. I feel privileged to live and work in one of the city's most iconic attractions, the Tower of London, and, to be able to give people a glimpse of what it's been like here during the lockdown is really special. We can't wait to welcome visitors back inside our walls and for people to explore this magnificent city I call home!"


Join the conversation on social media with #BecauseImALondoner.
Notes to editors
High-res images of the guests and their places of work, as well as the first episode's trailer are available to download here: https://www.dropbox.com/sh/jddycanrvvfa6l3/AADC_Eg8pcL2qR1Gh8MpAWf6a?dl=0
A view-only preview of the first episode is available on request.
For more information and interview requests, contact:
London & Partners Communications Team | press@londonandpartners.com
Guest Bios
In 2018, Pete McGowran was appointed as Chief Yeoman Warder. A former airman, Pete was the first veteran of the Royal Air Force to occupy the position. His role as Chief Yeoman Warder includes conducting ceremonial duties such as the Ceremony of the Keys, a closing ceremony that has taken place every night at the Tower of London for at least 700 years, along with the Tower's Opening Ceremony, State Parades, and the ancient ceremony of the 'Constable's Dues.'
Pete has been married for over 40 years to his wife Debbie, also former RAF, and is the proud father to 3 children and grandfather to 5 granddaughters and 2 grandsons. In his spare time he enjoys going to concerts, playing music and has a fine singing voice!
Ryan Chetiyawardana (A.K.A Mr Lyan)
Ryan Chetiyawardana (A.K.A Mr Lyan) has been involved in several of the World's best bars for over fifteen years. He helped take the last six of these onto national and international titles and all featured in the 'World's Best Bars' list for 50 Best, and in 2018, Dandelyan was named "World's Best Bar" by 50 Best Bars. He has been named UK bartender of the Year twice and in 2015 was named 'International Bartender of the Year'. In 2019, Ryan was named No 5 in the Business Insider most influential figured globally in Food and Drink, and was named in the inaugural Bar World 100 as the most influential figure in drink around the world by Drinks International.
Born to Sri Lankan parents, he is one of three siblings (with two extras added in later!), and as the youngest, was free to apply his curiosity to a range of subjects. Although this has taken him all around the world, his love of London caters to his interests in science, arts, nature and sociology. He lives in East London with his cat Batman.
Sarah Ciacci, Emily Dell, Antony Robbins and Danny Parlour
Antony Robbins is a writer, speaker, broadcaster and former director of communications at the Museum of London. As a guide and communications consultant, he is also known as Mr Londoner and helps connect people with the capital, highlighting the many stories the city has to offer. Passionate about menswear (ask him anything about London's hidden shops or traditional tailoring), Antony reveals London's secrets to curious travellers while inviting locals to learn more about their city.
Born and raised in south London, Danny Parlour is passionate about the city he calls home. From breaking down the capital's 2,000-year history to providing helpful tips to visitors, Danny knows how to give a royal welcome – his career includes previous roles inside London's finest royal palaces such as H.M. Tower of London, Kensington Palace, Hampton Court Palace and the Banqueting House.
Emily Dell began her guiding career after moving to London in 2005 from the Isle of Wight and since then delivered hundreds of stories to visitors on foot, atop open top buses and on coaches. An artist on the side, Emily also loves to recreate her favourite guiding sites as drawings for visitors who want to take a piece of London home.
Sarah Ciacci is the Director of Tours For My Kids and creates tours designed to open young people's eyes, ears and hearts to fully appreciate London's many facets. Specialising in art, galleries and museums, Sarah has decoded great artistic masterpieces with many visitors. Sarah is a second-generation Blue Badge Tourist Guide – her father is an accredited guide as well.
Richard's horticultural career began at Pershore College, graduating with 1st class honours in Horticulture BSc. Since then he has worked in a variety of historic gardens, as well as training in a range of Japanese gardens. He was exceptionally proud to become the UK's Young Horticulturalist of the Year 2019. After working as a landscape gardener Richard's dream came true to be able to work at The Royal Botanic Gardens, Kew as a Botanical Horticulturalist.
He says: "Being surrounded by the world's most wonderful collection of plants is a true privilege!"
Convivial and hospitable are two traits that sum up the ethos of Chef Brian Danclair and his restaurants. This warm and welcoming persona was developed at an early age, stemming from his relationship with his grandmother, Valentina Castillo Caballero, herself an accomplished cook. She enjoyed feeding anyone and everyone in Port au Spain, Trinidad, and Brian grew up watching her use food as a tool to show love and investment in her local community.
It was Valentina who inspired him to follow his passion for food, and when he was 19, Brian moved to Washington, D.C. to work under some of the top chefs in the world. Trained in French Provençal cooking, Brian has developed what he calls "Nouvelle Caribbean cuisine", an amalgamation of the techniques learned under the likes of Yannick Cam, Jean-Louis Paladin, and Frank Ruta, applied to memories of tastes from his native Caribbean.
A long-time resident of South London, Brian's instincts led him to open his first restaurant Fish, Wings n Tings in Brixton Village in 2012. Continuing in the spirit of his grandmother, Brian incorporates family and community into everything he does.
About London & Partners and visitlondon.com
Visitlondon.com is the official visitor guide to London and is run by London & Partners, London's international trade, investment and promotion agency. Its role is to promote London internationally as a leading world city in which to visit, study, invest, grow and meet. Its mission is to tell London's story brilliantly to an international audience.
London & Partners is a not-for-profit company. We are half funded by the Greater London Authority (GLA) and half from other sources including commercial activity. For more information visit londonandpartners.com
Visitlondon.com is a comprehensive resource for everything that is happening in London. At any one time, this includes 20,000 event listings, plus content designed to inspire and assist visitors. Visitlondon.com is available in English, French, Italian, German and Spanish. Each month visitlondon.com attracts more than 3.5m visits and its social media channels have 1.75m followers. For more information visit visitlondon.com
For high res, rights-free images of London, please register at photos.london/press
Media contact:
London & Partners Communications Team
Twitter: @londonpartners | @visitlondon