'Because I'm a Londoner' campaign launched to help build consumer confidence and kickstart economy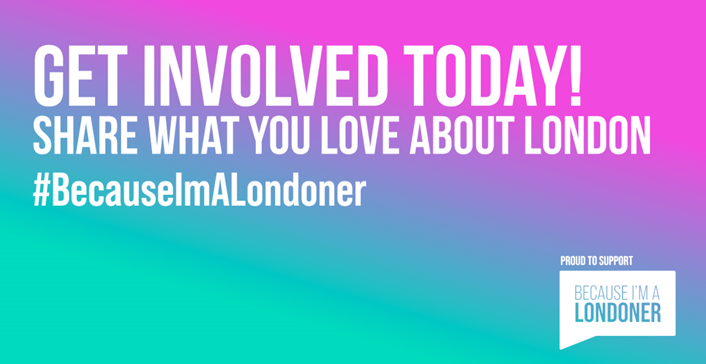 New citywide campaign launched to build consumer confidence and encourage a responsible recovery in consumer spending.
The campaign is led by an Alliance of more than 100 major London businesses and brought together by London & Partners and supported by the Mayor of London, London Councils and Transport for London.
High-res images are available to download here: DropBox
In a collective response to the coronavirus pandemic, the London Alliance brings together London's businesses, brands, cultural organisations and city authorities to sustainably kickstart London's consumer economy. The London Alliance will come together under the campaign Because I'm a Londoner, that aims to join Londoners as a united community, committed to helping renew the city.
The campaign, backed by Alliance members including Mastercard and O2, supported by Salesforce and strategic partners Adam&EveDDB, is encouraging further support from across London's business ecosystem and seeks to inspire large brands, small businesses and Londoners to join in and be part of building a responsible part of promoting consumer confidence.
The Because I'm a Londoner campaign forms one part of the Mayor of London's #LondonTogether initiative, which brings Londoners together in this challenging time through helping them access the information and support they need and shining a light on great examples of community action taking place across the city. The campaign will encourage responsible behaviour, in full alignment with Government and public health advice.
The Mayor of London, Sadiq Khan, said: "I'm delighted to support the 'Because I'm a Londoner' campaign, which showcases the capital's fantastic local businesses and encourages Londoners to safely and responsibly rediscover their local high streets and town centres. I'm determined to do all I can to help our city's businesses navigate the continuing uncertainty. I'm confident this London Alliance will help build new partnerships and collaborations and, ultimately, help London emerge stronger than ever."
How can businesses get involved:
Sign up to join the London Alliance: download the free-to-use marketing assets - accessed via a dedicated website at: londonandpartners.com/JoinAlliance
Join businesses across London in a social conversation highlighting London's amazing local areas, using the hashtag #BecauseImALondoner
Encourage other businesses and their networks to share stories across their own channels using the campaign hashtag
Laura Citron, CEO, London & Partners, said: "This campaign is the London business community at its best – coming together to support each other and restore confidence. London's culture and lifestyle make this city amazing: from markets to museums, cafes to clubs, bakeries to ballet. I am confident that Londoners will come together to support their local businesses. The campaign captures the unique spirit of Londoners. We've overcome big challenges in the past and we will do so again."
The London Alliance is running the Because I'm a Londoner campaign to inspire Londoners to safely explore their own areas and support local businesses, boosting consumer confidence and stimulating spending, to help the city reshape and recover. It will support London's culture, retail, hospitality and events sectors to thrive while we adapt to life after coronavirus lockdown is lifted, saving the jobs of some of the most vulnerable Londoners, and securing the unique culture and lifestyle that make London a global magnet for talent and investment.
The campaign will:
Reassure Londoners that going out responsibly is safe for them and for others https://www.gov.uk/coronavirus
Show that businesses are responding to the new aspirations of Londoners.
Give Londoners confidence that going out responsibly will be a great and safe experience.
Help Londoners support businesses which are currently struggling, in industries including hospitality, retail and leisure.
Encourage Londoners to share their passion for the city, giving others confidence to experience it too.
Cllr Clare Coghill, London Councils Executive Member for Business, Europe and Good Growth said: "Many businesses have been dealt a huge blow as a result of the Covid-19 pandemic. As we begin to emerge from lockdown, Londoners have a real opportunity to make a difference by supporting and celebrating hard-working local traders. This campaign shines a spotlight on the businesses that make London such a vibrant and unique place to live and work. We may be a big city, but the spirit of our communities is present in every borough. Now more than ever is a time to show our support for London's diverse and wonderful high streets and local businesses."
The London Alliance is open to any London business that wants to use the campaign or support it – sign up here: https://bit.ly/2N5I3z7
Notes to editors
Media contact: 
Contact: Nicola Osmond-Evans, Head of Communications
Tel: 07985 800 108
Email: nosmond-evans@londonandpartners.com
London & Partners Communications Team 
Tel: +44 (0) 7899706968
Twitter: @londonpartners
#BecauseImALondoner
For high res, rights-free images of London, please register at photos.london/press
About London & Partners
London & Partners is London's international trade, investment and promotion agency. Our purpose is to support the Mayor's priorities by promoting London as the best city in the world in which to invest, work, study and visit. We do this by devising creative ways to promote London and to amplify the Mayor's messages, priorities and campaigns. London & Partners is a not-for-profit public private partnership, funded by the Mayor of London and our network of commercial partners. For more information, visit: londonandpartners.com
Fast Facts:
Hospitality, culture, retail, leisure, and tourism employs one in five Londoners and generates £62bn GVA.​
These sectors employ disproportionately vulnerable and under-represented Londoners.
Loss of employment and a decline in real wages in these sectors will therefore have particularly severe impacts for vulnerable communities. ​
Businesses in these sectors are highly exposed to cash flow, consumer demand and find it more difficult to borrow.  ​
These sectors create the culture and lifestyle which underpin London's global competitiveness for talent and investors.
The capital is home to almost a quarter of a million SMEs in sectors which could benefit from, including retail, food, hospitality and the creative industries, employing about 800,000 people. Many have seen their income fall dramatically as a result of the restrictions introduced to limit the spread of coronavirus.
London Alliance major contributors include:
Mastercard is a global technology company in the payments industry. Our mission is to connect and power an inclusive, digital economy that benefits everyone, everywhere by making transactions safe, simple, smart and accessible. In 2016 Mastercard became London & Partners' first strategic client and since then has partnered with them on a number of exciting initiatives including, London Technology Week, Silicon Valley Comes to the UK and the Visit London App.
About Telefónica UK / O2  
O2 is the principal commercial brand of Telefónica UK Limited, part of the global telecommunications group Telefónica S.A, headquartered in Spain and operating in Europe, and North, Central and South America. With over 34.8 million connections, O2 is the UK's largest network providing 2G, 3G, 4G and 5G services while operating a nationwide O2 Wifi service.  For three consecutive years it has won Best Network Coverage provider at the publicly voted Uswitch Awards (2018, 2019, 2020).  It won Best Network Performance at the Mobile News Awards 2019 and was named Most Reliable Network by GWS in 2020.The company is the network of choice for mobile virtual network operators giffgaff, Sky Mobile and Lycamobile and manages a 50:50 joint venture with Tesco for Tesco Mobile. O2 has led the industry with its commitment to Customer Fairness. Since 2013 O2 Refresh has split airtime and device costs so customers never pay for a handset they already own, and the evolution of customisable plans gives customers true flexibility over how they pay for their mobile phone. From exclusive Priority Tickets which provide customers with pre-sale tickets for The O2 and O2 Academy venues, 48 hours before everyone else, to England Rugby matches - who O2 have proudly been sponsors of since 1995. O2 strives to do the right thing both as a business and for its customers.  It has committed to becoming net zero by 2025 and to working with supply chain partners to reduce carbon emissions by 30% in the next five years. The O2 Recycle scheme was named Best Recycle Service at the Mobile Industry Awards, and encourages customers to dispose of old devices responsibly.  Last year O2 was one of only three companies globally to be recertified at the highest level by the Carbon Trust Standard for reducing supply chain emissions.   Through its partnership with the NSPCC, since 2015 O2 has helped parents take over 7 million actions keep their kids safe online. O2 has 6,700 employees across three main office sites and 450+ retail stores, and was named a Best Place To Work in Glassdoor's 2019 Employee's Choice Awards. Its industry-leading inclusive policies have seen it recognised with a National Inclusion Standard accreditation. In 2019 the company introduced 14 weeks' paid paternity leave for heterosexual and same-sex couples, and it launched a toolkit for employees considering transitioning at work.  It is the only teleco named in the Social Mobility Employer Index for the last three years. Telefónica UK Limited is registered in England and Wales. Registration number: 1743099.  Its registered office is at: 260 Bath Road, Slough, Berkshire, SL1 4DX, United Kingdom. 
"Because I'm a Londoner" is supported by London Alliance members including:
British Retail Consortium (BRC)
BRC's mission is to make a positive difference to the retail industry and the customers it serves, today and in the future.
About the CBI:
Across the UK, the CBI speaks on behalf of 190,000 businesses of all sizes and sectors. The CBI's corporate members together employ nearly 7 million people, about one third of private sector-employees. With offices in the UK as well as representation in Brussels, Washington, Beijing and Delhi, the CBI communicates the British business voice around the world. CBI Press Office is available 24 hours a day on 0207 395 8239, or email: press.office@cbi.org.uk. Follow the CBI (@CBItweets) on Twitter.
About the BPI (British Phonographic Industry) – www.bpi.co.uk
The BPI champions the UK's recorded music industry, safeguarding the rights of its members and of the artists, performers and label members of collecting body PL. The BPI's membership consists of well over 450 independent labels and the UK's three 'majors', which together account for 85 per cent of legitimate domestic music consumption and 1 in 9 albums sold around the world. The BPI promotes British music overseas through its trade missions and the Music Exports Growth Scheme. It provides insights, training and networking with its free masterclasses, Innovation Hub, Insight Sessions, WidsomWednesdays events, and reports. The BPI administers The BRIT Certified Awards, co-owns The Official Charts, organises The BRIT Awards and BRITs Week, and is also home to The Mercury Prize.
London Councils
London Councils represents London's 32 boroughs and the City of London. It is a cross-party organisation that works on behalf of all of its member authorities regardless of political persuasion. www.londoncouncils.gov.uk
London Chamber of Commerce and Industry (LCCI)
London Chamber of Commerce and Industry (LCCI) is the capital's largest independent networking and business support organisation.
London First is a business membership group which campaigns to make London the best city in the world to do business. We convene and mobilise business leaders to tackle the key challenges facing our capital. Our membership comprises over 200 leading employers across a wide range of sectors. We have been instrumental in establishing the Mayor of London, pioneered Teach First, driven the campaign for Crossrail, and achieved a win for businesses when Government announced a review of the Apprenticeship Levy.
Local London Chambers
London's Local Chambers brings together the 17 borough based Chambers of Commerce in our capital city.
London Property Alliance is the joint name for Westminster Property Association (WPA) and City Property Association (CPA): two not-for-profit membership bodies representing the leading owners, investors, professional advisors and developers of real estate across Central London. Together, the Associations represent more than 400 organisations. We are an advocacy group that champions the interests of real estate in Central London.
New London Architecture (NLA) - nla.london
NLA is the independent centre for London's built environment, where professionals, politicians and the public can meet, learn and have a voice on the future shape of London. We bring people and ideas together to shape a better city. Our year-round programme of research, events and exhibitions bring together our broad network to debate and discuss all issues affecting London's built environment.
About Salesforce
Salesforce is the global leader in Customer Relationship Management (CRM), bringing companies closer to their customers in the digital age. Founded in 1999, Salesforce enables companies of every size and industry to take advantage of powerful technologies—cloud, mobile, social, internet of things, artificial intelligence, voice and blockchain—to create a 360-degree view of their customers. For more information about Salesforce (NYSE: CRM), visit: www.salesforce.com.
Society of London Theatre (SOLT) is a not-for-profit organisation representing the London theatre industry. SOLT runs the Olivier Awards, West End LIVE, TKTS, Theatre Tokens, Kids Week, the New Year Sale and Official London Theatre.