'Whizbee' and 'Hero' revealed as official mascots for London's Summer of World Athletics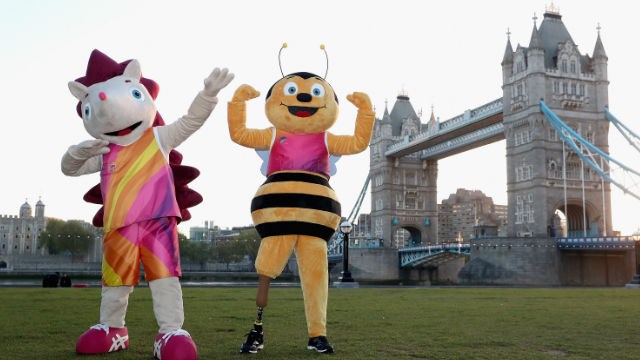 'Whizbee' and 'Hero' revealed as official mascots for London's Summer of World Athletics
Following a UK wide competition, the official Mascots for the 2017 World Para Athletics and IAAF World Championships have been revealed today in London.
Shortlisted from over 4000 entries, the winning design stood out from the rest with its important message about the need to protect the number of bees and hedgehogs in the UK.
Whizbee and Hero were created by Elinor, aged nine from the UK, following a nationwide competition in partnership with iconic BBC children's television show Blue Peter, and judged by Olympic Champion Dame Jessica Ennis-Hill, double Paralympic gold medallist Richard Whitehead MBE, as well as the International Paralympic Committee and the IAAF.
In line with Elinor's wishes, organisers conducted a successful search for an actor with a below the knee amputation to perform as Whizbee the mascot, in the build-up and throughout the World Para Athletics Championships – something that has never been done before.
Jessica Ennis-Hill said: "I really enjoyed being part of the judging panel for the London 2017 mascot design competition. Having stepped away from the track it was nice to be asked to be involved in this year's World Championships in a different way.
"I think Elinor's reason for choosing a bee and hedgehog, and the fact that they are creatures in our everyday lives in Britain, made the designs stand out. Hopefully the mascots will bring a lot of fun and energy to the Championships."
Whizbee the Bee is the official mascot of the World Para Athletics Championships, which takes place at the London Stadium from 14-23 July, and Hero the Hedgehog is the official mascot of the IAAF World Championships, which takes place at the same venue from 4-13 August.
The biggest event to be staged at the London Stadium since the 2012 Olympic and Paralympic Games – it is the first time both Championships have been held in the same city with over 3,000 athletes from over 200 nations competing over 20 days of action. Tickets are now on sale at https://tickets.london2017athletics.com/
Images for Whizbee and Hero available here
Ryan Bangs
Press Manager
T: +44 (0) 7867 193 138
E: rbangs@london2017.org.uk
Brogan Campbell
Assistant Publicist
T: +44 (0) 7718 117 668
E: brogan.campbell@bbc.co.uk
Notes to editors
The London 2017 Ltd Organising Committee is delivering the IAAF World Championships and World Para Athletics Championships on behalf of UK Athletics, the Greater London Authority and UK Sport, supported by Department for Culture Media and Sport, after both events were awarded to London in 2011 and 2012.
The World Para Athletics Championships and IAAF World Championships London 2017 are together the biggest sporting event of the year and the biggest event to be staged in the Olympic Stadium since the 2012 Olympic and Paralympic Games.
You can find out more at www.paraathleticschampionships.com and www.iaafworldchampionships.com.