Visitors spend more on shopping while in London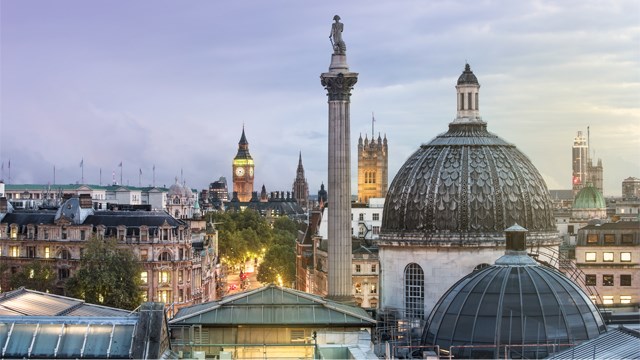 London leads the continent in visitor numbers and spending per person
London has come a close second to Bangkok as a top-ranked international travel destination, according to the annual Mastercard Global Destinations Cities Index released today.
It is the second year running that London has held second place, based on 19.06 million overnight visitors from overseas in 2016.
London's importance as a global hub has once again been underlined because of its iconic landmarks, incredible architecture and arts scene, but also because of its world-class connectivity, in terms of getting to and within the city. Yet London stands out particularly for its shopping, representing 46.7% of visitors' expenditure, more than any other city in Europe.
The Index is more than a ranking of the 132 top destination cities of today and tomorrow. Based on visitor volume and spend for the 2016 calendar year, the in-depth analysis also provides a forecast for growth in 2017, insight on the fastest growing destination cities, and a deeper understanding of why people travel and how they spend around the world.
The global top 10 destination cities
Forecasts for continued growth in 2017 are also positive, and London is predicated to eclipse Bangkok's growth (see table below). Travellers from USA and France represented nearly one quarter of visitors to London, with 2.32m and 1.99m visitors respectively.
| | | |
| --- | --- | --- |
| City | 2016 International Overnight Visitors | Forecast for 2017 |
| Bangkok | 19.41 million visitors | 4.0% |
| London | 19.06 million visitors | 5.0% |
| Paris | 15.45 million visitors | 4.4% |
| Dubai | 14.87 million visitors | 7.7% |
| Singapore | 13.11 million visitors | 2.6% |
| New York | 12.70 million visitors | (-2.4%) |
| Seoul | 12.39 million visitors | 0.4% |
| Kuala Lumpur | 11.28 million visitors | 7.2% |
| Tokyo | 11.15 million visitors | 12.2% |
| Istanbul | 9.16 million visitors | 0.9% |
London: spending power
81% of the visitors are for leisure, while the remaining 1 in 5 people are in London for business reasons.
People spend more on shopping while in London than any other European city in the report. It represents 46.7% of visitors' expenditure. Only Seoul (56.5%) eclipses London, and Osaka (43.4%) and Tokyo (43.1%) come third and fourth for shopping.
International visitor spent $16.09 billion in 2016, the highest of all European destinations, and significantly higher than Paris which came in second for expenditure with $12.03 billion.
Their expenditure was broken down as follows:
Shopping: 46.7%
Accommodation: 30.1%
Food and beverages: 16.5%
Local transport: 4.3%
Local services: 1.9%
Miscellaneous: 0.5%
Mark Barnett, President of UK, Ireland, Nordics & Baltics, Mastercard said: "London appeals to so many different passions of so many people. It is one of the capitals for fashion and theatre. Thousands of restaurants and countless Michelin stars make it a mecca for foodies. Historic landmarks rub shoulders with futuristic towers but above all else it is the incredible diversity, energy and creative spirit that make it so special, so international and outward-looking. That is why London is a true destination city and well positioned to benefit from increased visitor numbers and spending."
Andrew Cooke, acting CEO of London & Partners which runs visitlondon.com, said: "The enduring appeal of London means the city is consistently one of the world's top destinations for visitors from around the world. London is one of the most diverse and thrilling cities in the world with everything from historic palaces to leading exhibitions. And now, according to Mastercard it's the world's leading city for shopping. Whether it's browsing high-end luxury stores or bargain-hunting in quirky markets off the beaten track, London has something to offer every visitor."
Whether people visit cities for business or leisure, Mastercard is improving the travel experience by:
Mastercard Communications Contacts
Adam Keal, +44 7710 916 144
Notes to editors
About the Mastercard Global Destination Cities Index
The Mastercard Index of Global Destination Cities ranks cities in terms of the number of their total international overnight visitor arrivals and the cross-border spending by these same visitors in the destination cities in 2016, and gives visitor and passenger growth forecasts for 2017.
Public data is used in deriving the international overnight visitor arrivals and their cross-border spending in each of the 132 destination cities.
This Index and the accompanying reports are not based on Mastercard volumes or transactional data.
About Mastercard
Mastercard (NYSE: MA), www.mastercard.com, is a technology company in the global payments industry.  We operate the world's fastest payments processing network, connecting consumers, financial institutions, merchants, governments and businesses in more than 210 countries and territories.  Mastercard products and solutions make everyday commerce activities – such as shopping, travelling, running a business and managing finances – easier, more secure and more efficient for everyone.  Follow us on Twitter @MastercardUKBiz, join the discussion on the Beyond the Transaction Blog and subscribe for the latest news on the Engagement Bureau.