The summit of cardiology to return to London despite Brexit as the city commits to healthy streets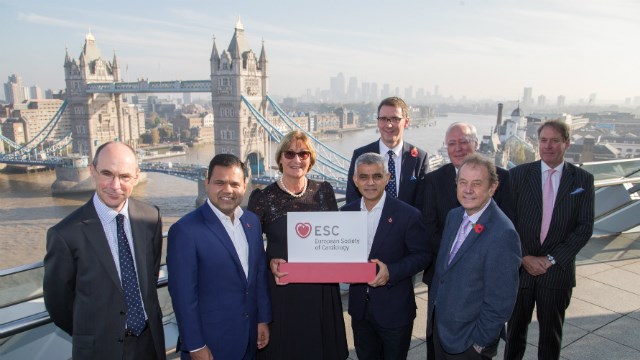 The European Society of Cardiology (ESC) to host ESC Congress in the ExCel London in 2021
The European Society of Cardiology (ESC) has announced that ESC Congress, the world's biggest gathering of heart specialists, will return to London in 2021 despite the UK's vote to leave the EU.
The ESC decision is a huge vote of confidence in London's position as a world-class city for conferences and events, as well as a leading centre for medical research. London overcame stiff competition from other key European cities in winning the event for 2021. When the ESC last came to London in 2015, it generated £100m of economic benefit for the city, attracting more than 32,700 delegates from 140 countries.
The European Society of Cardiology is committed to expanding the boundaries of cardiovascular medicine. The decision to stage the congress in London comes as the Mayor, Sadiq Khan, adopted the Healthy Streets Approach, prioritising health in transport and planning decisions, and investing £2.1 billion into street schemes that promote walking, cycling and public transport over private car use.
Analysis from the Mayor's office shows that if every Londoner walked or cycled for 20 minutes a day it would save the National Health Service £1.7 billion in treatment costs over the next 25 years and result in 16,400 fewer cases of heart disease.
Today's announcement was made during a meeting between Isabel Bardinet, ESC's Chief Executive Officer, and the Mayor of London, Sadiq Khan, at City Hall. The meeting was also attended by leading cardiologists including Professor Kim Fox, Professor of Clinical Cardiology and Head of the National Heart and Lung Institute at Imperial College London, and Professor Simon Ray, President Elect of the British Cardiovascular Society.
The Mayor of London, Sadiq Khan, said: "Cardiovascular disease remains the world's biggest killer, and the European Society of Cardiology and its members are at the forefront of the crucial battle against heart disease. I'm delighted that London will be hosting so many of the world's top heart disease specialists from around the world, and as Mayor I'm proud that we're investing record amounts in increasing physical activity, and preventing heart disease among Londoners. We all know someone who has been directly affected by cardiovascular disease, and I want London to be a world leader in our approach to preventing heart problems".
Isabel Bardinet, ESC's Chief Executive Officer, said: "ESC Congress is dedicated to expanding the boundaries of cardiovascular medicine so that people can lead longer, healthier lives. For one week in August 2021, London will be the hub in this battle against heart disease, the number one killer in the world today, and we are proud to join forces with such a dynamic, forward thinking city."
The Mayor's draft Transport Strategy sets out ambitious plans to increase physical activity and improve the health of Londoners over the coming decades. It includes increasing the proportion of people walking, cycling and taking public transport to 80 per cent of journeys by 2041, compared to 64 per cent now.
At the centre of this, is the Mayor's new Healthy Streets Approach, with £2.1bn being allocated directly for schemes which create more welcoming and inclusive streets to enable more Londoners to walk, cycle and use public transport more often.
Tracy Halliwell, Director of Business Tourism and Major Events at London & Partners, the Mayor of London's official promotional agency and convention bureau for the city, said: "ESC congress choosing to return to our city really is an endorsement of the Mayor's plan to help improve the health of Londoners and of the capital's expertise in medical research. This is also a great vote of confidence in the city's ability to organise and host a high-profile, very large-scale congress, following the incredibly successful 2015 event. We look forward to welcoming delegates to London and to play a small part in the great strides they will no doubt be making in cardiovascular science"
James Rees, Executive Director, ExCeL London, said: "We are delighted that ESC has chosen to return to ExCeL and London for their 2021 Congress. In 2015, the way ESC used ExCeL was truly spectacular, resulting in a record breaking event. When the congress returns, ExCeL will have an onsite Elizabeth line station, allowing delegates to access the rest of London in record time. International delegates will be able to travel from Heathrow direct to ExCeL in 43-minutes and reach the West End in just 15-minutes. We are thrilled to be working with the ESC team to deliver what I'm sure will be another successful congress and to welcoming all of their delegates back to London in 2021."
Media contact:
Bettina Gimenez, Senior Press Officer – Tourism
Tel: +44 (0)207 234 5892 / +44(0)7825 785571
bgimenez@londonandpartners.com
London & Partners Media & PR Team
Tel: +44 (0)20 7234 5710
Switch: +44 (0)20 7234 5800
press@londonandpartners.com
Twitter: @London_PR
Notes to editors
Images available here -
https://www.dropbox.com/sh/vp9sbvbs6xszyv2/AACSBUxYomBkHkPd6NZxre_ga?dl=0
About the European Society of Cardiology 
The European Society of Cardiology brings together health care professionals from more than 140 countries, working to advance cardiovascular medicine and help people lead longer, healthier lives. 
For further information please visit our web site: escardio.org 
About ESC Congress  
ESC Congress is the world's largest gathering of cardiovascular professionals contributing to global awareness of the latest clinical trials and breakthrough discoveries. 
For more information contact the ESC Press Office: Tel: +33 (0)4 89 87 24 83 – press@escardio.org  
About London & Partners. 
London & Partners is the official promotional company for London. We promote London and attract businesses, events, congresses, students and visitors to the capital. Our aims are to build London's international reputation and to attract investment and visitor spend, which create jobs and growth. 
London & Partners is a not-for-profit public private partnership, funded by the Mayor of London and our network of commercial partners. 
For more information visit www.londonandpartners.com    
About ExCeL London 
ExCeL London is the capital's international convention and exhibition centre, located in London's Royal Docks. Since opening in November 2000, ExCeL London has hosted over 4,000 events including trade and consumer exhibitions, conferences, association meetings, product launches, AGMs, gala dinners, award ceremonies, sporting events and religious festivals. More than twenty million people from over 200 different countries have visited ExCeL London.  ExCeL London was acquired by ADNEC, the Abu Dhabi National Exhibitions Company in 2008. 
For more information about ExCeL London contact: Lucy Merritt, Tel: +44 (0) 20 7069 4781 – lucymerritt@excel.london