The "Maybe Tomorrow" Generation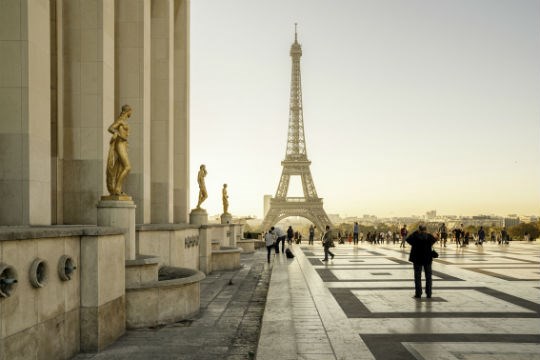 London and Paris launch new campaign to end US vacation procrastination
From taking a vacation to calling their parents, new poll reveals US millennials are putting things off more than any other generation
London and Paris launch new campaign to end US vacation procrastination
Despite living in world of #YOLO and #FOMO, US millennials are putting off more activities than any other generation according to new research*.
From checking something off their bucket list to getting up in the morning, American 18-34yr olds are hitting the "snooze" button on their life more than their Generation X and baby boomer counterparts.
Although there are actions that all Americans put off doing, such as getting healthier** (69% of millennials and 67% of 35yrs+) and ending a relationship (32% of millennials and 27% of 35yrs+) the research reveals greater disparities between the generations for most activities.
It seems #MondayMotivation may not be working, as the biggest difference between the generations was around getting up when the alarm goes off in the morning, with over two thirds of millennials (67%) preferring to hide under the duvet, compared to only half of 35 yrs+ (51%).
Calling parents was also less of a priority for US millennials, with almost half (42%) saying it was something they put off doing, while only 29% of 35yrs+ delayed checking in with mom and dad.
Perhaps most significantly for the so-called #FOMO generation is that more millennials are putting off taking a vacation from work (43%) and doing something on their bucket list (55%) than any other generation (36% putting off taking a vacation from work and 49% doing something on their bucket list respectively for 35yrs+).
The statistics come as European cities London and Paris unite for the first time in tourism history in a bid to end US millennial vacation procrastination.
With less than 1 in 10 millennial Americans (8%) having visited both London and Paris, and over 7 out of 10 (72%) expressing a desire to visit both destinations as part of one vacation, the two famous cities have teamed up to encourage people to make the journey today, not tomorrow.
Visit London, Paris Tourist Office and Eurostar have partnered up to promote the campaign which urges US travellers to make #oneepictrip now to discover over 177 Michelin restaurants, 325 museums and galleries, 371 theatres and over 490 nightclubs across the two European capitals which are separated by a short rail journey of just over 2 hours.
Starting on 30 October, the campaign will focus on the 'power of now' as both cities provide a lifetime of experiences for all ages across all interests from culture to adventure, history to hidden gems.
Laura Citron, Chief Executive of Visit London said:
"Vacation procrastination seems to be a very real problem, with more people than ever putting off taking a break to check experiences off their bucket lists. We want to change that.
"We know that once people experience London and Paris, they fall in love and want to visit again and again to discover more. Just over 2 hours apart, whether it's enjoying an Instagrammable afternoon tea at Sketch in central London or hovering over Paris in Ballon Generali; riding down the Champs Elysees in a sidecar with Retro Tour Paris, or zipping up the Thames in a speedboat rib, visitors can flit easily between the two European capitals and uncover all they have to offer.
"These are destinations that have inspired some of the most prolific minds in the world, from Shakespeare to Monet and that passion and vitality can be felt by all that make the journey."
Pierre Schapira, Chairman of Paris Tourist Office said:
"Let's keep things simple: 2 incredible cities, 2 different cultures, a little more than 2 hours apart by Eurostar. If you're someone who wants to get the most out of life, why pass up the opportunity to experience London and Paris in one go? With so many experiences on offer, you'll need a whole lifetime. So, don't wait! Start checking off those bucket list must-dos now."
The London and Paris #LondonParisNow campaign will start on 30 October 2018. For more information, visit www.londonandparis.com
Media contact:
Kate Turnbull, Head of Communications
Tel: 07854401040
kturnbull@londonandpartners.com

London & Partners Media & PR Team
Tel: +44 (0)20 7234 5710
Switch: +44 (0)20 7234 5800
press@londonandpartners.com
Twitter: @LondonPartners
Notes to editors
US Procrastination Table
Statement: Do you EVER postpone or put off doing each of the following?
| | | |
| --- | --- | --- |
| | 18-34yrs | 35+ yrs |
| Doing things to be healthier (eating better, exercise etc.) | 69% | 67% |
| Getting up when alarm goes off | 67% | 51% |
| Cleaning the oven | 58% | 54% |
| Booking a dentist appointment | 57% | 52% |
| Doing something on your bucket list | 55% | 49% |
| Listening to your voicemail | 52% | 47% |
| Taking a vacation from work | 43% | 36% |
| Calling your parents | 42% | 29% |
| Updating anti-virus software on computer | 41% | 40% |
| Ending a relationship | 32% | 27% |
| Writing a screenplay/novel/book | 20% | 17% |

*All figures, unless otherwise stated, are from YouGov Plc.  Total sample size was 1,224 adults. Fieldwork was undertaken between 4th - 5th October 2018.  The survey was carried out online. The figures have been weighted and are representative of all US adults (aged 18+).

**e.g. eating better, doing exercise etc


About London & Partners

- London & Partners is the Mayor of London's official promotional agency. Its purpose is to support the Mayor's priorities by promoting London internationally, as the best city in the world in which to invest, work, study and visit. We do this by devising creative ways to promote London and to amplify the Mayor's messages, priorities and campaigns to international audiences.  Its mission is to tell London's story brilliantly to an international audience.
- London & Partners is a not-for-profit public private partnership, funded by the Mayor of London and our network of commercial partners. For more information, visit www.londonandpartners.com    
- Visitlondon.com is the most influential source of information for overseas visitors to London and features thousands of attractions both large and small across the entire city. Every year the site attracts 28 million unique users. 
- For high res, rights-free images of London, please register at http://photos.london/press/