The best things to do this autumn that will make you 'fall' for London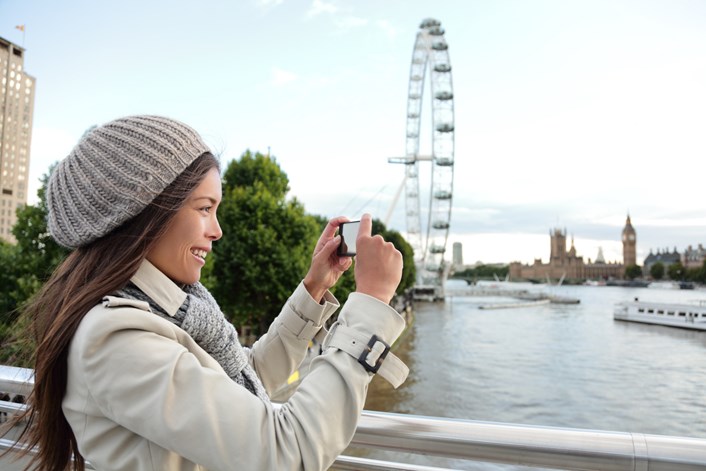 Autumn has officially arrived! Jumper weather, vibrant tree colours and the slight chill in the air signifies the start of the cosiest season.
There are so many exciting events on the horizon and Visit London has curated a list of the best activities to do in London this autumn – whether you're a foodie, fashionista, or simply looking for exciting things to do with the family.
Autumn-inspired events
If you're a lover of vibrant foliage then make your way over to Kyoto Garden to take in all the breathtaking autumn views. The serene, charming and tranquil Japanese garden in Holland Park is a must see with its waterfalls, peacocks and beautiful autumnal leaves. Make sure to tick it off your autumn bucket list!
What's the perfect pairing this time of the year? You guessed it, autumn and pumpkin spice! And every corner you turn this season, pumpkin spice tends to be mixed into all sorts of drinks, treats and food. We recommend you head down to Humble Crumble to try its delicious Pumpkin Spice Crumble – it's just one of the many autumn themed foods you'll find around town.
The start of autumn season means it's time for that cosy cup of hot chocolate to sip until your heart's content. If you're craving something decadent, then check out Chin Chin for the thickest hot chocolate and creamiest marshmallow topping. Or to give your tastebuds a taste of Paris, then head to Le Chocolate Alain Ducasse in Kings Cross for the most delicious and rich hot chocolate in London town – c'est magnifique!
Bonfire Night
Remember, remember the 5th of November and celebrate this Bonfire Night with a bang. If you're in the mood for fireworks shows that rival any New Years Eve celebration, then you're in luck. London's parks – from east to west, north to south – will showcase some of the best displays in the capital.
Morden Park's annual musical-themed fireworks will be in full force this year. Get there early to see the Disney-themed display with your family or watch the main James Bond themed fireworks show later in the evening. There will be food, music, and funfair rides for everyone of all ages to enjoy.
Alexandra Palace is known for hosting one of the best Bonfire Night events in London. In addition to its hugely impressive firework fanfare, there's a German beer festival, music from Trevor Nelson and ice disco for everyone to join. So, grab your best mates and make a night out of it!
Battersea Park is hosting its annual fireworks show and this year it'll be bigger and better than ever with a two-night run. The entire park will be illuminated with a huge bonfire and spectacular fireworks displays. Indulge in the food and drink offerings from the nearby restaurants and bars – then tuck into the most gorgeous views of the Battersea fireworks display on the banks of the river Thames.
Thanksgiving in London
If you're looking to experience a traditional American Thanksgiving, or one that's a little different, then look no further! A not so traditional Thanksgiving set up can be found at Oblix at The Shard, who will be celebrating the foodie holiday with a lavish menu featuring a twist on the American Thanksgiving classics. These delicious dishes include a rotisserie turkey with chestnut and truffle stuffing, green beans wrapped in pancetta, baked sweet potatoes with garlic and rosemary – and to finish off you'll indulge in a caramelised pecan pie and bourbon ice cream.
If you're looking for a bit of Southern charm on your Thanksgiving meal, then head over to Blues Kitchen. What's more delicious than buttermilk turkey, twice baked mac and cheese, chorizo & corn bread stuffing, a green bean cassoulet and a classic slice of pumpkin pie with toasted marshmallows? And for those Americans celebrating in London, if you can show a valid passport then there's a free shot of bourbon on the house!
Autumn fashion
Whilst London Fashion Week is behind us, there's still a lot of opportunities to experience the wide breadth of opportunities for those fashion-forward Londoners. The British Fashion Council has launched its Limited Edition London programme, running until 30th November, which includes a selection of London's top fashion brands creating one-off and exclusive events, activities and fashion that are open to the public all autumn long. Exciting activities include:
Flesh & Buns
Where: Flesh & Buns, 32 Berners Street, W1T 3LR
When: 17th September – 30th November, 12pm – 10pm
What: A free welcome glass of prosecco when dining at Flesh & Buns Berners Street.
Caffe Concerto
Where: Various Locations
When: 17th September – 30th November
What: Caffe Concerto is dedicated to fine food, excellence in service and a love of the fine art of patisserie and coffee. Join them for a special evening of live music and entertainment while you dine. Use the code LFWCC10 until 30th November and get a 10% discount on Food and Drinks.
Anabela Chan
Where: Anabela Chan, 35B Sloane Street, SW1X 9LP
When: 17th September – 30th November
What: Customers are invited to discover Anabela Chan's unique Editions-of-One Capsule collection in the Flagship Sloane Street Boutique. A homage to her signature recycled aluminium creations, this limited-edition collection encapsulates what Anabela Chan Jolallerie stands for: creativity, unexpected colour combinations, immaculate craftmanship and sustainable materials. Every creation is truly unique and available in Edition of 1.
The list has been curated as part of Let's Do London, a campaign launched by The Mayor of London, Visit London and the capital's tourism and hospitality industry's which looks to welcome back visitors to the wonderful city of London in a safe manner.
Notes to editors
About Let's Do London
Let's Do London is a £7m initiative launched by the Mayor of London, Visit London, Transport for London and backed by industry, bringing together the capital's world-leading hospitality, culture, nightlife and retail venues to promote all London has to offer. Let's Do London aims to reinvigorate central London and welcome back visitors from across the UK back to the capital with a curated programme of seasonal events and cultural activities designed to suit a range of age groups.
For more information, please visit: Let's do London - Things to Do - visitlondon.com
For more places to visit for Bonfire Night, please visit: Best Bonfire Night fireworks in London 2021 - Special Event - visitlondon.com