RideLondon cyclists raise £12.7 million for charity in 2017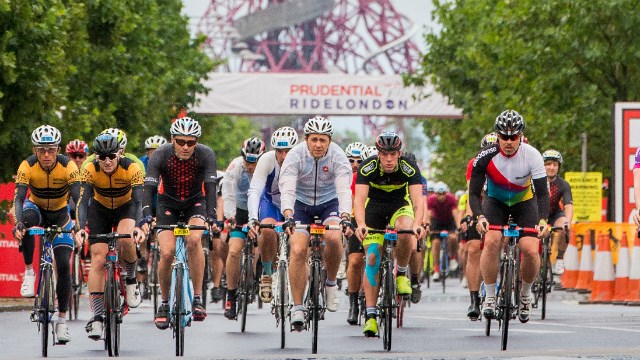 Riders in the 2017 events raised £12.75 million for charity to set a new European record for a cycling event
The organisers of Prudential RideLondon announced today (Monday 18 December) that riders in the 2017 events raised £12.75 million for charity to set a new European record for a cycling event, beating the previous record of £12 million. Cyclists have now raised more than £53 million for charity over the first five years of the world's greatest festival of cycling.
This year, Macmillan Cancer Support raised almost £560,000 and became the first charity to raise more than half a million pounds from the event in one year. Bloodwise, Alzheimer's Society and Prostrate Cancer UK were among the many other charities that raised six-figure sums and all are already hard at work planning fundraising for the 2018 Prudential RideLondon-Surrey events.
The Mayor of London, Sadiq Khan, said: "I'd like to pay tribute to the efforts of every cyclist who helped to raise record-breaking amounts of money for good causes at Prudential RideLondon 2017. The event has become a major fixture in London's calendar, raising millions of pounds for charity and inspiring thousands to take up cycling. It's yet another great demonstration of how London is open."
Denise Turner-Stewart, Surrey County Council's Cabinet Member for Communities, said: "After another year of record-breaking fundraising for good causes, the tally now stands at £53million over five years – a fantastic achievement which highlights the wider benefits of the Prudential RideLondon events. All those who helped towards this huge sum deserve our sincere thanks and I'm looking forward to welcoming riders back to Surrey next summer."
At the inaugural event in 2013, 16,000 riders raised more than £7 million and in 2014 the 20,709 finishers battled through heavy rain and wind on a shortened route to break the £10 million barrier. In 2015, 25,564 finishers raised more than £12 million, setting a new fundraising record for a cycling event in Europe and that total was matched by the 29,692 finishers in 2016.
Eleanor Hoare, Challenge Events Programme Manager at Macmillan Cancer Support, said: "We're hugely grateful to everyone that got involved in Prudential RideLondon this year to support Macmillan. Almost 600 people took part and raised a fantastic amount of money, all of which will help us continue to support the growing number of people living with cancer across the UK. 2017 was Macmillan's biggest and best year at Prudential RideLondon yet, so we're already excited for next year's event!"
A team of 540 riders raised £350,000 for blood cancer research charity Bloodwise.
Matt Lawley, Head of Sports Events, said: "To see more than 500 riders in Bloodwise colours taking part in this spectacular event was really something special, with each and every one helping to fund blood cancer research that will benefit patients with blood cancer such as leukaemia, lymphoma and myeloma. Whilst we have made great strides in finding better treatments, sadly the disease is still the third biggest cancer killer and the fifth most common cancer, and many patients still experience harsh long-term side-effects. That's why events like Prudential RideLondon are so important in ensuring we can continue to fund the research that will save, and improve, the lives of even more patients."
Mike Wells, Group Chief Executive of Prudential, said: "It is great to achieve another record-breaking year for this inspiring event. Prudential looks forward to continuing its support for the world's greatest festival of cycling and I am confident we can achieve even more in 2018."
Event Director Hugh Brasher said: "In its first five years, Prudential RideLondon has raised an incredible £53 million for charity and is firmly established as one of the most successful fundraising sports events in the world. We thank all the riders for their fantastic fundraising efforts and look forward to breaking more records in 2018."
Entry for the 2018 Prudential RideLondon-Surrey 100, which takes place on Sunday 29 July 2018, is open now at www.prudentialridelondon.co.uk

ENDS
For further information, please contact:
Matt Jackson | Senior Communications Manager | Prudential RideLondon
matt.jackson@londonmarathonevents.co.uk | +44 (0) 7814 497908
Visit: www.PrudentialRideLondon.co.uk
Follow us on Twitter @RideLondon and on Facebook /RideLondon
Notes to editors
• Prudential RideLondon is the world's greatest festival of cycling with more than 100,000 riders expected to participate in different events for all ages and abilities over the weekend of 28-29 July 2018.
• Prudential RideLondon features two UCI WorldTour events: the Prudential RideLondon-Surrey Classic for men and the Prudential RideLondon Classique for women. These two races are the richest one day races on the pro cycling calendar. Find out more at www.prudentialriderondon.co.uk
• Prudential RideLondon was developed by the Mayor of London, Transport for London and London & Partners in partnership with Surrey County Council and is sponsored by Prudential. The event is managed by the London & Surrey Cycling Partnership.