Prudential RideLondon celebrates fifth year as world's biggest cycling festival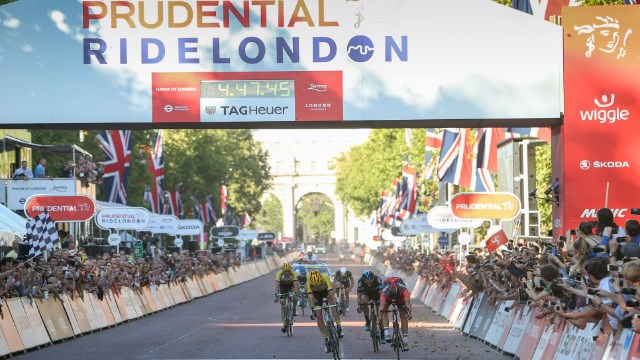 The fifth Prudential RideLondon, the world's biggest festival of cycling, takes place on the streets of London this weekend
The fifth Prudential RideLondon, the world's biggest festival of cycling, takes place on the streets of London this weekend. The event has contributed £82 million to the capital's economy and raised more than £41m for charity over the last four years.
More than 100,000 riders are expected to take part – from the world's top pro racers to children and families - in seven different events over three days. The Mayor of London's annual event includes the Prudential RideLondon FreeCycle on Saturday (29 July) when cyclists of all ages and abilities will be able to enjoy a ten mile traffic-free circuit of central London, two mass participation sportives and professional races.
This year the Prudential RideLondon-Surrey Classic event will have UCI WorldTour status, following its successful application to the Union Cycliste Internationale (UCI). That puts it in the top tier of global men's road races such as the Tour de France, and forms part of a season that stretches across the planet. It is the first British men's race to ever attain WorldTour ranking. This means both professional races in Prudential RideLondon now have UCI WorldTour status after the women's race, the Prudential RideLondon Classique, was promoted to the WorldTour in 2016.
Fourteen WorldTour teams travel to London after the Tour de France and the rider line-up features many stars of the Tour including green jersey winner Michael Matthews (Team Sunweb), Andre Greipel (Lotto-Soudal) and John Degenkolb (Trek-Segafredo) plus Olympic omnium champion Elia Viviani (Team Sky).
The Mayor of London, Sadiq Khan, said: "Thousands of cyclists of all ages and abilities will take part in this year's Prudential RideLondon. It is the largest festival of cycling in the world, an array of superstar cyclists are set to take part and it helps us inspire thousands more Londoners to take up cycling. It is yet another demonstration of how this great city remains well and truly open."
Speaking about the decision to award London UCI WorldTour and UCI Women's WorldTour status, Brian Cookson, President of the UCI, said: "The city has a great track record for cycling and fan engagement, and has attracted some of the best names in cycling and great media exposure. Prudential RideLondon has proved itself to be a well-organised, successful event with some thrilling sporting performances finishing in the heart of this iconic capital city.
"The event carries on the London 2012 Olympic legacy, and London is the first event in the UK to be part of the UCI WorldTour. We are extremely supportive of London as a feature on the UCI WorldTour and UCI Women's WorldTour calendars."

Iain Edmondson, Head of Major Events at London & Partners, which has been involved from the start of the event, said: "A total of 100,000 people took part in Prudential RideLondon in 2016, and more than 300,000 people came to watch, spending a total of £23.2 million between them, giving a real injection into the economy.
"The number of participants and spectators has gone up each year as more and more people get involved and this year, the new UCI WorldTour status for the men's Classic will make it even more popular for both riders and spectators."
The weekend's action begins with youth and handcycle races plus BMX competitions in Lee Valley VeloPark at Queen Elizabeth Olympic Park on Friday 28 July. The programme for Saturday 29 July features more than 70,000 riders of all ages and abilities enjoying traffic-free roads in central London in Prudential RideLondon FreeCycle, followed by the excitement of the world's top women racing in the Prudential RideLondon Classique and fun of the Brompton World Championship Final.
On the final day, Sunday 30 July, 25,000 riders will take on the challenge of the Prudential RideLondon-Surrey 100 and another 5,000 riders will participate in the shorter 46-mile mass participation challenge, the Prudential RideLondon-Surrey 46. The men's professional race then provides the thrilling climax to three days of celebrating the bike.

London & Partners:
Marina Thomas, Senior Press Officer
Tel: 07917 604 025
mthomas@londonandpartners.com
London & Partners Media & PR Team
Tel: +44 (0)20 7234 5710
Switch: +44 (0)20 7234 5800
Twitter: @London_PR
RideLondon:
Matt Jackson, Senior Communications Manager, Prudential RideLondon
Tel: 07814 497908
matt.jackson@londonmarathonevents.co.uk
Notes to editors
Prudential RideLondon was developed by the Mayor of London, Transport for London and London & Partners in partnership with Surrey County Council and is sponsored by Prudential. The event is managed by the London & Surrey Cycling Partnership. See www.PrudentialRideLondon.co.uk Follow us on Twitter @RideLondon and on Facebook /RideLondon
Major events are defined as attracting at least 10,000 attendees, having significant visitor appeal and generating media exposure on mainstream channels, social media and online.
About London & Partners
London & Partners is the Mayor of London's official promotional agency. Its purpose is to support the Mayor's priorities by promoting London internationally, as the best city in the world in which to invest, work, study and visit. We do this by devising creative ways to promote London and to amplify the Mayor's messages, priorities and campaigns to international audiences. Its mission is to tell London's story brilliantly to an international audience.
London & Partners is a not-for-profit public private partnership, funded by the Mayor of London and our network of commercial partners. For more information, visit
Visitlondon.com is the most influential source of information for overseas visitors to London and features thousands of attractions both large and small across the entire city. Every year the site attracts 28 million unique users.
For high res, rights-free images of London, please register at http://photos.london/press/