Pop-Up London – free culture festival for families in central London this half-term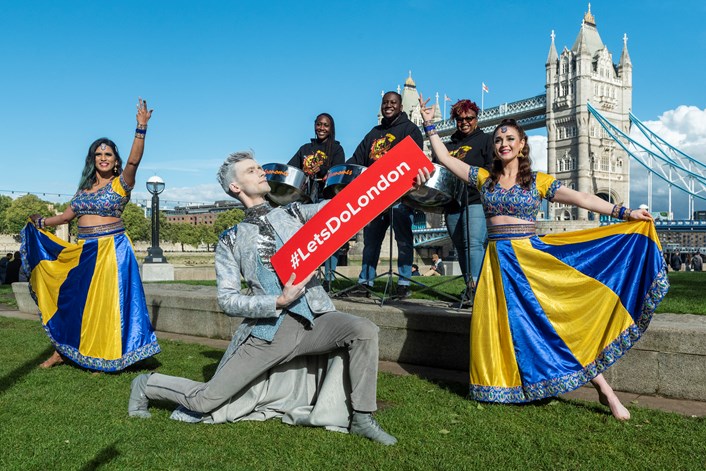 New research shows biggest challenges parents face during school holidays are the cost of keeping their children entertained (45%) and finding fun experiences to suit the whole family (34%)
Pop-Up London - a free festival of culture for all ages in central London – will see more than 100 performances involving more than 200 performers and artists
Artists, musicians, dancers, comedy acts, circus performers and more will perform at Spitalfields E1, Canary Wharf, mainline train stations and many other locations during October half term
The capital's diverse communities will be celebrated with Brazilian drumming, Cantonese story-telling and Caribbean steelpans featuring alongside performances that explore themes of climate change and the digital age
New research by London & Partners found that the biggest challenges parents face during school holidays are the cost of keeping their children entertained (45%) and finding fun experiences to suit the whole family (34%). Pop-Up London is a free festival of culture featuring family-friendly outdoor performances across the centre of the city – ideal for keeping your family entertained this half-term.

The festival is taking place in London during October half-term from 23 – 31 October 2021, showcasing some of London's most imaginative grassroots talent with more than 200 artists performing in more than 100 events across 10 days. With performances including hip hop dance acts, musical comedy, storytelling, puppetry, circus skills, magic shows and many more, it's a must-visit destination for families everywhere.

Pop-Up London brings together artists, musicians and a range of performers from across the city to perform at Spitalfields E1, Canary Wharf, Trafalgar Square and other locations across central London in partnership with Battersea Arts Centre and Found in Music.

Celebrating London's rich cultural diversity, Pop-up London will include performances from Brazilian, Cantonese, African-Caribbean and South East Asian artists with themes exploring climate change and the digital age. Details of the festival will be published on VisitLondon.com. Families can make the most of the festival, which will include performances celebrating Diwali as well as taking in London's other exciting attractions and world class food and hospitality offer.

The festival is the latest event announces as part of the Mayors Let's Do London campaign - the biggest domestic tourism campaign our capital has ever seen, which aims to encourage visitors from around the UK, and Londoners, back into the heart of the city to enjoy its incredible cultural scene.

Pop-Up London is providing creative freelancers with a platform to perform to live audiences, after months of unemployment and income instability due to the devastating impact of the pandemic, which closed venues across the creative industries.

The Mayor of London, Sadiq Khan, said: "This half term, Pop-Up London offers a fantastic opportunity for families across Britain to visit the centre of our city and enjoy an incredible range of entertainment, for all ages, absolutely free of charge.
"Freelance artists and performers are vital to the success of our world-renowned creative industries, but many have been out of work for months. As London continues to recover from this awful pandemic, Pop Up London will give creatives a platform to perform and give Londoners and visitors yet another reason to make the most of our capital this October."
Tarek Iskander, Artistic Director and CEO at Battersea Arts Centre, said: "Londoners' love for creativity and the talent of our people has always made this city feel unique. So this wonderful public project feels the perfect way to reanimate and bring joy back to our streets. Over 200 remarkable creative freelancers will be involved in this work, and the diversity and range of what is on offer reflects the best of our city."
Rachel Meir, CEO, Found in Music said: "World class live performance is at the heart of what makes London like no other city in the world. Creativity, imagination and diversity of art forms makes Pop Up London unmissable. Whether a delightful surprise or a must see artist, Londoners and visitors alike will be entertained in many different and wonderful ways over half term. After an extremely testing year for the creative industries Found in Music are thrilled to be involved in this campaign."
Philippa Childs, Head of Bectu, said: "Bectu congratulates the Mayor for his continued support of London's creative industries freelance community. Freelance workers play a key part in London's cultural infrastructure which attracts billions of revenue to our capital city. But the livelihoods of thousands of freelances were devastated by the shutdown of theatres, live entertainment venues and film and TV production as a result of the pandemic, and the precarious nature of their employment left many without recourse to any of the government's support schemes. While film and TV production is now in full swing, theatres and live entertainment are still in the recovery phase. So the union is delighted to support Pop-Up London, enabling creatives to bring their craft to the public, showcasing the world class creativity of our workforce."

Aanchal Gupta, Bollywood Dancer, said: "Pop Up London gives us a brilliant opportunity to bring our culture to central London, there's a huge South Asian community here. This is my way of saying come back to central London & celebrate Diwali."
Cherelle, Metronomes Steel Orchestra, said: "We are so excited to perform again after Covid-19. The steel pan is for sharing and as part of Pop Up London, we get to share our music with Londoners after a tough year and a half."
Notes to editors
For full listings of all performances visit: www.visitlondon.com/PopUpLondon
Press images can be downloaded here.
For further information please contact 3 Monkeys Zeno at londonandpartners@3monkeyszeno.com
Notes to editors
Research conducted by Census Worldwide in August 2021: Based on 2,000 parents with children (between the ages of 4-14 years old) and 500 children ((between the ages of 4-14 years old).
About Let's Do London
Let's Do London is a £7m initiative launched by the Mayor of London, Visit London, Transport for London and backed by industry, bringing together the capital's world-leading hospitality, culture, nightlife and retail venues to promote all London has to offer. Let's Do London aims to reinvigorate central London and welcome back visitors from across the UK back to the capital with a curated programme of seasonal events and cultural activities designed to suit a range of age groups.
For more information, please visit: Let's do London - Things to Do - visitlondon.com