Pedestrian crossings are transformed with a burst of colour to celebrate the return of London's creative festivals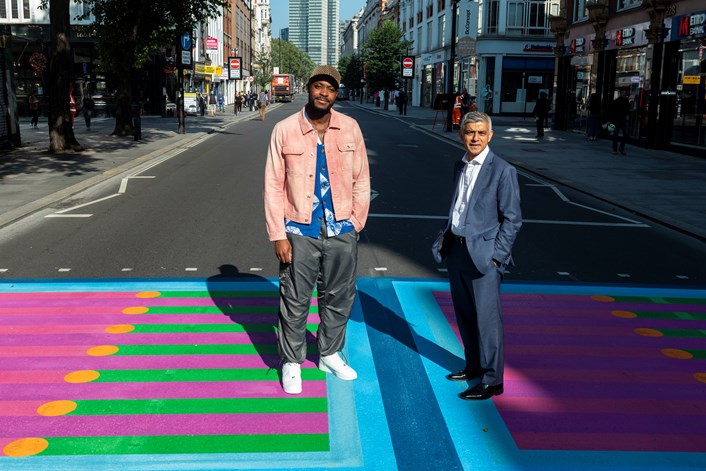 Award winning artist, Yinka Ilori joins The Mayor of London, Sadiq Khan, to unveil a series of eye-catching street art installations in central London to encourage visitors back to the city as part of the Mayor's Let's Do London Autumn culture season
18 pedestrian crossings in Tottenham Court Road and the City of London are being transformed with bright colours and shapes to celebrate the return of London's world-leading design, fashion, film and art festivals this autumn
Photographer Rankin joins the Mayor to announce ambitious shoot and landmark exhibition celebrating London's theatre industry'
The return of world-leading design, fashion, film and art festivals are key attractions of the Mayor's Let's Do London autumn season
Designed by London-based artist, Yinka Ilori as part of London Design Festival and supported by Bloomberg, 11 pedestrian crossings on Tottenham Court Road and six pedestrian crossings in the City of London, as well as Queen Street pedestrian plaza, are being reimagined with distinctive playful designs of bright colours and forms.
The 'Bring London Together' project, unveiled today with the Mayor of London, Sadiq Khan, as part of his Let's Do London autumn season, is designed to draw Londoners and visitors to central London as part of the Mayor's Let's Do London tourism campaign to support the capital's creative, retail and hospitality sectors which have been disproportionately affected by the pandemic.
It is a major, world class commission by artist, Yinka Ilori in partnership with the Mayor of London and Bloomberg Philanthropies, City of London, London Borough of Camden and London Design Festival.
The project involves a collaboration with art students from the University of the Arts London and offers the chance for the local community to help paint the Queen Street pedestrian area. The crossings will remain in place until summer. As the UK prepares to host the United Nation's meeting on Climate Action, COP26, this project is one of several installations in international cities supported by Bloomberg Philanthropies' Asphalt Art Initiative to encourage more sustainable transportation and transform and revitalise public spaces through the power of art.
This autumn will see the return of much anticipated global festivals and events, including London Film Festival, London Fashion Week, Frieze London, the London Design Festival and a series of exciting events during Black History Month that celebrates the contribution of Black Londoners to our city. The new autumn season includes design, fashion, film, art, and photography events to entertain and enthral visitors and families over the coming months including:
Paying homage to London's Theatreland, globally renowned photographer and filmmaker Rankin has today announced details of one of his biggest projects to date: RankinLIVE x Performance - a series of portraits of leading stars, writers, producers,  and  backstage heroes from a multitude of West End shows and iconic theatre venues this autumn and winter. Working in partnership with the Mayor of London and the Society of London Theatre, the live shoots will be streamed on digital and social platforms, allowing viewers a window into the project - alongside a full programme of events around central London centred on a landmark exhibition at the FujiFilm House of Photography in the heart of London's West End.
Limited Edition London, in partnership with the Mayor of London and the British Fashion Council, is an extension of the London Fashion Week's City Wide Celebration. It is a new series of bespoke and exclusive events, activities and clothing created by fashion and retail brands to celebrate fashion, community, diversity, and creativity in the heart of the most vibrant city in the world.
The Southbank Centre hosts a series of talks with award winning and renowned authors, Bernadine Evaristo, Raymond Antrobus & Mira Mattar and Candice Carty-Williams.
Africa Fashion Week London, the leading African fashion event across the globe returns for its tenth season in 2021 at Freemasons' Hall and the UK Black Business Week will inspire and connect Black Business from across the country.
Major galleries from across the globe reunite at Frieze London and Frieze Masters to celebrate the creative spirit of London bringing together works of international artists including Ibrahim El-Salahi, Isamu Noguchi, Solange Pessoa and Rose Wylie.
Mayor of London, Sadiq Khan said: "London is the culture capital of the world, and Yinka's bright and bold pedestrian crossings represent our city beautifully. They show off our vibrant creative spirit and are the perfect way to launch the Autumn season of my Let's Do London campaign. There are so many great festivals, events and activities taking place in the capital in the coming months, we are ready to welcome and entertain visitors from across the UK and around the world.
Artist, Yinka Ilori, said: "I am incredibly excited to be part of this Landmark Project in London as part of London Design Festival and the Let's Do London initiative. At a time when we all need light and joy, I hope my installation brings people together to create joyful and harmonious moments that live in their hearts forever."
Global Head of Corporate Philanthropy at Bloomberg LP, Jemma Read said: "London's diverse, creative communities make our city unique and have an essential role to play in its economic recovery. We're proud to build on our collaboration with the Mayor of London to bring Londoners back together and breathe new life into our streets by supporting Yinka's ambitious vision."
Ben Evans CBE, London Design Festival Director, said: "This is the joy the city needs after the past year, and what better way to see London reopen but have one of the capital's most exciting talents, Yinka Ilori, paint one of London's most iconic streets with his eye-catching and positive graphic style. This Landmark Project for London Design Festival 2021 and the Let's Do London campaign is sure to uplift the public and bring us all together once again."
Photographer and film maker, Rankin, said: ""I'm thrilled; not only to be part of the 'Let's Do London' campaign but also to get the opportunity to photograph and showcase some of the finest talent in London theatre - from the stars on the stage to the heroes behind the scenes who make it all happen. It's an ambitious project and probably the first time there has ever been a complete portrait of a West End season. But after the last year, it feels like we need to go big and really take the opportunity to celebrate the amazing community of people who make up the cultural jewel in the crown that is London's West End theatreland."
Cllr Adam Harrison, London Borough of Camden, said: "As we continue to welcome visitors back to Camden and celebrate local high streets, this autumn, we are pleased to host this vibrant artwork for the local community and visitors to enjoy. Following the West End Project the beautifully rejuvenated Whitfield Gardens and new widened pavements mean that Tottenham Court Road is a fantastic place to visit for celebrations like this which really show the best of this neighbourhood. Camden will be hosting a series of wrap around events for the local community and visitors to enjoy and engage with Yinka's artwork including online experiences so residents across Camden can experience the art from home."
Chair of the City of London Corporation's Culture, Heritage and Libraries Committee, Wendy Hyde, said: "These eye-catching crossings are a fantastic addition to the capital's streets and are sure to become a major talking point for Londoners. Culture is at the forefront of London's economic recovery from the pandemic and Asphalt Art is bringing a real buzz back to the City."
Julian Bird, CEO of Society of London Theatre, said: "It is no secret that the past eighteen months have been extraordinarily difficult for theatres, and although it is fantastic to see shows and venues across London and beyond reopening their doors, we continue to face huge uncertainties and challenges. We are delighted that Rankin wants to collaborate with us to celebrate the countless highly skilled people - both on and off-stage - who are the heartbeat of the London theatre industry, and who have shown such resilience throughout the pandemic. It is also fantastic that some of the proceeds from this project will go to the Theatre Artists Fund, which provides emergency support to theatre workers during the pandemic."
Caroline Rush, Chief Executive of London Fashion Week, said "We are delighted to welcome London Fashion Week back in a physical format this season and are excited to celebrate the city for everything it has to offer. London Fashion Week wants to play its part in help driving footfall back into the capital while reminding consumers of the vibrancy and excitement of London. With over 100 brands, stores, hospitality venues and cultural institutions opening their door over London Fashion Week, we look forward to seeing the whole city come to life."
Notes to editors
For further information please contact 3 Monkeys Zeno at: Londonandpartners@3monkeyszeno.com
For press images click here: LINK
London Film Festival, Mayor of London Special Presentation
The Mayor of London's Special Presentation this year is Ali & Ava, from director Clio Barnard, which charts an unlikely romance between two Bradford residents. Screenings on October 13 and 14 at the Southbank Centre.
Black History Month 2021 – London listings
A huge range of activities for all the family during the month of October to celebrate the continued achievements and contributions of Black people to the UK and around the world, for continued action to tackle racism, reclaim Black history and ensure Black history is represented and celebrated all year round.
Frieze London and Frieze Masters to celebrate the creative spirit of London bringing together works of international artists including Ibrahim El-Salahi, Isamu Noguchi, Solange Pessoa and Rose Wylie.
1-54 Contemporary African Art Fair
The leading art fair dedicated to the promotion of contemporary art from Africa and its diaspora returns to Somerset House from Thursday 14 - Sunday 17 October 2021 for its 9th London edition.
For one night only on September 23, Illuminated River artist Leo Villareal will programme a dazzling light display on nine bridges across the Thames. This event marks the opening of a three -day programme of events during the Totally Thames festival.
A series of events for the autumn including talks with award winning and renowned authors, Bernadine Evaristo, Raymond Antrobus & Mira Mattar and Candice Carty-Williams
Africa Fashion Week London 2021
Europe's largest fashion event promoting and nurturing African and African-inspired design talent takes place on October 9. Featuring a live catwalk, digital activations, shopping, panel talks and workshops at Freemasons' Hall (Covent Garden) - live streamed for those not in physical attendance.
With 50+ speakers, up to 200 exhibitors and Sponsors, the UK Black Business Week runs from 25 – 30 October offering insight and advice in entrepreneurship, leadership and professional development, alongside the opportunity to connect with Black business owners, attend deep-dive workshops and take part in interactive panels and seminars.
Featuring Ed Sheeran, Lorde, The Weekend, Nile Rodgers and more, this live-streamed event on September 25 is a once-in-a-generation broadcast over 24 hours to bring the world together to defend the plant and defeat poverty.
Dance Umbrella – London's international dance festival
London's international dance festival returns from October 8-24 celebrating 21st century choreography across the capital, with live performances alongside digital events.
For a full list of events taking place this autumn, visit: 101 autumn in London ideas to fall for - Things to Do - visitlondon.com
About Let's Do London
Let's Do London is a £7m initiative launched by the Mayor of London, Visit London, Transport for London and backed by industry, bringing together the capital's world-leading hospitality, culture, nightlife and retail venues to promote all London has to offer.
Let's Do London will reinvigorate central London and welcome back visitors from across the UK back to the capital with a curated programme of seasonal events and cultural activities designed to suit a range of age groups. The campaign will include a major advertising push supported by London & Partners and TfL, alongside new content on the Visit London website outlining all the campaign has to offer to Londoners and visitors to the capital.
For more information, please visit: Let's do London - Things to Do - visitlondon.com