New world-class event 'Athletics World Cup London 2018' launched in the UK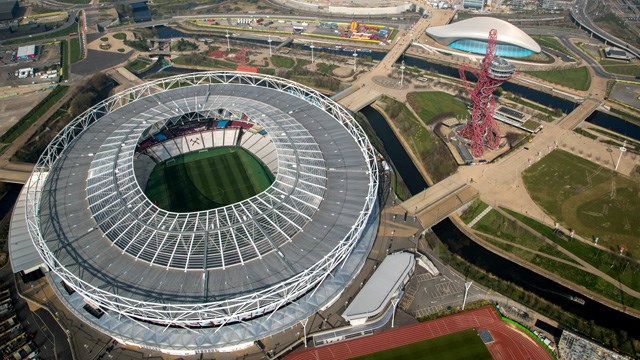 Athletics World Cup London 2018 will take place at the London Stadium on 14-15 July 2018
British Athletics has today confirmed that eight of the worlds top athletics nations will compete in the Athletics World Cup London 2018 this summer.
Following on from the success of London 2017 which saw the capital become the first city ever to stage both the World Para Athletics and IAAF World Athletics Championships in the same year, fans of the sport will once again see the best countries competing in the UK, in the greatest athletics stadium in the world.
The competition format featuring all field and track events up to and including the 1500m will star the world's eight leading athletics nations over those disciplines: USA, Great Britain & Northern Ireland, Poland, China, Germany, France, Jamaica and South Africa. The ground-breaking two-day event takes place under floodlights across Saturday 14 and Sunday 15 July at the London Stadium.
Each nation will be competing for a $2million prize pot over two evening sessions of athletics under the lights.
With just one man and one women from each nation selected in each event in an all-straight final format, the biggest competing nations are set to be welcomed back to London this summer, with registrations opening today (5 February) on www.athleticsworldcup.org following which a ballot for tickets will be held in April 2018.
To mark 100 years since women were given the right to vote, and as part of the Mayor of London's #BehindEveryGreatCity campaign, the first edition of the event will see all Nations select a female athlete as team captain.
Richard Bowker CBE, Chair, UK Athletics said:
"The Athletics World Cup London 2018 will be one of the biggest athletics events in 2018 and as such we're thrilled to be able to launch it at the London Stadium. This is world-class competition where nation will face nation and fans will see an amazing feast of athletics over two days featuring many of the biggest global superstars in the world of sport.
"This will be an incredible event which we are thrilled to be able to launch on the back of a highly-successful World Championships last summer."
The Mayor of London, Sadiq Khan, said:
"When it comes to hosting world-class sport, no other city does it quite like London. Holding the first-ever World Para Athletics and World Athletics Championships together in London last summer, will live long in the memory and we are again looking forward to welcoming the world's best athletes and sports fans from around the globe to our great city.
"It's fitting that each nation competing in the Athletics World Cup will be captained by a woman as we mark the centenary of the first women securing the right to vote, I am delighted British Athletics has joined me in the #BehindEveryGreatCity campaign to support the continuing success of women and our push for greater gender equality from all backgrounds."
IAAF President, Sebastian Coe said:
"This is one of the exciting innovative events we are seeing in our sport and our thanks go to British Althletics and the Mayor of London for creating it and hosting it. We have 8 lanes, 8 top nations, 8 teams and a host of world class athletes lining up in each event to win the trophy and prize pot. This will be a fast-paced and exhilarating experience for athletes and fans."
Wayde van Nierkerk, 200m & 400m, Olympic and World Champion (South Africa) said:
"It's great to see such an exciting head to head event confirmed to be taking place in London this summer – the concept is one that will excite everyone in athletics and is sure to attract new fans to the sport. The South African team will be there in force and we hope to see fans from all over the world join us in London for what will be an amazing competition."
Johannes Vetter, Javelin, World-Champion (Germany) said:
"This is great news. I remember my performance back in 2017. Great Spectators, great stadium, great atmosphere and at the end I celebrated my first world Champion Title. I'm sure all eight nations will enjoy a fantastic top event."
Idriss Gonschinska, Head of Sports German National-Team:
"The Athletics World Cup is a great opportunity for track and field. We are grateful for a new innovative event."
Henryk Olszewski, president of Polish Athletic Association said:
"This is a great honour since the new athletics event is limited to best teams from all over the world. Additional flavor is the World Cup take place in London where we come back with fantastic memories after last year IAAF World Championships where Poland won 8 medals."
Fans can register their interest in attending the Athletics World Cup from 13:00 today, 5 February at www.athleticsworldcup.org
For immediate interview requests on 5 February please contact Steve Chisholm at steve.chisholm@runcommunications.co.uk
For partnership and supplier opportunities for the Athletics World Cup London 2018 please contact commercial@athleticsworldcup.org
For more information contact:
James Harding
Major Events PR Manager
T: 0121 713 8405
M: 0788 436 1544
E: jharding@britishathletics.org.uk
Notes to editors
#BehindEveryGreatCity
Sadiq Khan has launched the #BehindEveryGreatCity gender equality campaign to champion the fact that it is the achievements and contributions of women, from all walks of life, which make cities like London great. It coincides with the 100 year anniversary of the 1918 Representation of the People Act, which gave some women the vote, and was introduced thanks to the campaigning of suffragists and suffragettes. The Mayor will use the centenary to work with London's many leading sectors – from culture, sport, education and business, to politics and public life – to support the continuing success of women and to push for greater gender equality for women from all backgrounds across the city. To find out more, visit www.london.gov.uk/behindeverygreatcity
UK Athletics
UK Athletics is the national governing body of the leading Olympic and Paralympic sport in Britain. British Athletics is the sport we represent, the people, the athletes, the fans, the team.
We work closely with the home countries to develop and grow all areas of the sport including elite performance, coaching, major international events, competition and grassroots programmes within schools and clubs.