Mayor of London joins London tech companies on trade mission to Paris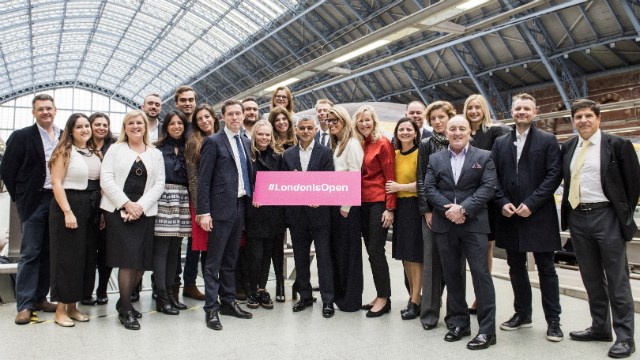 Companies to meet with Sadiq Khan aboard the Eurostar as part of the trade mission in Paris
Twelve of London's fastest-growing tech companies will today board a Eurostar to Paris with the Mayor of London, Sadiq Khan, as they explore opportunities for international expansion in the French market.
The trade mission, led by the Mayor's International Business Programme, is part of the Mayor's plans to strengthen trade and investment links between London and Paris.
Today's visit to Paris follows a similar trade mission earlier this year when Sadiq joined the Mayor of Paris, Anne Hidalgo, to launch a new city-to-city partnership called the Paris-London Business Welcome Programme. The programme is focussed on establishing a global network of cities to help entrepreneurs develop their businesses across different markets.
The programme includes assistance with company set-up, access to co-working space, introduction to the local tech ecosystem and networking, and discounted accommodation. Since the programme was first announced in Paris and London, other major cities including Berlin, Amsterdam, San Diego, and Lisbon have signed up to the initiative.
The Mayor of London, Sadiq Khan, said: "London and Paris are both leading centres for business built on strong foundations of innovation and entrepreneurship. I am therefore delighted to be joined by so many innovative companies from my International Business Programme on this visit as they look to explore opportunities for investment and international expansion."
The trade mission is supported by KPMG and Eurostar, and the scale-ups will take part in an on board mentoring programme as they travel at high-speed between the two capital cities. Eurostar is also offering a special fare to businesses setting up in Eurostar destinations, making it easier for them to make connections across Europe. Global advisory services provider, KPMG, is a partner of MIBP and supports participating companies to compete in the European market.
Businesses travelling on the trade mission include Benivo, a platform which provides relocation support for companies' employees, Baby2Body a pregnancy monitoring app, and Obelisk Support, a global outsourcing business built around home-based, highly-skilled lawyers.
As a direct consequence of a previous trade mission to Paris with the Mayor's International Business Programme, Obelisk Support has signed a deal with Verizon to recruit skilled lawyers fluent in French, German and English to their European headquarters. Mayor's International Business Programme company Baby2Body, the online platform which offers expecting and new mothers personalised advice, have also announced a partnership with Nokia – using data tracked by Nokia wearables and devices to monitor an expecting or new mother's health and wellbeing.
Melinda Nicci, Founder and CEO of Baby2Body, said: "After a hugely successful and influential trip to Silicon Valley earlier in the year, we are truly honoured to have been selected again to participate in the Mayor's International Business Programme trip to Paris. The trip not only gives us the unique opportunity to strengthen our partnerships with French companies but also aids our goal of using innovative technology to give women all over the globe healthier pregnancies and babies."
London and Paris remain firm trade partners following the EU referendum, with new figures compiled by London & Partners, the Mayor's promotional agency, showing that London-based firms attracted £2.1 billion capital investment from France over the last 10 years, creating over 5,800 jobs for the capital.[1]
London also tops the list of cities investing into France. Since 2007, London has invested over £5.75billion in French companies, with London firms such as online shopping platform ASOS, dating app Bumble and Hostmaker, a hospitality provider for Airbnb hosts, all investing in Paris.[2]
UK exports to France have also seen a sharp increase over the last year, from £4.9billion in Q2 2016, to £6.5billion in Q2 2017 – a 32% increase since the referendum.[3] The Mayor's International Business Programme will support high-growth tech companies to take advantage of London's position as a leading place for investment, expansion and exports.
Janet Coyle, Principal Adviser on International Business at London & Partners, said: "The companies travelling with us on this trade mission to Paris represent some of the most exciting scale-ups in London. We look forward to helping these vibrant and diverse companies cement opportunities and partnerships in Paris. London and Paris are two of the greatest cities in the world, and working together through the Mayor's International Business Programme, and the Business Welcome Programme, we can create opportunities for trade and growth for innovators and scale-ups on both sides of the Channel."
Kevin Smith, London Regional Chairman of KPMG, said: "With Brexit now under negotiation it's important that our city looks to strengthen the corridors of trade and working relationships with other successful European centres. London boasts an army of entrepreneurs seeking to fuel the growth of our national economy by finding new ways to foster greater global collaboration on talent, innovation and investment with each other. Programmes such as the Mayor's International Business Programme creates opportunities to showcase the cutting-edge innovation that's bursting out of the Capital and helps the scale-up community that is vital for our economic prosperity."
[1] fDi Markets Data, France to London fDi, August 2007 – August 2017.
[2] fDi Markets Data, London to France fDi, August 2007 – August 2017.
[3] HM Revenue and Customs, Overseas Trade Statistics, Exports Values.
London & Partners Press Office
press@londonandpartners.com
020 7234 5710
Notes to editors
Notes to Editors
Full list of companies attending the trade mission:
The Mayor's International Business Programme, is a programme part funded by the European Regional Development Fund (ERDF), that aims to support high-growth companies in the life sciences, technology and urban sectors to increase their export success across a range of key markets in Europe, Asia and North America.The three year programme, led by London & Partners, the Mayor's official promotional agency, in partnership with KPMG, PA Consulting, BDO, Benoy and London Chamber of Commerce and Industry.
About London & Partners:
For high res, rights-free images of London, please register at http://photos.london/press/