Mayor launches #MyLondonDish campaign, backed by top chefs, to celebrate London's diverse food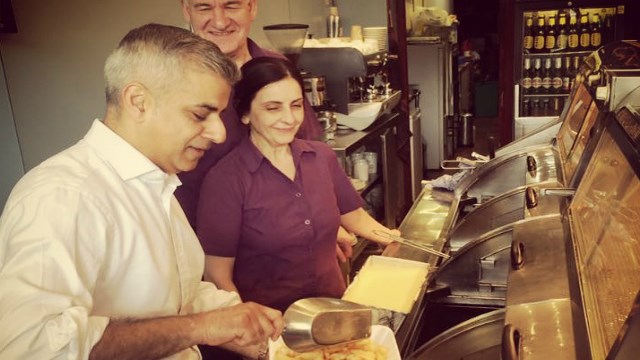 The Mayor of London, has launched a new social media campaign to celebrate food in London, as part of #LondonIsOpen
The Mayor of London, Sadiq Khan, has launched a new social media campaign called #MyLondonDish to celebrate food in London, as part of his #LondonIsOpen movement.
Top chefs and food experts across the capital have pledged their support including Jamie Oliver, Jasmine and Melissa Hemsley, 'Clerkenwell Boy', and many more. London has the highest concentration of restaurants in the UK including 65 Michelin-starred establishments, and offers more than 70 world cuisines. It is hoped that the campaign will encourage tourists to ignore outdated misconceptions about British food and instead explore the incredible variety of foods available in the capital. The campaign begins in the same week as the Mayor of London made his first post from his new Instagram account, @MayorofLDN. In it he shared his favourite London dish, traditional fish and chips, saying: "London is an incredible place to eat with some of the best chefs, food markets, restaurants and cafes in the world. And of course, we do the best fish and chips. They're #MyLondonDish (bit of a cliché, but the truth). What's yours? Take a photo, video or live of your favourite food or your favourite place to eat and make sure to tag me and use #MyLondonDish. Show the world that #LondonIsOpen for the world's best food!"
Social media users are being encouraged to share their chosen #MyLondonDish on Instagram or other social media platform. This could be a meal at their favourite London restaurant, or even something they've created using London-sourced ingredients. Those who join in the conversation will see their picture featured in a crowd-sourced gallery on a bespoke new segment of VisitLondon.com. Head to www.visitlondon.com/mydish for more information.
The Mayor of London, Sadiq Khan, said: "We want to unite Londoners and tourists alike through #MyLondonDish, to show that London is open to some of the finest cuisine in the world. Here in London we have thousands of incredible restaurants to eat and drink at, and a huge variety of interesting and exotic ingredients available at markets, shops and stalls throughout the capital. From traditional fish and chips to the best new fusion recipes, I urge Londoners to share their favourite dish and show the world that London is Open for food."
Jamie Oliver said: "I'm loving the Mayor of London's #MyLondonDish campaign to show the world that London is Open for Food. It's a bit naughty to put one of my own restaurants in but Fifteen is a massively unique restaurant having trained so many people over the years. No credit to me, all to our head chef Robbin Holmgren and his ridiculously yummy short ribs. There is so much diversity in London when it comes to food so I'd encourage everyone to get out there and try something new."
Andrew Cooke, Acting Chief Executive London & Partners, which runs VisitLondon.com, said: "My London Dish is a great way for international visitors to share their culinary experiences and help make sure everyone knows that London offers some of the best food in the world. With vibrant food markets and over 8,000 restaurants, offering 70 world cuisines, the city has a dish for everyone."
Award winning Instagrammer, Clerkenwell Boy said: 'London has an amazing dining scene and each week is a new adventure, from pubs to pop-ups and markets to Michelin-starred restaurants London has something to offer everyone. I like to mix it up with the places I visit across the city, but for me the bacon and egg naan at Dishoom is #MyLondonDish as it's such a brilliant twist on the classic British bacon butty. I'm excited to be a part of The Mayor of London's #LondonIsOpen campaign and to celebrate the amazing food we have here in London.'
Notes to editors
#LondonIsOpen  
#LondonIsOpen will show the world that London remains entrepreneurial, international, and full of creativity and possibility, while reassuring the more than one million foreign nationals who live in London that they will always be welcome, and that any form of discrimination will not be tolerated. The Mayor is urging all Londoners, organisations and businesses to show their support for the #LondonIsOpen message via social media, through other creative ways. The starting idea for the campaign is built around London opening its doors to welcome people in, and will encourage people to use this as a platform for their own contributions. A film of famous locations opening their doors has been produced https://youtu.be/ErLq9nir41E.  
The London Visitor Survey 2016 revealed that just 46 per cent of tourists said they were satisfied with food in London, compared to an overall satisfaction score of nearly 80 per cent. The study also found that most international visitors find where they are going to eat simply by walking past casual dining options such as pubs, cafes and fast-food restaurants. However, when visitors spent time researching where they were going to eat satisfaction rates went up to 57 per cent.