Mayor kicks off competition to find London's favourite food dish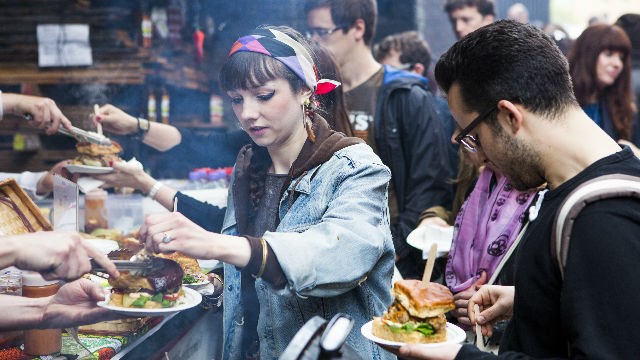 Vote open to the public with chance to win tickets to Night Market or a dinner for two
The Mayor of London, Sadiq Khan, has today called on Londoners and visitors to the city to vote for the food dish they believe makes London one of the world's culinary hotspots.
As the Evening Standard's London Food Month (1-30 June) gets underway, a competition has been launched by the Mayor for people to vote for their favourite #MyLondonDish and help to promote the variety and quality of the city's cuisine.
The Mayor launched the #MyLondonDish social media campaign earlier this year as a way of celebrating the outstanding food on offer in London. The campaign forms part of his broader #LondonIsOpen movement.
People from across the capital, including top chefs and food experts, have shared hundreds of images of some of the capital's most loved dishes on social media using the hashtag #MyLondonDish. Supporters of the campaign include Jamie Oliver, Duck and Waffle's Dan Doherty, Jasmine and Melissa Hemsley, 'Clerkenwell Boy', and many more.
VisitLondon.com has shortlisted the top 50, and the public vote is now open to crown the top #MyLondonDish. This will be used along with other top dishes to encourage visitors to explore the capital's cuisine. All voters will have a chance to win tickets to the Evening Standard's London Food Month Night Market or a dinner for two at one of the capital's best restaurants.
London has the highest concentration of restaurants in the UK including 65 Michelin-starred establishments, and offers more than 70 world cuisines. It is hoped that the #MyLondonDish campaign and competition will encourage tourists to spend more time researching and exploring the incredible variety of food and dining available in the capital.
The Mayor of London, Sadiq Khan, said: "Nowhere is London's diversity more apparent than in our food – we have all the flavours of the globe in thousands of incredible restaurants, and a huge variety of interesting and exotic ingredients available across the capital. It has been incredible to see so many Londoners sharing their take on #MyLondonDish. We've seen everything from fusion street food to the finest Michelin-star delicacies, as well as dishes people have made from ingredients sourced locally in London.
"We want to unite Londoners and tourists alike through #MyLondonDish and, as we mark London Food Month, it's time to crown the city's ultimate dish! I urge everyone to have their say and show that London is open to some of the finest cuisine in the world."
Julie Chappell, Chief Digital Officer, said: "With London's wealth of top-quality culinary cuisine, voters are spoilt for choice when picking their favourite #MyLondonDish. From fish and chips, to dim sum, to goat curry, every possible taste and food from all the round the world is catered for. I encourage everyone to check out the top choices on the VisitLondon website and get voting!"
The public can vote for their favourite #MyLondonDish at visitlondon.com/mylondondish. Voting is open until 30 June.
London & Partners Media & PR Team
Tel: +44 (0)20 7234 5710
Switch: +44 (0)20 7234 5800
press@londonandpartners.com
Notes to editors
#LondonIsOpen
#LondonIsOpen aims show the world that London remains entrepreneurial, international and full of creativity and possibility, while reassuring the more than one million foreign nationals who live in London that they will always be welcome, and that any form of discrimination will not be tolerated. The Mayor is urging all Londoners, organisations and businesses to show their support for the #LondonIsOpen message via social media, through other creative ways. The starting idea for the campaign is built around London opening its doors to welcome people in, and will encourage people to use this as a platform for their own contributions. A film of famous locations opening their doors has been produced https://youtu.be/ErLq9nir41E