Lumiere London: Full Programme Announced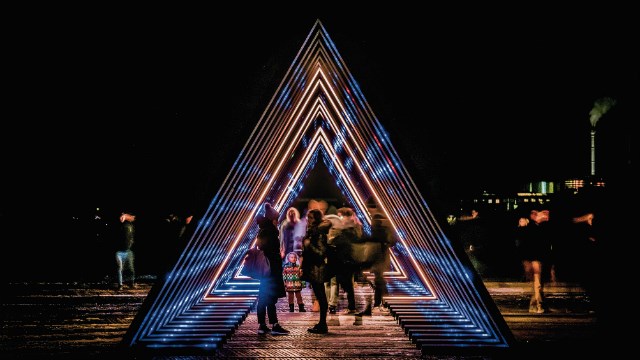 Event to take place from Thursday 18th - Sunday 21st January 2018 daily from 5.30pm - 10.30pm
#VALUE!

Notes to editors
NOTES TO EDITORS   
About Lumiere 
Lumiere was created by Artichoke in Durham in 2009, and took place again in 2011, 2013, 2015 and  2017, commissioned by Durham County Council. In 2013, Artichoke produced Lumiere in  Derry~Londonderry UK City of Culture. In January 2016, the company staged the first Lumiere London,  supported by the Mayor of London, attracting audiences of over 1 million over four nights.  http://www.lumiere-festival.com   
About Artichoke  
Producers of extraordinary live events, Artichoke is one of the country's leading creative companies and  is a registered charity, funded by Arts Council England. At Artichoke, we use art to undermine the mundane and disrupt the everyday, and create a new kind of  world that we'd all like to live in. 
Our previous projects include Royal de Luxe's The Sultan's Elephant, which brought an estimated one  million people onto the streets of London in 2006; La Machine's 50-foot high mechanical spider for  Liverpool's Capital of Culture celebrations in 2008; Antony Gormley's One & Other 100-day-long invasion of the Fourth Plinth in Trafalgar Square in London in 2009; and Deborah Warner's commission for the  London 2012 Festival with Fiona Shaw, Peace Camp, a nationwide celebration of landscape and poetry, which took place across eight separate sites around the UK; Temple by David Best in  Derry~Londonderry, attended by more than 75,000 people; and London's Burning, a festival to commemorate the 350th anniversary of the Great Fire of London in September 2016. Artichoke creates  and produces Lumiere, the UK's largest light festival, which has been staged in Durham every two years  since 2009; in Derry~Londonderry in Northern Ireland as part of the celebrations for City of Culture 2013,  and in London for the first time in January 2016. www.artichoke.uk.com    
Mayor of London 
The Mayor of London supports a range of cultural events and activities throughout the year. For more information, go to www.london.gov.uk/culture, or email communitydesk@london.gov.uk 
MAJOR PARTNERS   
London's West End 
The UK's most visited destination – London's West End attracts more than 200 million visitors a year from  across the globe. The area offers a globally unique and unrivalled mix of shopping, culture, food and  entertainment and is home to many vibrant neighbourhoods. The West End is home to world famous  landmarks from Piccadilly Lights and Trafalgar Square; the iconic shopping areas of Bond Street, Carnaby, Oxford Street, Regent Street and Seven Dials; cultural, creative and entertainment hotspots of Soho, Leicester Square, Piccadilly, Chinatown London and Shaftesbury Avenue and world class hotels, luxury shopping, galleries and phenomenal global dining experiences across Mayfair and St James's. Key promotional partners for the West End include Westminster City Council, Grosvenor Britain & Ireland, Heart of London Business Alliance, New West End Company, Regent Street Association, Shaftesbury  and The Crown Estate.    
King's Cross is London's new creative quarter, home to 67 acres of inspiring businesses and  outstanding architecture, destination restaurants and a vibrant cultural scene. The area's industrial past  has inspired the 50 new and repurposed buildings; the public spaces between them are a mix of parks,  streets, squares, and gardens, with Granary Square and its fountains as a heart. Already known as a foodie hotspot, King's Cross is now establishing itself as a retail destination. Nike, 18Montrose, Jigsaw, & Other Stories, Carhartt WIP and Waitrose are all open for business and the retail vision will complete in late 2018 when Coal Drops Yard, London's newest shopping street, opens in a pair of redesigned Victorian coal buildings, creating 100,000 sq ft of boutiques, shops, bars and restaurants in the centre of King's Cross.  www.kingscross.co.uk    
London & Partners and visitlondon.com 
Visitlondon.com is the official visitor guide to London and is run by London & Partners, the Mayor of  London's official promotional agency. London & Partners' purpose is to support the Mayor's priorities by  promoting London internationally, as the best city in the world in which to invest, work, study and visit. It  does this by devising creative ways to promote London and to amplify the Mayor's messages, priorities  and campaigns to engage international audiences. Its mission is to tell London's story brilliantly to an international audience. London & Partners is a not-for-profit public private partnership, funded by the  Mayor of London and our network of commercial partners. For more information visit  www.londonandpartners.com     
Visitlondon.com is a comprehensive resource for everything that is happening in London. At any one time, this includes 20,000 event listings, plus content designed to inspire and assist visitors. Visitlondon.com is available in English, French, Italian, German and Spanish. Each month visitlondon.com attracts more than 3.5m visits and its social media channels have 1.75m followers. For more information, visit www.visitlondon.com   
About Bloomberg Philanthropies
Bloomberg Philanthropies works in over 120 countries around the world to ensure better, longer lives for the greatest number of people. The organization focuses on five key areas for creating lasting change: Arts, Education, Environment, Government Innovation, and Public Health. Bloomberg Philanthropies encompasses all of Michael R. Bloomberg's charitable activities, including his foundation and his personal giving. In 2016, Bloomberg Philanthropies distributed $600 million. For more information, please visit www.bloomberg.org or follow us on Facebook, Instagram, Snapchat, and Twitter.    
PRODUCTION PARTNERS 
Unusual Rigging 
QED Productions   
KEY PARTNERS 
Grosvenor Britain & Ireland 
South Bank BID 
The Fitzrovia Partnership 
Victoria BID 
Wellcome    
EVENT PARTNERS 
Astrea Asset Management 
Cain International Canon 
The Connaught Hotel 
Croydon Council 
Great Portland Estates 
High Commission of Canada in the United Kingdom 
LCR 
We are Waterloo 
Marriott International 
QED 
Technicians make it happen supported by Gatsby Foundation 
TfL 
Universal Music 
Veolia 
Westminster City Council 
Zumtobel Group  QED    
SUPPORTERS 
BAM Construction 
City Cruises 
Creative Barking and Dagenham 
Croydon Partnership 
Durham Distillery 
European Commission 
Everyman 
Lambeth Council 
Leathersellers' 
Coin Street Community Builders 
London Borough of Redbridge 
Hammerson 
Macao Government Tourism Office 
Mondrian Hotel London 
Royal Borough of Greenwich 
The Baring Foundation 
The Royal Netherlands Embassy 
Square 
Waltham Forest 
Q-Park   
WITH THANKS TO 
Embassy of Spain 
Rotunda Bar and Restaurant 
St Ermin's Hotel 
The Polish Cultural Institute