London's Royal Welcome: Queen's Platinum Jubilee celebrations spark special year for London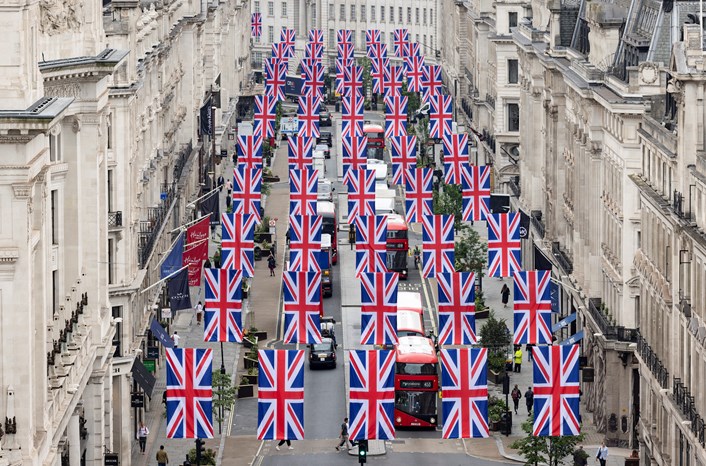 Photo credit: Matt Alexander, Press Association
It is set to be a year unlike any other as London starts a year of celebration with the Queen's Platinum Jubilee. London is at the heart of this year's Platinum Jubilee Celebrations, with official events like the Trooping the Colour (2nd June), Platinum Party at the Palace (4th June) and the Platinum Jubilee Pageant (5th June) bringing tourists and locals together for an unforgettable Royal party.
While the official celebrations centre on the first weekend in June, there is much more to do in London on Jubilee weekend and beyond, from soaking up the Superbloom at the Tower of London, to summer tours of the Buckingham Palace State Rooms and celebratory menu items and offers across the city.
To welcome visitors to these celebrations and beyond, Visit London launched its biggest ever international tourism campaign in May 2022. The "Let's Do London" campaign invites people from around the world to choose London as their bucket list destination in 2022.
Laura Citron, CEO of Visit London, said: "The Queen's Platinum Jubilee is a once in a lifetime moment and will certainly provide a major boost for London's tourism industry this year. We know that one of the main reasons international visitors come to London is to experience our unique Royal offer. From our historic Royal Palaces and parks to the numerous Jubilee themed exhibitions this year, no city does Royal pomp and ceremony like London."
"We are very excited to launch our Let's Do London international campaign in the run up to the Queen's Platinum Jubilee. There has never been a better time to visit London as our festivals and events return to the city this summer, with lots of special events planned for the Jubilee. From ABBA Voyage and new theatre shows, to the Women's EUROs and food festivals, there is something for everyone in London this summer."
To help you create your perfect Jubilee itinerary, here is Visit London's pick of the best royal activities to celebrate the Queen's unprecedented anniversary while in her home country.
Recently launched on May 1, Brigit's Bakery's Platinum Jubilee Tour invites visitors to see the heart of the city's culture, landmarks and history on one of London's famous double decker buses while being served lovely cups of tea and an array of tasty sandwiches, cakes and pastries. An Official London Tour Guide will join every trip to tell us everything we need to know about her Majesty the Queen.
Unveiling in June 2022, visitors should head over to the Tower of London's Superbloom where 20 million carefully selected seeds have been sown in the Tower's famous moat, creating a vibrant sea of flowers. This display will continuously evolve from June to September, changing colours and patterns throughout the Summer. The 'Superbloom' is also the first stage of a permanent transformation of the famous moat into a new natural landscape designed to attract bees, pollinators and seed-eating birds.
Similarly, putting on a special display this year from May 23-29, Belgravia in Bloom, will showcase a community's reimagination of the Queen's historic reign, and Britain's most iconic, historical moments in flowers. Visitors will see the neighbourhood's beautiful streets transform into a series of spectacular floral displays, installations and experiences at every turn.
Happening over the weekend of June 2-5 are a list of never-ending street parties in neighbourhoods across the city. Be sure to check out the Mayfair Street Party, the Belgravia Street Party and Platinum Picnic in the Park (Greenwich) happening on varying dates over the Bank holiday weekend. These fairs are free to enter and are lined up to include art, decorations, street vendors and live music filled with celebratory cheers for her majesty. Additionally, happening on June 5, both the Platinum Jubilee Street Party in Chinatown and the Westminster Chapel's Street party in St. James are not to be missed. You can also catch screenings of all the weekends celebrations in St. James Market and live music celebrating 70 years of Her Majesty's reign, on Saturday June 4 at the Royal Festival Hall. The majority of the pieces have been chosen for their connection to royal events and all have featured in the Coronation or a royal wedding.
For other royal-themed exhibitions and displays check out the Life Through a Royal Lens exhibit at Kensington Palace which displays the most iconic royal photographs as well as glimpses of the Royal Family off-duty, walk the halls of the home of former monarchs George III and Queen Charlotte at Kew Palace, and visit Westminster Abbey, the site of coronation for all British monarchs since 1066.
This July through October, you can even explore the Queen's famous London residence and peek inside Buckingham Palace Staterooms. Of course, no matter what time of year, you must see the striking display of British pageantry during the Changing of the Guard at Buckingham Palace and look behind the scenes at the work that goes into the ceremonial duties and operational roles of some of its members at the Household Cavalry Museum.
For something a bit different, sightseers are welcome to join City Experiences' Platinum Jubilee Champagne Afternoon Tea Cruise which includes all the trimmings of a traditional afternoon tea and a delectable menu of savoury and sweet treats, inspired by British royals past and present. Raise a glass of champagne to her majesty as you cruise at a leisurely pace along the river Thames while taking in London's famous historic riverside sights including the Houses of Parliament and the Tower of London.
For those looking to vacation like a royal without spending like one? Travelers should take advantage of these regal offers to save big on their next trip across the pond. Impeccably English and perfectly individual, The Goring features 69 sumptuous suites and rooms, each uniquely decorated with the finest furnishings. As the last remaining family-owned luxury hotel in London, it is renowned for its warm, intimate atmosphere and personalized service. Located in Belgravia - one of the most exclusive and elegant areas in central London - it is perfectly placed for spectacular sights and style.
The Goring is celebrating the first ever Platinum Jubilee year with its Jubilee Goring Stay package, where guests can experience extra fun treats including glorious afternoon teas, resplendent cocktails, Coronation-inspired dishes, a garden installation of The Royal Family's favourite plants and flowers, a Royal (dressing up) box for little VIPs and the return of Instagram-famous Teddy The Shetland.
For another option, celebrate the Queen's Jubilee in the heart of London at the Corinthia London. As part of the celebratory year, the hotel is not only offering the Royal London Calling Package which includes an upgrade and up to a $200 hotel credit, but guests staying June 1-11 can participate in The Royal Experience, which includes a private chauffeur in a Rolls Royce upon arrival, a British Afternoon Tea in the penthouse suite served by a private butler and championed by a rare specially blended Canton tea, exclusive to Corinthia London, and a chance to experience Michelin-star chef, Tom Kerridge's winning banqueting dish and Nick Beardshaw, Head Chef's competition dishes, both from the popular TV show 'The Great British Menu' on the BBC.
Get palace-like views at the London Marriott County Hall and take in the unbeatable sights of the Houses of Parliament, London Eye and the river from one of their balcony suites. Occupying London's former City Hall, this hotel embodies the city's storied history and quintessentially British spirit. At this perfectly located hotel, the longer you stay, the more exciting the discount. For any stay of 3 nights or more start racking in the savings. Stay 3 nights and enjoy 15% savings off the room rate, stay 4 nights, enjoy 20% savings off the room rate, or stay 7 nights and enjoy 25% savings off the room rate. Overlooking the best of London's iconic landmarks, this hotel is not to be missed.
To find out more about London's Jubilee events and activities, go to Queen's Platinum Jubilee in London - visitlondon.com.
Notes to editors
ABOUT LONDON AND PARTNERS AND VISITLONDON.COM
Visitlondon.com is the official visitor guide to London and is run by London & Partners, the business growth and destination agency for London. Our mission is to create economic growth that is resilient, sustainable and inclusive.
Visitlondon.com is a comprehensive resource for everything that is happening in London. At any one time, this includes 20,000 event listings, plus content designed to inspire and assist visitors. Visitlondon.com is available in English, French, Italian, German and Spanish. Each month, visitlondon.com attracts more than 3.5m visits and its social media channels have 1.75m followers. For more information, go to visitlondon.com.
ABOUT THE LET'S DO LONDON CAMPAIGN
The Let's Do London Campaign international campaign is a £10m ($12.5m) initiative bringing together London's world-leading hospitality, culture, nightlife and retail venues to promote all London has to offer international visitors. This campaign will encourage international tourists to return with confidence to London now that travel restrictions are easing around the world. It is London's largest ever international tourism campaign.
The domestic Let's Do London promotional campaign, launched in May 2021, has generated an additional £70m in consumer spending to London's economy to date. It has also seen significant increases across visits, intent to visit London and confidence in visiting the capital amongst those who are able to recall the campaign.
Many of London's leading cultural attractions, theatres, museums, hotel groups and tourism industry bodies are already supporting the campaign including: Merlin Entertainments –The lastminute.com London Eye, Madame Tussauds London and SEA LIFE London Aquarium; Historic Royal Palaces; New West End Company; Heart of London Business Alliance; The Crown Estate; Society of London Theatre; Capco Covent Garden; Shaftesbury; South Bank BID; Hilton; Victoria and Albert Museum; Natural History Museum; Science Museum; Tate; British Museum; Royal Albert Hall; The National Gallery; ZSL London Zoo; City of London; London HQ (Heritage Quarter); Baker Street Quarter Partnership and Association of Leading Visitor Attractions.