London's playground is officially open for Family Fun this summer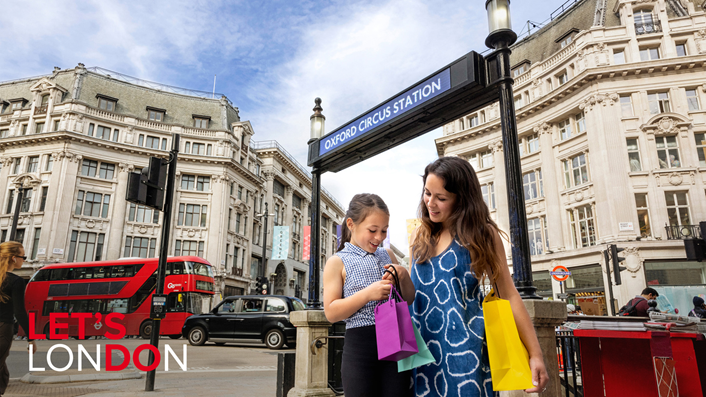 Mayor launches a season of summer Family Fun with an abundance of child-friendly events and activities across central London
Sadiq issues an invitation to young Londoners to apply to be London's first Mayors of Play
Heralded as the 'best summer job in the world' – five lucky youngsters will help curate a summer of fun alongside the Mayor of London himself
As kids and parents gear up for the school holidays, The Mayor of London, Sadiq Khan, today invited families from across the UK to spend their summer in the capital.
Announcing the latest phase of his Let's Do London campaign, the Family Fun season will see London burst back to life with an abundance of fantastic, family-friendly events and experiences and, an exciting opportunity for young Londoners to become Sadiq's Mayors of Play.
Unveiling a raft of thrilling activities for children of all ages, Sadiq is encouraging families across the capital and nationwide to plan a day trip, mini break or a longer staycation in 'Britain's biggest playground.'
After a difficult year which has seen kids across the country being deprived of play and many other important experiences, the Let's Do London's Family Fun season will showcase the very best of the capital through the eyes of little Londoners. Sadiq is also inviting young Londoners to apply for a summer job like no other. Today marks the start of his public search to fill an exciting new vacancy – the opportunity to become London's first 'Mayors of Play'!
A team of up to five lucky Londoners – between the ages of 8-11– will be given the chance of filling this once in a lifetime 'summer job'. Once appointed, the Mayors of Play will work alongside Sadiq providing 'expert' guidance in curating the most family-friendly and accessible activities in London, our living playground!
During their time in office, the Mayors of Play will share their recommendations on London's best museums and outdoor spaces as well as their favourite galleries and activities. The Mayors of Play will also help reimagine London's iconic tube map for their peers - it'll be a summer of fun curated for kids, by kids!
The Family Fun Programme will include everything from 'Formula Fun' go-karting on the streets of London, to new fairground rides, and events with top class musicians, poets, street artists and dancers. There will be new outdoor art trails, as well as exclusive events to celebrate the return of West End theatre as part of Kids Week.
New outdoor learning and play experiences will also connect families with London's nature and heritage through hands-on fun and inspiring activities led by Royal Parks. Further events and activities are being organised by leading cultural institutions such as the National Gallery, Sadler's Wells, and Somerset House.
The Mayor of London, Sadiq Khan, said: "It's been such an incredibly difficult 16 months for young people and their families, so I'm delighted that we can offer such a huge range of exciting events and activities that young people can enjoy.
"I want to turn London into Britain's biggest playground this summer – whether with our plans for go-karting, new fairground rides, or opportunities to get involved in dance, poetry, art, or preserving nature in our wonderful royal parks. And in launching my search for London's first ever 'Mayors of Play', I want to hear directly from our young people about what we need to focus on most to make the capital even better for children.
"With restrictions on international travel still in place, there has never been a better time for children and families from London and across the UK to avoid the queues and safely visit our wonderful attractions this summer."
Allen Simpson, Acting CEO London & Partners, which runs Visit London, said: "From free theatre tickets and interactive exhibitions to go-kart racing and meeting animals at the zoo, families have so many reasons to visit central London this summer. It's great to see London's best museums, attractions and theatres putting on so many fantastic family friendly activities as part of our Let's Do London campaign."
"The Mayor's search for his own Mayors of Play is a once-in-a-lifetime chance for children to show the adults where the coolest places in London are. I know kids will trust the opinions of the Mayors of Play far more than that of an adult – or even worse, their parents!"
Emma De Souza, Kids Week founder and Head of Marketing and Communications at the Society of London Theatre, said: "We're delighted to be heralding the return of theatre and working with the Mayor's office to bring families back into the heart of the West End. Our week of free, outdoor creative activities in Leicester Square Gardens forms part of long-running initiative Kids Week, offering free children's theatre tickets throughout August.
"It has been fantastic to launch Kids Week this year after being forced to cancel in 2020 - and the response has been overwhelming, with nearly 80,000 theatre tickets sold already to over 30 top London shows. Families are hungry to return to live theatre, and we're looking forward to a summer of magical cultural experiences with Let's Do London."
Ros Morgan, Chief Executive of Heart of London Business Alliance, said: "Nowhere else in the world can you stop for lunch on a bench with Mr Bean or Paddington, dance alongside Gene Kelly's Singin' in the Rain or hold your umbrella aloft next to Mary Poppins. Scenes in the Square is a first of its kind and we hope it will put London on the movie map like the Walk of Fame has in Hollywood." 
While Sadiq Khan waits to reveal his new team, here's an overview of some of the great Family Fun activities coming to London this summer:
Inflatable Eyes over London - through August. Inflatable eyeballs will appear on trees inviting Londoners and visitors to 'see London differently'. Children can find the eyes hidden in trees across public spaces.
Play London, Formula Fun Fortnight -Buckle up London because this summer push-powered go-karts will be the perfect vehicle for family fun. Built from scratch by children where they live and play, bringing colour and creativity to the fore as London Play's Formula Fun creates good times for London's children and their families, with a big finale in central London.
Dodge at Somerset House – 15 July to 22 August. Turbo-charge your summer as Somerset House welcomes back visitors with a thrilling new open-air experience in its spectacular courtyard. Featuring dodgems with a difference, bold installations from acclaimed artists and a delicious selection of food and drinks, Dodge is the perfect setting to celebrate quality time with family and friends once more. Under 12s to go free on the dodgems, Tuesday & Wednesday 12-3pm.
Network Rail & Busk in London - from 21 July - 5 September. Welcoming Londoners and visitors at rail stations with top class musicians and family fun entertainment
Art of London - launching summer 2021 (July-September) Art of London will celebrate art in all its forms across London's West End including a gallery without walls featuring work from five Royal Academy artists; pop-up exhibitions showcasing the work of up-and-coming London based artists and digital art takeovers of the iconic Piccadilly Lights every day at 20:21.
National Gallery, Sketch on the Square, 3 August to 2 September. An outdoor exhibition of over 20 life-sized replicas and digitally augmented art featuring some of the most famous and treasured paintings in the nation's collection; accompanied by a programme of free, daily alfresco art activities for Londoners and visitors alike.
Kids Week Summer Outdoor Experiences, 23 August to 27 August. Free outdoor theatre activities for families in Leicester Square Gardens featuring theatrical storytelling, singalongs, dance, demos, puppet workshops and more as part of much-loved summer initiative Kids Week offering free children's tickets to top London shows.
The Royal Parks, Discovery Days, 3 August to 26 August. This Summer the Royal Parks are welcoming families back to the LookOut Discovery Centre in Hyde Park for their popular free drop-in Discovery Days every Tuesday, Wednesday and Thursday. Every week there will be a different theme from Meadow Madness, Life Underground to Wild Water and the beloved Peter Pan.
Sadler's Wells, Breakin Convention presents, August – September. The King and Queen of the Cobblestones, featuring the best breakers in the UK battling it out Bonnie and Clyde style in the Covent Garden Also, live street art featuring the NEWNION JACKwith a variety of immersive performances to entertain and energise central London. Including freestyle dance sessions, spoken word open mic, and a "hip hop chip shop" rap battle! Lots of opportunities to participate in the festivities so bring your skills!
South Ken Green Trail, 23 July to 17 October. South Kensington is coming alive with family activities and a new green trail, creating pop-up nature hubs designed by architects, artists and garden designers buzzing with new ideas and inspiring visions for a greener future.
'Scenes in the Square' - a dynamic bronze statue trail celebrating classic movie moments and iconic characters from the past 100 years of film and entertainment, in Leicester Square, open now.
From 24 July at London Transport Museum in Covent Garden, visitors can enjoy family-friendly trails and storytelling exploring the capital's urban landscapes and wild-life hotspots
At the Tate Modern on Bankside, visitors of all ages are invited to transform the floor of the Turbine Hall into a giant work of art at UNIQLO Tate Play: Mega Please Draw Freely.
A giant temporary stage in Trafalgar Square will host Sir Simon Rattle and the London Symphony Orchestra, together with young musicians from the pioneering LSO East London Academy and 14-year-old violinist Leia Zhu, for the free BMW Classics concert on Sunday 15 August 2021 at 6.30pm.
Families can also enjoy live jazz music, yoga in the park, Wildlife Bingo, New Youthquake, Blue Badge tours and the Kensington & Chelsea Festival as part of the boroughs Summer of Love.
In the Square Mile, look out for free outdoor performances, walks and tours, music and installations including a celebration of beauty, love and truth – recurring themes in the poetry of John Keats, 200 years after his death
Free family tours of St Pauls Cathedral and a library installation of books for all ages, exploring ways to reimagine our future – The Apocalypse Reading Room.
Camden Together will take place from July to October, in partnership with British Museum, Roundhouse, London Irish Centre, Camden Black Creatives and more. Celebrating the boroughs rich cultural landscape, it includes free and low-cost activities for children, young people and families right through the school holidays. And as ever, families can download our free London Curriculum Family Explorer Trails, to guide their exploration of our great city and discover more about its culture, science and stories.
From 23-25 July, Feria de Londres will bring a celebration of Spanish cuisine and culture to Guildhall Yard (£5, accompanied under 16s free); from 2 August until end of October , families aged 7+ are invited to the Barbican Conservatory for a free immersive storytelling experience and Play Packs will see Culture Mile reclaim the City streets for local families, culminating in a giant den-building workshop on 11 September as part of Whitecross Street Party.
There is world-class cricket with The Hundred coming to Lord's Cricket Ground and The Kia Oval from 21 July – tickets £5 for under 16s, and under 5s go free
Trolls World Tour experience touches down at Shrek's Adventure! London until 31 August
Travel the World this summer at London Zoo: 24 July – 31 August. Visit the rainforest, the savannah and the ocean, all without leaving London. Grab your zoo passport and embark on a 'world tour' exploring remarkable species – over 20,000 amazing animals – and their habitats across the globe. Plus crafts, pop-up activities and world food stalls.
Shakepeare's Globe has storytelling events for ages 3-12+
St Martin's in the Field has a free summer music stage every Thursday, Friday, Saturday and Sunday and a magical sphere leads outdoor sonic adventures in London Bridge; a fun family experience from Unicorn Theatre.
Full details about the campaign and all family experiences can be found here - www.visitlondon.com/FamilyExperiences
Notes to editors
For further information please contact 3 Monkeys Zeno at londonandpartners@3monkeyszeno.com
Mayors of Play Competition
Visit this webpage for full competition details and terms and conditions. Competition opens at 9am on 14 July and closes at 6pm on 19 July 2021.
FOR ALL FAMILY FUN SEASON PRESS IMAGES – CLICK HERE
About Let's Do London
Let's Do London is a £7m initiative launched by the Mayor of London, Visit London, Transport for London and backed by industry, bringing together the capital's world-leading hospitality, culture, nightlife and retail venues to promote all London has to offer.
Let's Do London will reinvigorate central London and welcome back visitors from across the UK back to the capital with a curated programme of seasonal events and cultural activities designed to suit a range of age groups. The campaign will include a major advertising push supported by London & Partners and TfL, alongside new content on the Visit London website outlining all the campaign has to offer to Londoners and visitors to the capital.
The Let's Do London campaign is supported by the following organisations: Association of Leading Visitor Attractions (ALVA); Baker Street Quarter; British Museum; Capital & Counties; City of London; Grosvenor Estates; Hilton; Heart of London Business Alliance (HOLBA); Historic Royal Palaces (HRP); Marriott; Merlin; National Gallery; Natural History Museum; New West End Company (NWEC); Royal Albert Hall; Science Museum; Shaftesbury; Society of London Theatre (SOLT); South Bank BID; Tate; The Crown Estate; V&A; Visit Greenwich; ZSL London Zoo
For more information, please visit: https://www.visitlondon.com/things-to-do/lets-do-london
About London & Partners and visitlondon.com 
Visitlondon.com is the official visitor guide to London and is run by London & Partners, the business growth and destination agency for London. Our mission is ​ to create economic growth ​that is resilient, sustainable ​and inclusive.​
Visitlondon.com is a comprehensive resource for everything that is happening in London. At any one time, this includes 20,000 event listings, plus content designed to inspire and assist visitors. Visitlondon.com is available in English, French, Italian, German and Spanish. Each month visitlondon.com attracts more than 3.5m visits and its social media channels have 1.75m followers. For more information visit visitlondon.com