London welcomes the winter season with an array of magical activities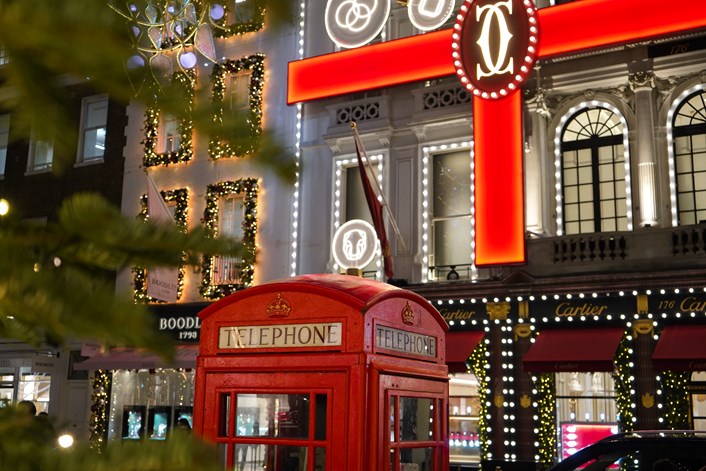 The UK capital prepares for a blockbuster festive season, with millions of visitors expected in the city to celebrate the holiday period
Visitors can expect all-new ice rinks, festive West End shows, dazzling light displays and fantastical shopping experiences
London lights up in celebration of holidays including Christmas, Diwali and Hannukah
When it comes to the most wonderful time of the year, London has no end to the festive experiences waiting to be enjoyed. The city always looks its best bedecked with famous festive lighting, visible throughout the city from its quieter streets to its busiest landmarks.
The fantastical winter windows, carefully crafted each year by local artisans are unmissable, as are the countless Christmas markets, waiting to sell steaming food, warming beverages and beautiful gifts. Suitable for all visitors, on all budgets, London is gearing up for its biggest festive season yet post-pandemic.
New adventures for the 2023 season
Brand new to London's winter offer, don't miss Wishmas: A Fantastical Christmas Adventure. A World Premiere Event by the creators of Secret Cinema, experience an immersive cinematic journey, set at the Old Bauble Factory in Waterloo that will take you across the night sky to Father Christmas himself. Another hot new ticket is the highly-anticipated Kingdom of Winter experience at ExCeL London, the largest indoor Christmas market in Europe. The vast installation will include a circus, an ice rink, two food and drink villages and a jam-packed fairground.
One of the most iconic winter lighting displays is Christmas at Kew, in which the UNESCO World Heritage Site Kew Gardens adorns its grounds with innovative and jaw-dropping installations. This year launching on the 15th of November, new installations include Lili by TILT, a collection of towering flowers, Spark Ballet, 24 lanterns each filled with 'dancing' lights, and Candles, a series of one hundred floating candles.
Bask in the winter glow as London's glittering lights switch on
The stunning lighting displays that adorn the city never fail to impress both visitors and Londoners alike. Visitors can't miss Regent Street's iconic presentation, which illuminates the street's legendary storefronts, each boasting a festive windows display. Close by, Carnaby's famous installation, switched out each year for a new thematic display, gets more dazzling every year.
Dates for the diary include the elegant areas of Belgravia and Mayfair, which will turn on their lights on 15th and 16th of November respectively. Elsewhere, the charming Marylebone Village will go bright on the 9th of November, and will have new festive lighting for the 2023 season.
London celebrates a diverse range of winter festivities
For those marking other festivals during the season, there are opportunities to enjoy these with public celebrations too. Every year, Greenwich hosts a family-friendly Diwali celebration, with live music, food, workshops and light shows. This year the event will take place on the 11th of November.
Hannukah is also an important event for the city, and there will be lots of opportunities to celebrate, with candle lighting ceremonies throughout the city, including the famous Menorah on Trafalgar Square. Greenwich also hosts an annual event every December on Greenwich Avenue, to which all are welcome.
Grab your tickets to a festive show
London's cultural calendar is always jam-packed with pantomimes during the festive season, and never has that been more true than this year. Top choices include Peter Pan at the Palladium, starring comedy icon Jennifer Saunders, and Peter Pan Goes Wrong at the Lyric Theatre, brought to us by the creators of The Play That Goes Wrong. To help make things more affordable, Society of London Theatre will also be running its Official London Theatre Sale, with highly discounted tickets available throughout the season.
For dance lovers, it's the season of the beloved Nutcracker, with both The English National Ballet and The Royal Ballet performing the festive favourite, at the London Coliseum and the Royal Opera House respectively. Alternatively, Disney on Ice presents 100 Years of Wonder will be performing at the O2. For those that enjoy singing carols, the St Paul's Cathedral Carol Concert is free and works on a first-come, first-serve basis, whilst Carols at the Royal Albert Hall will run from the 16th to the 24th of December. Don't forget to check locally too!
Where to shop for the perfect presents
London's plethora of retail destinations ensures that all budgets and tastes are accounted for: luxury shoppers can head to the glittering Harrods building, whose hallowed halls are a destination in their own right and worth a visit for the more cash-conscious traveller too. The city's other legendary department stores include Selfridges, Fortnum and Masons and Liberty's, all set to be adorned with state of the art festive decorations.
The capital will also be rife with bustling Christmas markets with lines of chalet stalls popping up, among others, in Leicester Square, the Southbank, Kings Cross, Greenwich, and Covent Garden.
Book tickets now for some festive family fun
Nothing says winter entertainment quite like ice skating. Top picks in London include skating at some of the city's most prestigious and stunning historic locales like the Queen's House, Somerset House, Hampton Court Palace and Alexandra Palace. The newest addition, Glide at Battersea Power Station is the city's only riverside ice rink, and perfectly placed for some retail therapy inside the new development before or after your session.
A big family favourite is Hogwarts in the Snow at Warner Bros. Studios. See the iconic Harry Potter sets buried in snow for the ultimate nostalgic day-out. Winter Wonderland in Hyde Park has also launched its 2023 ticket sales, and has something for all the family whether you're looking for sky-high rides, a drink at Bar Ice, or even an ice sculpting workshop. Or for something a bit different, why not try your hand at Curling on Southbank.
Laura Citron, CEO at London & Partners, which runs Visit London, said: "Nowhere shines as bright as London in winter. As the city comes alive with a packed cultural calendar, you can wander amongst world-renowned Christmas light displays, shop for gifts in our legendary outlets and festive markets, treat yourself to a pantomime or festive show from the Nutcracker at the Royal Opera House to Peter Pan Goes Wrong: we've got it all!
"Annual highlights like Christmas at Kew, the Christmas Tree in Trafalgar Square and of course our fantastic ice rinks, mean there's something for everyone. We look forward to having millions spend the season with us once more, in what looks to be our biggest Christmas post-COVID."
To book tickets for all listed activities, and for more suggestions on everything happening in London this upcoming festive season, check out our comprehensive guide on Visit London: Christmas in London 2023 - What's On - visitlondon.com