London welcomes back fans to UEFA EURO and Wimbledon Finals in huge boost for capital's major events industry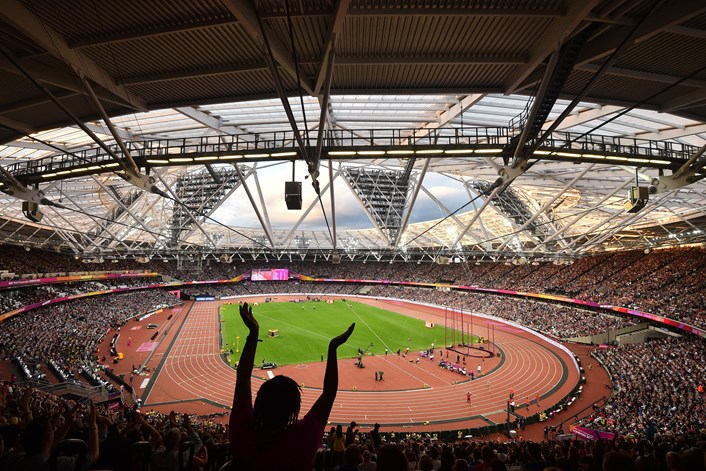 Image Credit: British Athletics, Getty
A new report released today by London & Partners shows that major events add more than £600m to London's economy every year
The crowd of 60,000 at Wembley for the UEFA EURO 2020 semi-finals and final will be the biggest seen in the UK since the start of the pandemic
The football marks the start of London's return to major events, with the Wimbledon Final at full capacity later this week, plus the Women's EUROs, Pride in London and Formula E coming to the city in the next year
Mayor of London Sadiq Khan invites people back to London to enjoy the activity around upcoming major events as part of the Let's Do London campaign
Crowds of 60,000 will cheer on the final four teams vying to become UEFA EURO 2020 champions at Wembley Stadium this week and the Wimbledon tennis finals will be played to a full-capacity Centre Court. These landmark crowds mark more than the return of huge numbers of fans to stadiums, they also mark the return of major events to London, which a new report by London & Partners and Hatch shows add more than £600m to London's economy every year and can be a huge catalyst towards London's recovery from the pandemic.
What major London events are coming up?
UEFA EURO 2020 at Wembley will be the jewel in London's summer of sport. But there are so many more major events to look forward to as the capital reopens this season.
Wimbledon returns to a packed, full-capacity centre court for the ladies and men's singles finals later this week.
Brand-new cricket competition The Hundred will bring action-packed excitement to The Oval and Lords this summer. Every bowl counts as each game only has 100 balls. Eight new teams have been created for the tournament including London Spirit and Oval Invincibles. The tournament runs from 21 July – 21 August.
Twenty-four Formula E cars will speed through The Royal Docks and ExCeL London as all-electric street racing returns to the UK capital for the first time since 2016 on 24 and 25 July.
The August Bank Holiday weekend will buzz with music at All Points East festival in Victoria Park. Headliners include London Grammar and Foals.
Pride in London will burst onto the streets of London with a parade full of colour, fun and inclusivity on 11 September. This year's themes are Visibility, Unity and Equality.
Designers will rejoice when London Fashion Week returns to eye-catching in-person shows from 17 - 21 September at the same time as the London Design Festival celebrates London as the design capital of the world from 18 – 26 September.
West End LIVE will return to London in September, bringing together some of London's biggest shows and musicals in a free spectacular.
The 41st edition of the London Marathon will take place on 3 October with a record-breaking 50,000 runners completing the iconic course from Blackheath to The Mall.
Frieze London will present the best of international contemporary art by emerging and established artists, alongside a dynamic programme of newly commissioned artworks, films and talks in Regents Park from 13 – 17 October.
For the first time in Rugby League World Cup history, the men's, women's and wheelchair games will come together at the same event. All 61 matches will be played at venues across England from 23 October – 27 November, including London's Copper Box Arena and Emirates Stadium.
NFL's London Games return to the capital for two matches at Tottenham Stadium in October.
Film fans can celebrate getting back to the cinema at the 65th BFI London Film Festival from 6 – 17 October. Each year, the festival presents a selection of the best in world cinema, showing audiences a wide array of films, representing a variety of languages, genres and filmmaking styles.
Further ahead, 2022 is already shaping up to be an amazing year of cultural events and sport. Highlights will include the Queen's Platinum Jubilee, UEFA Women's Euros, the Commonwealth Games, Laver Cup and more.
As coronavirus restrictions continue to ease, Visit London, the Mayor of London, and the city's tourism and hospitality industry are backing a £7m campaign, called Let's Do London, to encourage UK visitors to rediscover their capital city. The campaign will feature a series of pop-up events, public art installations and cultural activities hosted across central London.
Mayor of London Sadiq Khan said: "London is a world-leading city of sport, music and culture with a long history of putting on some of the best events watched across the globe. With iconic backdrops and a range of state-of-the-art sports stadiums, venues, cultural institutions and green spaces, there is no better city in the world to host a major event.
"Major events are the heartbeat of our city and the return of these events will provide a much-needed boost to the city's economy following the pandemic."
Georgina Warren, Director, Major Events & City Experience at London & Partners added: "Today's report findings demonstrate the value of major events to London and how much the city's economy stands to benefit from their return following the pandemic. Major events not only inject billions of pounds worth of visitor spend, they also bring people together and position London favourably on the global stage. They are the backdrop to memories that last a lifetime and that shared experience that we've all missed so much in the last year."
"London audiences are passionate event goers and we've missed the buzz and excitement of major events in our city. As restrictions continue to lift, we are seeing lots of interest for sporting, cultural and music events to be hosted in London and its fantastic to see a great line-up of events already set to take place over the coming months. Whether you are a spectator or an event organiser, there is no better destination for a major event and London is very much open and looking forward to welcoming you back."
Christopher Halpin, NFL Executive Vice-President - Chief Strategy & Growth Officer, said: "The London Games series has become a highlight of the NFL calendar since 2007 and an established part of the UK sporting landscape. As well as operating in world-class stadia, we have been able to stage large-scale events in iconic locations, enjoyed long-term partnerships with outstanding hotels and practice facilities, and worked closely with transportation, health and police services. We are very pleased to be returning to London with two games at Tottenham Hotspur in October and we look forward to many more years of working with London to bring the excitement of our sport to the UK and to strengthen our ties to local communities."
What are major events worth to London?
The new report from London & Partners and Hatch reveals that the total contribution of all major events between 2017 and 2020 is estimated to represent an injection of £2.51bn to the London economy*. This includes £2.27bn generated by visitor spend on accommodation and non-accommodation expenses such as food and drink, as well as an estimated £238m spent by event organisers.
The report estimates that every visit to a concert and cultural event generated on average £23 to the London economy, while each visit to a sporting event injected on average £42. With 1 in 7 Londoners working in the hospitality industry, major events are vital in getting people back to work and helping to support London's recovery.
The new report captures data from many once-in-a-lifetime events that happened in the last four years, including:
The biggest event captured in the new report was the IAAF World Championships and World Para Athletics Championships in 2017, which brought in £107m to the London economy. The 20-day event saw more than 1 million tickets issued to watch more than 3,100 athletes compete in more than 375 track and field and long-distance events.
NFL's London Games have increased in number and popularity since the first ever non-US game was played at Wembley in 2007. Four games were played at Tottenham Hotspur Stadium and Wembley in 2019 creating a direct economic benefit of £6.1m. Free events for all ran alongside the games at iconic locations like Regents Street and Piccadilly Circus. The NFL's London Games are set to return in October 2021.
Beyond sport, London hosts many cultural events that appeal to the whole family. The Lumiere London free outdoor light festival attracted 1.5m visitors in four days in 2018 with a direct economic benefit of £5.7m.
Did you know London hosts the largest organised celebrations of Chinese New Year outside Asia? The colourful celebrations included traditional parades, food stalls and performances on the main stage in Trafalgar Square.
Notes to editors
HIGH-RES IMAGES: Available to download HERE. Credit is required.
NEW MAJOR EVENTS REPORT: Available to download HERE
The Impact of Major Events on London's Economy report was commissioned by London & Partners with research conducted by HATCH. The report can be read in full here. This study assesses the economic impact of major events on London's economy for the period 2017 to 2020 and is based on major events delivered during 2017 - 19 and planned events for 2020 (based on the London Events Coordination Calendar (LECC) as of June 2020). The assessment of 2020 in this study is based on the assumption that all events progressed as planned. Therefore, it does not exclude any events that were cancelled in 2020 following the outbreak of the coronavirus pandemic.
About Let's Do London
Let's Do London is a £7m initiative launched by the Mayor of London, Visit London, Transport for London and backed by industry, bringing together the capital's world-leading hospitality, culture, nightlife and retail venues to promote all London has to offer.
Let's Do London will reinvigorate central London and welcome back visitors from across the UK back to the capital with a curated programme of seasonal events and cultural activities designed to suit a range of age groups. The campaign will include a major advertising push supported by London & Partners and TfL, alongside new content on the Visit London website outlining all the campaign has to offer to Londoners and visitors to the capital.
About London & Partners and visitlondon.com
Visitlondon.com is the official visitor guide to London and is run by London & Partners, the business growth and destination agency for London. Our mission is to create economic growth that is resilient, sustainable and inclusive.
Visitlondon.com is a comprehensive resource for everything that is happening in London. At any one time, this includes 20,000 event listings, plus content designed to inspire and assist visitors. Visitlondon.com is available in English, French, Italian, German and Spanish. Each month visitlondon.com attracts more than 3.5m visits and its social media channels have 1.75m followers. For more information visit visitlondon.com
About Hatch
Hatch is a leading global professional services firm that delivers a broad range of technical and business solutions in the mining and minerals, energy and infrastructure sectors. Hatch's 9,000 staff are spread throughout the globe with a sizeable presence in London. The Urban Solutions team within Hatch consists of economists, transport planners, spatial planners, urban designers and development specialists. They provide advisory and research services to towns and cities throughout the globe. Economic and social impact services are a key specialism.