London transforms into winter wonderland at the most magical time of the year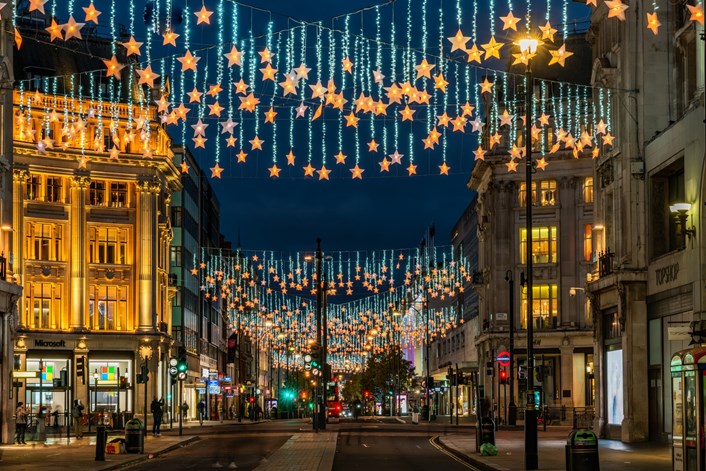 UK capital comes to life this winter with the coolest line-up of Christmas pop-ups and food markets
Immerse yourself in the world-famous festive lights that adorn London's most iconic landmarks and shopping districts
Enjoy enchanting days out with all the family with ice skating and festive shows aplenty
Nowhere twinkles as brightly as London in Winter – with whole areas lit up with festive lights, famous storefronts decked out with grand Christmas trees and carol services ringing out across the city. Join those enjoying the range of cultural offerings, from the iconic Nutcracker to festive pantomimes guaranteed to make you laugh. Indulge in warming meals in cosy pubs, winter treats from a Christmas market or a festive tipple at a winter ski lodge. From the legendary department stores such as Harrods and Selfridges, to pop-ups and market stalls, all shopping budgets are catered for in London this year. Visitors can also follow in the footsteps of iconic winter-time movies including Love Actually, The Holiday, and Bridget Jones Diary by soaking in the cosy festive atmosphere of the UK capital. Whatever you're on the hunt for, London has everything to offer at the most wonderful time of the year.
Where to go to hunt down the best festive gifts
See South Bank's riverside transform for Southbank Centre's Winter Festival, where global cuisine and an artisan Christmas market come together to make a wintry wonderland travellers won't want to miss. In the heart of the city, experience seasonal excitement with Christmas in Leicester Square, which gives the home of blockbuster film premieres a yearly yuletide makeover.
Tick items off your Christmas shopping list while browsing Greenwich Market or Covent Garden Market, whose stalls and shops sell a range of stocking stuffers, hand-crafted fashions, crafts and original artworks. Enjoy window shopping with iconic winter displays from the likes of Fortnum & Masons and Selfridges. Wrap up a holiday shopping extravaganza by stopping by Harrods in Knightsbridge to witness the legendary department store lit up in all its glittering glory.
Soak in the endless winter lights that adorn the city
Stroll under the glittering lights that stretch the entire length of renowned Regent Street and surrounding streets while hunting for luxury gifts and London Christmas ornaments, or experience the world-famous lights aboard a Christmas Lights London by Night bus tour from the likes of Golden Tours, showcasing dazzling light displays across the city. Key sights include Trafalgar Square, Piccadilly Circus, the London Eye, Tower of London and Tower Bridge. Experience jewel-like colours and lakeside reflections at Christmas at Kew's mesmerizing garden light show.
Hidden gems that can't be missed include St Christopher's Place, renamed 'St Christmas Place' for the season. Decorated with 3D stars, the display provides the perfect setting for festive shopping, and a cosy meal on one of the al fresco terraces. It's also worth a stroll through Marylebone Village, for its quaint brick buildings, and elegantly draped lighting displays.
Treat yourself to a seasonal show
Travelers can pack their London holiday itineraries with unforgettable events like the English National Ballet's Nutcracker at The London Coliseum. Theatre buffs can head to the West End to enjoy shows such as Elf: The Musical, It's A Wonderful Life and the children's classic The Lion, The Witch & The Wardrobe.
For two nights only, Tim Burton's The Nightmare Before Christmas comes to Wembley, featuring live singing from Danny Elfman and music from the BBC Concert Orchestra. Lastly, it's not Christmas in London without a pantomime. Jack and the Beanstalk at the London Palladium is an iconic story on one of London's most prestigious stages, from December 10 to January 15.
Charming options for the whole family to enjoy
Families can visit Winter Wonderland in Hyde Park for festive fun, rides and attractions, or Warner Bros. Studios' Hogwarts in the Snow to immerse themselves into the wizarding world of Harry Potter. Spectacular ice rinks are also dotted around the city, from Hampton Court Palace Ice Rink and Somerset House Ice Rink to the Queen's House Ice Rink, for a magical winter experience.
The latest offering, and the only riverside rink in the city, is at the newly opened Battersea Power Station. On Christmas Day, families can bundle up to watch the brave members of the Serpentine Swimming Club battle it out in chilly conditions during the Peter Pan Cup swim. Or, the Great Christmas Pudding Race in Covent Garden will have teams race around a festive obstacle course while balancing a Christmas Pudding on a tray.
Don't forget to book tickets to a carol concert, with free services taking place across the city, from St Paul's Cathedral to Westminster Chapel. Children will love the plentiful Christingle Services too. Moreover, wrap up warm and venture out for a stroll through the frost, with each of London's eight Royal Parks offering beautiful venues for family walks.
Winter in the West End
The West End is one of the world's most iconic places to do some Christmas shopping. You will see all the dazzling lights and magic store fronts again this year but with a few new additions. The Carnaby area is collaborating with Choose Love again, following the successful partnership in 2020. Highlighting the need for funds to aid refugees across the globe, there is a pop-up shop in Foubert's Place. Visitors can purchase essentials like nappies, blankets and coats, which will be given to displaced people around the world to help them stay warmer this winter, with 100% of every purchase going directly to those in need.
Additionally, Oxford Street has launched a 'Give Something Back' scheme, with six 'Stars of the Week' from across the country being nominated to receive VIP treatment from one of the famous streets' top destinations, as well as a £500 voucher.
With the introduction of the new Elizabeth Line, it is now possible to access all of this, and more, directly from Heathrow station. Hop on at any of Heathrow's five terminals, and emerge to the magic of central London less than 45 minutes later, at either the Bond Street and Tottenham Court Road stations.
Cosy food and drink for warming up
Get out of the cold and warm your bones with a traditional afternoon tea. From Christmas Afternoon tea at The Ritz London, to Festive Peter Rabbit Afternoon Tea at The Dilly to B Bakery Christmas afternoon tea bus tour, there is no shortage of holiday-themed afternoon teas across London. For those looking to warm up with English ale, stop off at The Anglesea Arms, a cosy pub tucked away just outside the green space of Ravenscourt Park. The wood-panelled bar and warming fire are fitting accompaniments to its traditional British menu, featuring five rotating real-ale pumps, draught beers and cider. Tuck into plates of warming Thai food at The Churchill Arms. Known for its highly aesthetic hanging baskets outside, the pub's interior is also worth discovering for its quirky Churchill memorabilia. Find a cosy bolthole at The Holly Bush, which fits perfectly into the quaint Hampstead village it calls home, with its open fire, stripped wooden floors and Sunday roasts.
How to spend a 'green' Christmas in London
Many of the most iconic festive displays across the city have looked to make more environmentally-conscious choices with their winter lights this year. Plenty have elected to swap out their bulbs for LEDs, which on average run on two-thirds less energy than traditional bulbs. Areas making this switch include Southbank, Leadenhall Market, and Carnaby, whose festive theme this year is a celebration of 25 years of Carnaby Christmases. This has seen the area reuse some of its most legendary displays, in an effort to celebrate the past whilst also avoiding unnecessary waste.
Leading the way in making sustainability a focus in its decorations is Oxford Street. Its 5,000 hanging stars require 300,000 LED bulbs, which this year are all recycled polymer bulbs, each 75% more efficient than a standard lightbulb. NWEC, which manages the famous street, has also chosen to run a timer on the lights as opposed to running them constantly; a reduced hours timetable is also in effect throughout Regent Street and Covent Garden.
If you're looking to gift something more environmentally friendly, then head to one of The Crown Estate's three sustainable pop-ups this season. First, Season of Wonder by Lone Design Club on the stylish Jermyn Street is bringing together a curated selection of independent, eco-conscious brands. There's also London Made Me, on Regent Street, which is showcasing the work of fourteen local artists and creators. Lastly, 00.thestore in Mayfair is rounding up some of everyone's favourite environmentally minded gifts, from the likes of Chilly's and House of Sunny. For a holistic approach to sustainability this holiday season, it will also be hosting workshops and panel discussions with leaders in the sustainability space.
Something different this holiday season
For those who want something a little less festive, there are still endless attractions across the city to enjoy. The hugely popular ABBA Voyage at the Queen Elizabeth Olympic Park is an unforgettable experience, merging the iconic 70's songs with cutting edge 'ABBAtar' technology.
London's top museums also remain open during the winter season; head to Knightsbridge for the V&A and Natural History and Science Museums, or explore the National Gallery in Trafalgar Square. Current exhibitions that will provide a great break from Christmas shopping and festive activities are 'Hieroglyphs: Unlocking Ancient Egypt' at the British Museum, and 'Cezanne' at the Tate Modern.
Laura Citron, CEO at London & Partners, which runs Visit London, said: "From twinkling festive light displays to some of the world's best shops and magical shows – nowhere quite does Christmas like London. Families can enjoy captivating days out with Hogwarts in the Snow, or Christmas at Kew, and of course, London's pantomime season is unrivalled.
"London is a fantastic place to pick-up that special gift for a loved one. From our iconic department stores to a range of festive markets – there is something to suit everyone's shopping budget. We're looking forward to welcoming visitors from the UK and across the world to enjoy this special time of year in London."
London is a destination in demand this holiday season
London is officially one the coolest destinations this winter, with the most recent data from ForwardKeys showing strong flight bookings for the final few months of the year. London is the favourite destination for visitors from North America, who are flocking to London throughout the season, with visits peaking in the third week of December. Flights from Asia and Oceania are also set to pick up throughout December, reaching similar levels to Europe ahead of the Christmas week.
For more suggestions on everything happening in London this upcoming festive season, check out our comprehensive guide on Visit London: 101 Christmas things to do in London - Christmas - visitlondon.com
-ENDS-
Notes to editors
For all London winter season press images – please see our library here