London tops new index ranking Europe's most dynamic cities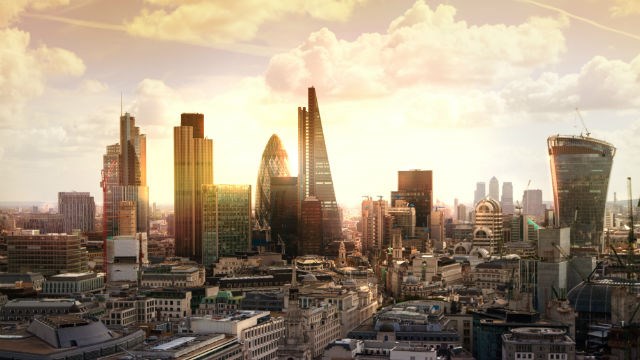 London achieves top spot for Innovation, Interconnection, Infrastructure and Investment among 130 European cities
London is the leading 'dynamic city' in Europe, according to the Savills IM Dynamic Cities index. The report highlights European cities with solid fundamentals, including strong economic growth, population, technology and wealth trends, which are well placed to take advantage of trends such as urbanisation, the developing knowledge economy and technological change.
Using 60 indicators across 6 subcategories (Innovation, Inspiration, Inclusion, Interconnection, Investment and Infrastructure), the Dynamic Cities index analyses and ranks 130 European cities. The index provides a score for each city out of 100, with the overall score encompassing the balance of performance across all subcategories, taking into account both current and projected data.
London ranks 1st in 4 of the 6 categories and finishes 2nd in the remaining two. The rankings highlight London's strength and consistency, scoring highly across the board owing to its range of wealth-creating industries, infrastructure investment, population growth forecasts and diversified workforce. As such, the index forecasts that London will remain the leading European city despite short-term turbulence arising from Brexit.
The city is forecast to continue to expand, supported by initiatives such as the ambitious London Infrastructure Plan 2050, which involves more than £1 trillion of investment covering housing, transport, digital infrastructure and basic services. Although London office supply is increasing and the Square Mile is at some short-term risk due to Brexit-related financial services job relocation, strong wealth indicators and healthy population growth forecasts provide it with a strong long-term investment foundation. London has a well-diversified workforce, so the overall impact on employment is expected to be small.
London is not the only UK city featuring prominently: Cambridge (3rd), Edinburgh (9th), Oxford (14th), Bristol (25th), Manchester (27th) and Birmingham (30th) also feature in the top 30.
Irfan Younus, Head of Research, Europe, at Savills IM, commented: "As a large and vibrant capital, London is a major global player and a leading city in the arts, commerce, education, entertainment, fashion, research and tourism. It is a hotbed of talent and it is skillfully retaining it by creating an inclusive and inspirational environment. Judging from the amount of new infrastructure and the diversity of its workforce, the city is well set to weather any short-term Brexit-related storms, too. For property investors, it will continue to provide tremendous opportunities across the retail, industrial and office sectors."
Rajesh Agrawal, Deputy Mayor for Business, added: "London is a truly global city driven by a culture of openness and diversity. The fundamental strengths of London as a leading place to live and work remain intact despite the Brexit vote. We have some of the best talent and universities, world-class infrastructure and a range of arts and cultural institutions. London remains open to talent, innovation and investment from all over the world and we will continue to be an outward looking, cosmopolitan city."
Northern European cities dominate the top 10 rankings, with Munich (6th), Dublin (7th), Stockholm (8th), Edinburgh (9th) and Zurich (10th) completing the list. Madrid was the highest-ranked Southern European city, in 11th position, while Barcelona (17th), Rome (32nd), Milan (34th) and Istanbul (39th) feature in the top 40.
The top performing Dynamic Cities have ambitious infrastructure investment projects, fast-growing knowledge networks, high-quality universities, innovative businesses drawing from a global talent pool and strong cultural amenities to help retain that talent. Savills IM Dynamic Cities predicts that all commercial real estate sectors will benefit from these characteristics over the long run: rising employment will help support the office sector, wealth creation will benefit the retail sector and the explosive growth in e-commerce will drive demand for urban logistics and warehouse facilities.
Patrick Evans / Stephen Sheppard / James Madsen / Alice Stewart
Tel: +44 (0)20 7282 2966
Notes to editors
Research Methodology
Savills IM Dynamic Cities aims to capture the factors that make a city attractive to talent, resilient to disruptive technology and a leader in the knowledge economy.
The index was created using statistical analysis and the Organisation for Economic Co-operation and Development (OECD) handbook on constructing composite indicators.
More than 250 in-house, publicly available and externally purchased factors were collected for 130 cities. These cities include all European capitals as well as cities with a minimum metropolitan area of 250,000 inhabitants and positive forecast population growth.
The final index includes 60 inputs across 6 subcategories. The inputs range from conventional commercial real estate factors to wider urban economics indicators.
The data behind Dynamic Cities is from a combination of proprietary in-house calculations as well as publicly available and commercially provided sources. Key data providers include 2thinknow : City Benchmarking Data, Timetric and Oxford Economics. Data was collected during Q3 and Q4 2016.
The model's six subcategories are Investment, Innovation, Inspiration, Inclusion, Interconnection and Infrastructure. The index works on the basis that top cities for real estate investors demonstrate balanced performance across all of these subcategories.
Subcategories
Investment: defined by a series of wealth indicators, current and future real estate investment activity and presence of 'green-rated' buildings, including sustainable buildings that can mitigate energy and water price increases as well as legislative risk.  
Innovation: defined by the creation of new ideas, methods or products, including factors such as number of patents; start-ups; top-tier universities; interest groups related to science, business and innovation; and funding indicators for new ideas. Innovation can support commercial real estate by helping reduce the market cyclicality and structural obsolescence of a city.
Inspiration: defined by the intensity of cultural amenities such as museums, theatres and arts-related groups, and number of cafes and green spaces. There are established links between these factors and growth.
Inclusion: defined by culture, ethnicity, religion, age, ability, gender, sexuality or any other demographic, inclusion encourages successful cities by promoting diversity. If different groups are isolated in distinct geographic pockets, diversity is unlikely to translate into inclusion, meaning public transportation and relative affordability of living (measured through purchasing power) are also key. Many empirical studies have demonstrated that inclusion has a positive causal effect on a region's income and real estate values where it reduces spatial mismatch and promotes social capital bridging and knowledge spillovers.
Interconnection: defined by technological connectivity such as broadband and mobile infrastructure, spread of within-city transport options, national and global interconnectedness and congestion. Successful cities must have well-organised transport options, including for pedestrians and cyclists. This subcategory also factors in planned transportation infrastructure projects to gauge future interconnection potential.  Mobile and broadband infrastructure are becoming increasingly crucial in the age of big data and artificial intelligence, and can be applied to retailers predicting their best customers, or financial institutions developing new trading algorithms.
Infrastructure: defined by technology, including broadband and mobile networks, human and intellectual capital promoting innovation, government research institutions and risk measures relating to doing business and taking on credit. The subcategory captures infrastructure under development, ranging from housing to sanitation to transportation.  Multichannel retail requires high-quality virtual infrastructure, and efficient transport is needed to move people and goods, namely in the context of online shopping and last-mile logistics.
TOP 20 EUROPEAN DYNAMIC CITIES
| | | | | | | | |
| --- | --- | --- | --- | --- | --- | --- | --- |
|   | Overall | Inspiration | Inclusion | Innovation | Interconnection | Infrastructure | Investment |
| 1 | London | Cambridge | Cambridge | London | London | London | London |
| 2 | Paris | London | London | Cambridge | Paris | Paris | Paris |
| 3 | Cambridge | Prague | Dublin | Paris | Berlin | Stockholm | Malmö |
| 4 | Amsterdam | Oxford | Edinburgh | Amsterdam | Vienna | Cambridge | Munich |
| 5 | Berlin | Edinburgh | Lausanne | Munich | Madrid | Brescia | Zurich |
| 6 | Munich | Amsterdam | Zurich | Stockholm | Munich | Copenhagen | Amsterdam |
| 7 | Dublin | Reykjavik | Oxford | Barcelona | Amsterdam | Oslo | Lausanne |
| 8 | Stockholm | Berlin | Brussels | Eindhoven | Copenhagen | Vienna | Stockholm |
| 9 | Edinburgh | Dublin | Basel | Berlin | Barcelona | Bern | Geneva |
| 10 | Zurich | Basel | Luxembourg | Oxford | Oslo | Berlin | Berlin |
| 11 | Madrid | Florence | Barcelona | Madrid | Milan | Amsterdam | Manchester |
| 12 | Vienna | Vienna | Reading | Luxembourg | Frankfurt | Brussels | Oslo |
| 13 | Oslo | Rome | Manchester | Dublin | Brescia | Stavanger | Frankfurt |
| 14 | Oxford | Copenhagen | Paris | Basel | Geneva | Edinburgh | Hamburg |
| 15 | Basel | Oslo | Madrid | Zurich | Brussels | Munich | Vienna |
| 16 | Lausanne | Madrid | Stockholm | Tallinn | Hamburg | Istanbul | Dublin |
| 17 | Barcelona | Bristol | Bristol | Oslo | Innsbruck | Zurich | The Hague |
| 18 | Brussels | Paris | Amsterdam | Brussels | Edinburgh | Dublin | Stavanger |
| 19 | Copenhagen | Tallinn | Berlin | Lausanne | Bern | Helsinki | Bern |
| 20 | Geneva | Belfast | Geneva | Bristol | Stuttgart | Bergen | Brussels |