London to host hundreds of events for city's first Climate Action Week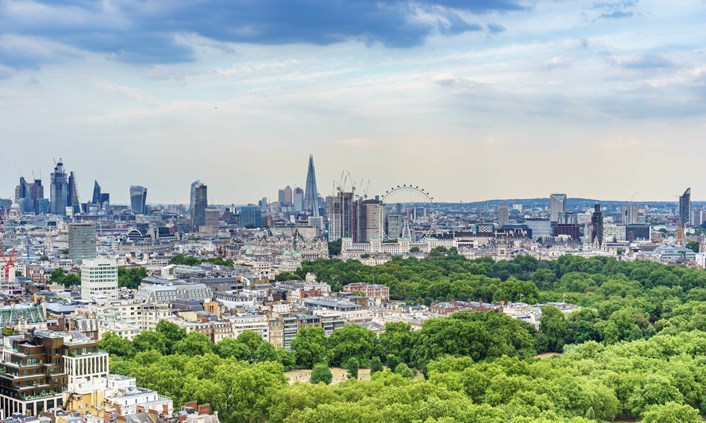 Some of the biggest names in hospitality sector join pledge to meet Mayor of London's sustainable goals.
This week, London will host almost 150 events with a focus on climate change and sustainability, as the UK capital welcomes delegates from around the world for its first ever Climate Action Week. Launched by the Mayor of London Sadiq Khan, the week-long series of activity will bring together world-leading scientists, business leaders, school children and politicians to discuss climate change actions and solutions on a local, national and international level.
London Climate Action Week will see campaigners, policy makers, NGOs, academics and some of the best industry experts from across the globe come together for a wide-ranging programme of events, seminars and workshops. Taking place across the city from 1-8 July, the week aims to generate conversation around actionable climate change solutions and build on London's role as a leader in driving forward climate innovations.
As part of London Climate Action Week, the London Convention Bureau will gather senior figures from the UK's hospitality sector to encourage them to sign up to a series of commitments in line with the Mayor's London Environment Strategy. The hospitality sector commitments include: a move towards a net zero London economy by 2050, achieving 75% recycling by 2025 and reducing food waste by 20% by 2025.
Ahead of the event on Wednesday at BMA House, a number of the city's largest tourism organisations have already pledged their support to the sustainability goals including some of London's major hotel chains and venues: ExCeL London, Edwardian Hotels London, BMA House and The O2.
London Climate Action Week is part of the Mayor's ambition to make London the world's greenest city and a leader in tackling the global climate emergency. As part of his plan to make London carbon neutral by 2050, the Mayor has recently set out plans for a major expansion of London's electric vehicle charging network, the introduction of the Ultra-Low Emission Zone (ULEZ), boosted London's solar power, started investing half a billion pounds in low carbon solutions, and helped pension funds divest from fossil fuels both in London and around the world.
Deputy Mayor for the Environment and Energy, Shirley Rodrigues, said: "I'm proud to introduce London's first Climate Action Week, bringing together people from across London and the world with business, cultural and political leaders to discuss solutions to the ongoing climate crisis. 
"Here in London, the Mayor and I are doing everything within our power to address the climate emergency we are facing, and achieve our ambitious environmental goals as rapidly as possible. I'm pleased to see London's hospitality industry stepping up and making commitments in line with our zero-carbon ambitions for the capital."
Tracy Halliwell, Head of Business Tourism and Events at the London Convention Bureau added: "London Climate Action Week offers a perfect opportunity for the city's hospitality tourism sector to lead the way in putting forward solutions to make the global industry more sustainable. We're delighted that some of the world's biggest hospitality organisations have joined us in making a commitment to the Mayor's sustainable goals and we hope that others will support this important challenge for our sector."
"With over a hundred events taking place across the city and delegates visiting from all over the world, climate action week also offers further proof that London is fantastic place to host a meeting or event."
Jeremy Rees, CEO, ExCeL London: "At ExCeL London, we are committed to reducing our environmental impact, whilst supporting our customers to deliver more sustainable events. Earlier this year, we launched our 'No Plastic' campaign, to outline our commitment to reduce the amount of plastic in our venue. We are hugely supportive of London Climate Action Week and hope that it encourages everyone to think about the difference we can all make to protect the future of our planet."
During the week, a number of London's leading cultural, educational and business institutions will host events from a wide range of industries and sectors including: financial services, legal, energy and transport.
Some top events to look out for during the week include:
The City of London will host a Green Finance Summit on 2nd July with 900 businesses discussing ways to expand London's thriving green finance sector.
A Green Schools Summit at the University College London on 2 July will bring together 200 London school children with academics, climate scientists and politicians to discuss the climate crisis
The Economist Climate Risk Summit: The Economist will convene the inaugural Climate Risk Summit on 2nd July 2019 will bring together policymakers, business leaders, scientists and investors to begin a conversation about how organisations around the world can understand and manage climate-related risks.
The Natural History Museum will host two events at their Attenborough Studios on 6th and 7th July which will see two documentary films showcasing the results of climate change from two different perspectives, followed by insights from Museum scientist, Ken Johnson
Artist Olafur Eliasson will lead a discussion at the Tate Modern's Turbine Hall on 8th July, exploring the potential of artists and art institutions to address global sustainability challenges and inspire change
Other important event topics will explore clean energy and energy efficiency; zero emission transport; London's role in driving international climate leadership and campaigning for stronger legislation.
To find out more about all the events taking place across the week, please visit the website: https://www.london.gov.uk/what-we-do/environment/climate-change/london-climate-action-week-events
Notes to editors
About London Climate Action Week
The Mayor of London, Sadiq Khan, has declared a climate emergency. As part of London's response to this, the first ever London Climate Action Week will be held from 1-8 July.
The week will bring together London's climate expertise and talent from across sectors to run events across the city focused on taking local, national and international action. 
London is a world leader in climate action with a diverse concentration of businesses, NGOs and academic institutions working with governments and communities to develop and deliver solutions. Its businesses and organisations are a hub of expertise in finding solutions to cutting carbon emissions and adapting to the impact of climate change both locally and globally.
London Climate Action Week will focus on:
community action and business leadership on climate
clean energy and energy efficiency
adaptation and resilience
climate finance and investment
legal, engineering and other environmental consultancy services
low emission transport
London's role in driving UK and international climate leadership
Find out more: https://www.london.gov.uk/what-we-do/environment/climate-change/london-climate-action-week
About London Convention Bureau
London & Partners is the official convention bureau for London. As part of the Mayor of London's promotional company, our team can help you access the widest range of London event space, unusual conference venues, business hotels and event planning available in this top congress destination. http://conventionbureau.london/