London: The Fall Collection 2018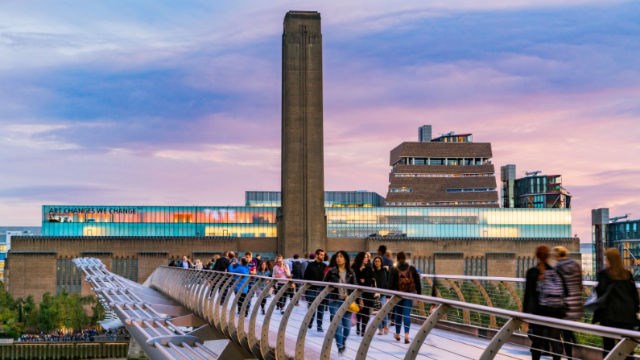 Our round-up of the must-sees across London this season
Visit London, the official city guide for the capital, handpicks the very best of what's to come this season…
Now with over 40,000 direct flights a year* to London from the United States, there has never been a better time to discover the UK's capital city.
From international blockbuster exhibitions and late-night fun at the museums, to dark arts with Harry Potter and access to the private homes of the rich and famous, London really does have it all this fall.
Fall for London culture…
Whether it's a major theatre, a small and quirky museum, or a world-renowned arts festival, this season will see London's cultural gems pull out all the stops with exciting performances, exhibitions, installations, events and new additions.
Museums at Night (25 - 27 October)
Soak up some late-night culture as you explore museums, galleries and heritage sites after hours – complete with spooky events, themed talks and immersive workshops late into the evening. Highlights include an evening of chocolate games at the Chocolate Museum and an evening of Power, Play and Politics at the London Transport Museum, taking you back to the1980s with music, bars, special curator led tours, talks, 1980s style gaming and much more https://bit.ly/2wvsx7M
Good Grief, Charlie Brown! (25 Oct – 3 March)
Get ready to rekindle your love for the most successful comic strip of all time. Celebrating all things Snoopy and the Peanuts gang, this landmark exhibition at Somerset House showcases the original drawings of the cartoon's creator Charles M. Schulz, alongside works inspired by Charlie Brown and co, from some of today's most exciting artists and designers. https://bit.ly/2ww9xoN
Heathers The Musical (3 September – 24 November)
Based on the 1988 cult film starring Winona Ryder and Christian Slater, the sharp rock musical transfers to the West End for a short run at the Theatre Royal Haymarket. A cruel high school clique gets a shakeup when a mysterious new student arrives…https://bit.ly/2PnnaOP
Videogames: Design/ Play/ Disrupt (8 September – 24 February)
Head to the V&A Museum this fall and delve into the fascinating world of videogames in the first exhibition of its kind. Using large-scale multimedia and interactive installations, explore how the industry is pushing boundaries in radical new ways. https://bit.ly/2PQ1dcs
London Design Festival (15 - 23 September)
Enter the world of contemporary design during the annual city-wide London Design Festival. Expect large-scale installations, exhibitions and events across the capital. The showstopper from ES Devlin (known for her moving stage sculptures for artists including Kanye and Beyonce) will see a florescent red lion join the four resident lions in Trafalgar Square – which will 'roar poetry' and 'eat words'. https://bit.ly/2N2Wtlg
Science Gallery London (launching September 21st)
A ground-breaking new cultural space fusing art and science will soon arrive in central London – and will be the first of its kind in the UK. Art and science will collide at this vibrant, creative hub where scientific research is made accessible to visitors through innovative installations, exhibitions and events. https://bit.ly/1IyjvXT

Fall for London cuisine…
Vibrant food markets, gin distilleries, microbreweries, curry houses, speakeasies and more - you'll never go hungry or thirsty in London. This fall will be no exception as the city delivers even more tasty treats to whet the appetite...
Cakes & Bubbles (launching November)
Famed chef Albert Adrià returns to London to launch his first permanent establishment outside of his native Spain, at Hotel Café Royal. Adrià, also known as the world's best pastry chef, will offer a carnival of wow-factor desserts - from his signature 'cheese cake' to his egg flan, air waffle and doughnut creations. https://bit.ly/2NAU8L4
London Cocktail Week (1 – 7 October)
In need of a tipple to keep you warm as the days get that little bit colder? London Cocktail Week is a big and vibrant celebration of the capital's fantastic cocktail scene, with 300 bars signed up to the Cocktail Tours. There's something for everyone in every single London neighbourhood. https://bit.ly/1gG0uYh

Levan (launching October)
This new all-day eatery located in the south London neighbourhood of Bermondsey will focus on contemporary European dishes, taking inspiration from the new-wave 'bistronomy'. Enjoy seasonal pastries in the morning, and European bistro classics at lunchtime. In the evenings, diners can choose from smaller sharing plates, larger mains and French wines or bespoke cocktails. Levan will also be committed to sustainability and the team will ensure over 90% of waste is repurposed. https://bit.ly/2Nf85kV
London Restaurant Festival (1 - 31 October)
A must for any visitor this October! This month-long festival is a city-wide homage to great food in London, and the perfect excuse to try out some of the capital's world-class restaurants. Enjoy great value special menus, one-off chef-led events and a series of gastronomic activities, including restaurant tours and wine tastings. https://bit.ly/1o47NKf
Blacklock (launching September 24th)
Chophouse and steak favourite Blacklock is set to take Shoreditch by storm. Housed in a former Victorian warehouse, the restaurant will include a dedicated bar with a brand-new 'drinking food menu' including Yorkshire puddings with black pudding and gravy, Welsh rarebit nuggets and lamb scratchings. No trip to the capital would be complete without a famous London roast dinner, and you can go 'all in' by trying aged beef rump, Cornish lamb leg or middlewhite pork loin with all the trimmings all for £20 a head. Don't forget to ask for the cocktail trolley! https://bit.ly/2wDK5OS

Fall for unique London…
A taster of what will be an eclectic mix of must-sees from September onwards, guaranteed to tempt you back next year.
Dark Arts at Warner Bros. Studio Tour London (28 September – 10 November)
A must for those who are in town over the Hallowe'en period! Fans of Death Eaters, daring duels and Hallowe'en feasts are invited to explore the darkness of the Wizarding World as Warner Bros. Studio Tour London - The Making of Harry Potter hosts a dedicated Dark Arts extravaganza. Test your nerves by walking down a gloomy Diagon Alley and practise your wand combat techniques against Death Eaters in a live duel, as you enter the menacing world of the Dark Arts. https://bit.ly/2ONzRTH

Totally Thames (throughout September)
A whole month dedicated to London's most famous icon – the River Thames. Expect boat races, poetry and hip-hop aboard the Queen Dixie, family fun days and much more. You can even enjoy classical music and spoken-word performances from inside the Victorian bascule chambers of Tower Bridge! https://bit.ly/2P2z9RX

Open House London (22-23 September)
Ever wanted to see how a British Prime Minister lives? Those in town over the weekend of September 22nd can delve into some of the most iconic buildings and architecturally unique spaces in London for free. Intrepid explorers can enjoy free access to more than 800 public buildings, private houses, churches, museums with tours, guided walks and activities. Iconic buildings include 10 Downing Street, the Grade II-listed BT Tower, and the chance to explore Renzo Piano's masterpiece, The Shard - for free. https://bit.ly/2C45177

Bankside (launching October)
A new boutique hotel will soon be opening its doors on the culturally energetic South Bank of the Thames. Just a stone's throw from Tate Modern, British Film Institute and Borough Market, the 161-room design hotel will reflect the vibrant local community through its interiors, restaurant and bar and cultural events programme – with stylish and techy in-room touches. The design vibe promises 'art school style with added polish', and the hotel will be dedicated to its zero-landfill-waste targets. https://bit.ly/2PUP9Xw
The Dixon (launching November)
Slightly further east along the river will soon sit a brand-new (yet steeped in history) Marriott Autograph Collection hotel. The Dixon, named after the Grade II-listed building's original Edwardian architect aims to attract a younger crowd and will be inspired by the edgy character and culture of the neighbourhood around Tower Bridge. The hotel's cultural offering will support the local art community. https://bit.ly/2LOkTtL
For more information on what's on in London during the fall and beyond, visit visitlondon.com
Jodie Byford
Tel: 07882 777146
jbyford@londonandpartners.com

London & Partners Media & PR Team
Tel: +44 (0)20 7234 5710
Switch: +44 (0)20 7234 5800
press@londonandpartners.com
Notes to editors
* based on 2017 annual data from RDC Aviation Ltd https://rdcaviation.com/
About London & Partners
London & Partners is the Mayor of London's official promotional agency. Its purpose is to support the Mayor's priorities by promoting London internationally, as the best city in the world in which to invest, work, study and visit. We do this by devising creative ways to promote London and to amplify the Mayor's messages, priorities and campaigns to international audiences.  Its mission is to tell London's story brilliantly to an international audience.
London & Partners is a not-for-profit public private partnership, funded by the Mayor of London and our network of commercial partners. For more information, visit
www.londonandpartners.com  
Visitlondon.com is the most influential source of information for overseas visitors to London and features thousands of attractions both large and small across the entire city. Every year the site attracts 28 million unique users.

For high res, rights-free images of London, please register at http://photos.london/press/