London Tech Week unveils headline events for Europe's largest festival of tech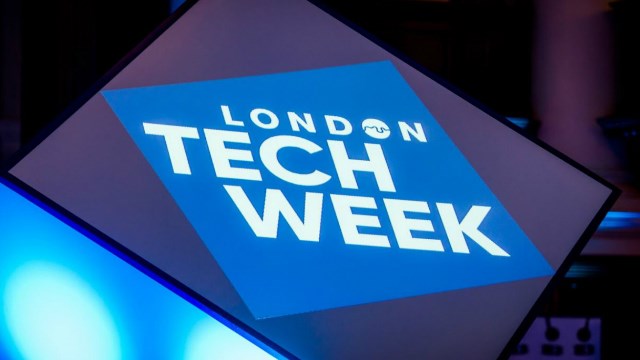 London Tech Week unveils headline events for Europe's largest festival of tech
A new series of headline events and leading speakers from the world of tech are being lined up to appear during London Tech Week 2017 according to the festival organisers. For the first time this year, London Tech Week will host a celebratory concert featuring the Oscar and Grammy Award winning composer, Hans Zimmer, the premier awards ceremony for Europe's hottest tech startups, The Europas, the UK's first professional drone race at Alexandra Palace and a VIP dinner hosted by London Tech Week in partnership with The Prince's Trust.
London Tech Week is Europe's largest festival of technology and will see hundreds of events across the city from 12-16th June, attracting over 40,000 visitors from all over the world.
New for 2017, SSE Arena Wembley will host London Tech Week's celebratory concert, featuring a live performance from Grammy and Oscar award winning film score composer, Hans Zimmer. As part of his global tour, Hans will incorporate the latest lighting and digital technology into his show to provide a striking visual concert experience.
Hans will be joined by his 15-piece studio band and choir to perform some of his most famous film score classics, including the Pirates of the Caribbean, The Lion King, Gladiator, Inception and a Dark Knight. Hans is a pioneer of technology and his method of integrating electronic music with traditional orchestral arrangements is now his signature sound. Tickets for this event can be purchased here.
Harvey Goldsmith CBE, Concert producer, promoter and London Tech Week ambassador, added: "London Tech Week is clearly becoming an important attraction for London. We are delighted to be working with London Tech Week by presenting Hans Zimmer Live at the SSE Wembley Arena on Thursday June 15th 2017. Hans has always been at the forefront in the drive to utilise new technology in music and is honoured to be associated with London Tech Week."
Russ Shaw, founder of Tech London Advocates, comments: "London Tech Week is an opportunity to show the international tech community the wealth of talent, innovation and investment returns available in London's digital sector. After three years of success, the festival is set to be bigger and better than ever in 2017, sending a clear message that London tech is open for business, aiming for significant growth and brimming with ambition."
The iconic Alexandra Palace will stage the UK's first professional drone race during London Tech Week 2017. The world's premier race organizers, The Drone Racing League (DRL), will bring the elite race series to London as their championship event on 13th June. The event will be the first of its kind race in London, and the Sky Sports Mix broadcast will allow millions of fans across Ireland, Italy and the UK the opportunity to see some of DRL's leading pilots race FPV (first person view) drones at speeds in excess of 90 mph drones around Alexandra Palace.
This year's festival will see the first TechXLR8 event hosted by Informa, bringing together eight flagship tech events running under one roof from 13th - 15th June at ExCel London. Thousands of visitors will be able to get their hands on the latest VR, IoT, Drones, and Robotics technologies. The eight major events include:
5G World
VR & AR World
Apps World Evolution
Internet of Things World Europe
AI & Machine Learning World
Cloud & DevOps World
Connected Cars & Autonomous Vehicles Europe
Project Kairos
TechXLR8 will also convene leading speakers from the world of technology, government and business including the likes of Michele Hanson, Chief Information Security Officer, Transport for London, Antony Thomson, Founder, Metro Bank, Hossein Moiin, EVP & CTO, Nokia, Enrico Salvatori, SVP & President, Qualcomm EMEA, Berit Svendsen, Bruno Jacobfeuerborn, CTO, Deutsche Telekom and Libby Robinson, MD EMEA, M&C Saatchi Mobile. Over 3 days, 800+ speakers will participate in TechXLR8, covering a range of the hottest tech topics, covering infrastructure developments (5G and Cloud), IoT and the connected world (Connected & Autonomous Cars, Smart Cities, Smart Home, Industrial IoT), and future tech (VR/AR, AI, Robotics, Drones, Blockchain).
Showcasing the very best of London and European start-ups, London Tech Week will partner with The Europas to host this year's awards ceremony at Here East on June 13. This year's awards ceremony will also feature two brand-new awards categories – tech for good and smart cities innovation.
Talent and diversity will be one of the key theme's for this year's event programme, which will see London Tech Week will also host a celebratory dinner in association with The Prince's Trust, bringing together London Tech Week ambassadors and other leading figures from the world of business and technology. The VIP dinner will mark the start of the week and provide an exclusive networking opportunity for some of the world's most influential tech leaders. The Prince's Trust is a natural partner, being an organisation committed to helping disadvantaged young people aged 11-30 to move into jobs, education and training.
Richard Chadwick, Director of Programmes and Development at The Prince's Trust, said: "The technology industry has a significant role to play in the economic future of the UK and the ability to attract talented staff to the sector will be key to its continued success. London Tech Week is helping to shine a light on developing skills in tech and it's vital we all work together to provide young people – our future work force – with every opportunity to build the confidence and skills they need to thrive in education and employment. At The Prince's Trust, we've integrated STEM activities into all our programmes to ensure we're helping young people to develop their skills in this area."
Mike Butcher, Founder of The Europas, said: "We're delighted to host The Europas one-day Conference and Tech Startup Awards in the heart of London Tech Week. Our 'special sauce' is the small, intimate breakout sessions where delegates can deep-dive into vertical topics with expert speakers. Once again The Europas will be a fantastic summer event with 1,000 of the most interesting and useful people you could hope to meet. Everyone is a VIP at The Europas, not just at the amazing conference day, but at the glittering awards evening where we honour the best of Europe."
Together, KNect365, London & Partners and Tech London Advocates aim to boost London Tech Week and make it one of the most successful tech festivals in the world, with the goal of attracting more than 100,000 visitors to the festival within the next three years. Last year London Tech Week delivered £2.5 million in economic value (GVA) to London's economy.
2017's events programme will also include conferences, showcases and forums, compelling content, speakers and networking opportunities and a greater opportunity for participation from start-ups, entrepreneurs, enthusiasts, students and corporates alike.
Ben Pattie, PR Manager
bpattie@londonandpartners.com
Tel: +44 (0)20 7234 5872; Mob: +44 07920 759014
Notes to editors
About London Tech Week
London Tech Week is a festival of events, taking place across the city and representing the entire technology ecosystem.
No other festival of live events brings together as many domestic and international tech specialists and enthusiasts to London for such a variety of networking, social, learning and business opportunities.
Since its launch in 2014 London Tech Week has included more than 700 events and has welcomed delegations from around the world.
London Tech Week 2017 will be organised by founding partners, KNect365, London & Partners and Tech London Advocates, with support from strategic partners Tech City UK, ExCeL London, DIT and techUK.
More information on can be found https://londontechweek.com/
About Informa
Informa's Knowledge & Networking Division, which operates as KNect365, is the world's leading facilitator of knowledge sharing and business connections. The KNect365 portfolio connects communities around our leading brands, through year round provision of high quality digital and face to face content, networking and professional development and learning opportunities.
About London & Partners
London & Partners is the official promotional company for London. We promote London and attract businesses, events, congresses, students and visitors to the capital. Our aims are to build London's international reputation and to attract investment and visitor spend, which create jobs and growth.
London & Partners is a not-for-profit public private partnership, funded by the Mayor of London and our network of commercial partners.
For more information visit www.londonandpartners.com      
About Tech London Advocates
Tech London Advocates is a private sector led coalition of over 3,000 expert individuals from the tech sector and broader community who have committed to championing London's potential as a world-class hub for tech and digital businesses. It strives to support London's tech start-ups and high growth businesses in finding new investment new talent and continued success.
Tech London Advocates is an independent not-for-profit organisation, sponsored by City of London Corporation, Penningtons Manches LLP, Russell Reynolds Associates, London First, Here East, MassChallenge, Breakthrough Funding, Cocoon Networks and Hewlett Packard. 
About TechXLR8
TechXLR8, London Tech Week's Expo will bring together the converging tech industries by showcasing 8 leading technology events. Experience a show like no other with 1 shared exhibition, 1 headline keynote stage, 20 tracks of content, 8 tech demozones, 40+ hours of networking, an awards ceremony and more. TechXLR8 is set to welcome 15,000+ attendees with 48% director level or above from over 8,000 companies from 125 countries.
For more information: https://tmt.knect365.com/techxlr8/