London Tech Week and VivaTech join forces in support of trade mission to promote European tech links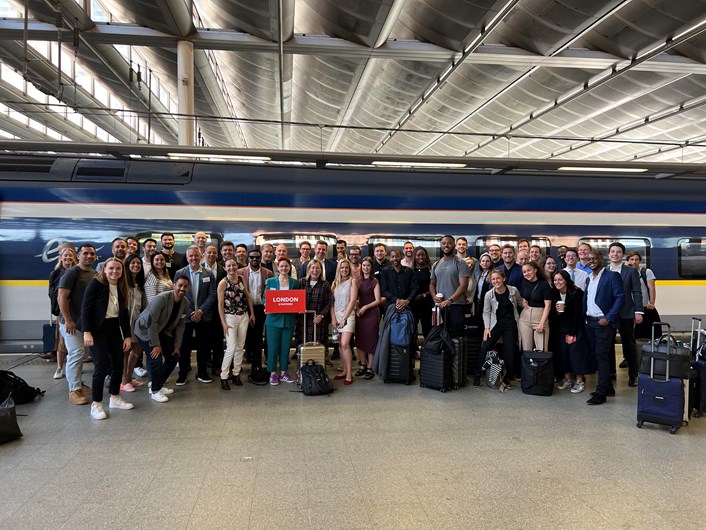 Cross-channel initiative helps UK and French start-ups explore new growth opportunities across both regions
Companies given access to investors and corporates while travelling between conferences on Eurostar
Two of Europe's leading tech conferences, London Tech Week and VivaTech, are collaborating on a cross-channel initiative to connect UK and French start-ups and scale-ups with investors during the week of both events (13th – 18th June). The new partnership will see some of the hottest tech companies from London and Paris given access to venture capital investors and high-profile corporates while they travel on the Eurostar between the two cities and at the flagship conferences.
As part of the two-way trade mission, the UK and French companies will have the opportunity to pitch their business ideas to some of Europe's leading investors and corporate innovation companies while on the two-hour Eurostar journey between London and Paris. They will be joined on the train by senior innovation leaders from the likes of Google for Startups, BP and Openreach, as well as leading European investment firms such as Eurazeo, HVVC and L'Oreal's innovation arm, BOLD.
Led by London & Partners, one of the founding organisations behind London Tech Week, the first leg of the programme will see 12 French start-ups travel to London to explore expansion opportunities in the UK capital during London Tech Week. As well as gaining access to London Tech Week headline events and attending a reception with the Mayor of London, the companies will have the opportunity to network with the 20,000+ entrepreneurs, policy makers and investors expected to attend the conference.
The French companies travelling to London come from some of France's fastest growing tech sectors such as Fintech, Cybersecurity and e-commerce. Boarding the Eurostar at Gare Du Nord, the delegation included: Blue Frog Robotics; home insureTech provider, Luko; and cloud telecoms firm, LabLabee.
Following London Tech Week, the French companies will return to Paris alongside a delegation of 14 UK based start-ups heading to VivaTech on a trade mission to explore investment opportunities in the French market. The 14 UK-based start-ups selected for the trade mission from London & Partners' Business Growth Progamme supporting high-growth companies to explore new markets, include: London-based retail tech company, Slip; video shopping app, Confer With; and cleantech firm, Electric Miles.
The first-of-its-kind partnership between London Tech Week and VivaTech in support of the trade mission, aims to promote Europe's tech ecosystem across borders. The collaboration is also being supported by the economic development agencies of London (London & Partners) and Paris (Business France), as well as representatives from the UK Government's Department for International Trade.
France and the UK are two of Europe's leading tech ecosystems, with data from Dealroom showing that the two countries tech companies raised record amounts of tech VC investment last year ($39.8bn UK, $12.9bn France). Their growth has helped Europe to become competitive on the global stage, with investment into Europe's tech sector also reaching unprecedented levels in 2021, with a total of $115bn raised across the continent last year.
Laura Citron, CEO of London and Partners said: "London and Paris are two of the Europe's leading tech ecosystems, home to many exciting start-ups and scale-ups. We see lots of appetite for French and UK companies to do business across both regions. We're excited by this new collaboration between London Tech Week and VivaTech as it demonstrates how Europe's tech sector can become more globally competitive when we work together, share ideas and investment opportunities."
Tom Cuthell, Festival Director for London Tech Week said: "We're looking forward to welcoming the French delegation and international companies, investors and entrepreneurs from around the world to London Tech Week. This initiative will bring together some of the best talent and start-ups from the UK and France. We are delighted to partner with VivaTech and London & Partners on this trade mission as programmes like this help to build bridges between the UK and tech hubs across Europe."
Julie Ranty, Managing Director of VivaTech said: "As Europe's number one startup and tech event, we at VivaTech are committed to gather the best of the European tech scene and to raise the profile of European innovation. We are delighted to partner with London Tech Week to contribute to providing a unified European playing field for all our startups and technology companies, with a common development framework, to encourage their expansion in Europe and help them connect on both side of the Channel."
Notes to editors
Full list of French companies travelling to London for London Tech Week: Axeptio; BloomFlow; Blue Frog Robotics; Bodyguard; Colonies; Foxy Nerds; Iraiser; LabLabee; Lizee; Luko, Malt; StoragePal
Full list of UK companies travelling to Paris for VivaTech: BKWai; Confer With; Devonshire; Electric Miles; Luminous PR; Media Exchange Group ltd; Movemeback; nuVa Enterprises; SALT, Slip Technology Limited; Softools; T-DAB.AI; Ticketpass; WYSPR.
Full list of partners supporting the trade mission include: Propel; Oury Clarke; Making Moves; Capita; Globalization Partners.
About London & Partners
London & Partners is the business growth and destination agency for London. Our mission is to create economic growth that is resilient, sustainable and inclusive. We are a not- for-profit company and operate as a social enterprise, half funded by the Greater London Authority (GLA) and half from other sources including our portfolio of commercial ventures. For more information, visit: www.londonandpartners.com
About London Tech Week
London Tech Week is the most influential tech event in the UK. It's a huge celebration of tech as a force for good that connects the world's most inspirational founders, corporate heavyweights, government leaders, investors, and the next generation of tech superstars. It is organised by Informa Tech, Founders Forum, London & Partners and Tech London Advocates, supported by HM Government, and takes place from 13 – 17 June. https://londontechweek.com/
About VivaTech
Viva Technology is Europe's number one startup and tech event, recognized worldwide as a powerful catalyst for business transformation, startup growth and innovation for the common good. Since 2016, VivaTech has brought together the world's leading business leaders, startups, investors, researchers and thinkers in Paris for a unique experience combining inspiration, networking and a showcase of innovation. Starting with the 2021 edition, VivaTech has been enhanced with a digital platform that connects a global community of innovators. The 6th edition of VivaTech will take place from June 15 to 18, 2022. More information available at https://vivatechnology.com/media and @VivaTech.