London Tech Week 2018 to showcase best of capital's tech sector to the rest of the world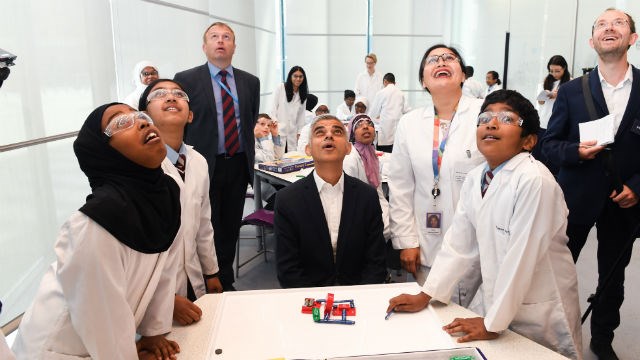 London Tech Week 2018 will see some of the biggest names from the global technology and business community
London Tech Week 2018 will see some of the biggest names from the global technology and business community feature as part of an impressive line-up of speakers and events to be hosted across the city from 11th to 17th June. Throughout the week, the festival will also showcase the latest transformational technologies and innovations including robotics, Artificial Intelligence and autonomous vehicles.
London will open its doors to the international tech community, welcoming over 50,000 delegates from all over the world. Visitors to Europe's largest festival of technology and innovation will be able to see major tech brands such as Google, Twitter and Facebook, joined on the stage by some of London's leading entrepreneurs, policy makers, start-ups and international talent.
This year's headline speakers include Jimmy Wales, Founder of Wikipedia; Baroness Martha-Lane Fox, serial entrepreneur and Co-founder of Lastminute.com; Nicola Mendelson, VP EMEA Facebook; Sir Martin Sorrell; Rt Hon Matt Hancock Secretary of State for Culture, Media and Sport. The Mayor of London Sadiq Khan will formally open the festival on 11th June.
London Tech Week will showcase London's leading position as a global technology hub and will host international business delegations from over 20 different countries from Europe, South America, Asia and North America.
A number of events across the week will also shine a spotlight on the important role of women in technology as part of the Mayor's #BehindEveryGreatCity campaign to celebrate the role London played in the women's suffrage campaign, to mark the progress that's been made on women's equality over the past 100 years and to drive gender equality across the capital. London Tech Week will also host discussions on how to make London an even smarter city through new partnerships with the tech sector.
The Mayor of London, Sadiq Khan, said: "London is Europe's largest technology hub and this year's London Tech Week will again showcase they very best of the city's vibrant, diverse tech ecosystem. From Kings Cross to Croydon, London is home to some of the best entrepreneurs and tech companies developing the latest cutting-edge technologies. We look forward to welcoming thousands of visitors from all over the world to experience the creative energy across the city and show them that London remains open to tech talent, innovation and investment."
Zoe Osmond, London Tech Week Festival Director added: "This year's London Tech Week is shaping up to be bigger and better than ever. With over 200 events across the week, our events programme has something for everyone and will showcase the depth and breadth of London's tech offering. Over the course of the week, we will convene global leaders from technology and business, as well as policy makers, entrepreneurs and creative talent to shine a spotlight on the companies and change makers having a transformational impact on business, lives and society. "
2018's events programme will include a range of events including: headline conferences, networking opportunities, innovation showcases, social events, musical performances and many more.
Some events to look out for during London Tech Week 2018 include:
ENDS
Notes to editors
About London Tech Week
London Tech Week is Europe's largest festival of technology and innovation, bringing together over 50,000 of the best creative and tech minds from all over the world.   
The festival will deliver over 200 of live events across the city, showcasing and celebrating the best of tech whilst providing networking, social, learning and business opportunities across the city.  
London Tech Week 2018 will be organised by founding partners, KNect365, London & Partners and Tech London Advocates, with support from strategic partners Tech Nation, Here East, DIT and techUK.
More information on can be found https://londontechweek.com/
About London & Partners
London & Partners is the Mayor of London's official promotional agency. Its purpose is to support the Mayor's priorities by promoting London internationally, as the best city in the world in which to invest, work, study and visit. We do this by devising creative ways to promote London and to amplify the Mayor's messages, priorities and campaigns to international audiences. Its mission is to tell London's story brilliantly to an international audience.
London & Partners is a not-for-profit public private partnership, funded by the Mayor of London and our network of commercial partners. For more information, visit: www.londonandpartners.com