London set to welcome a number of exciting new hotels and venue developments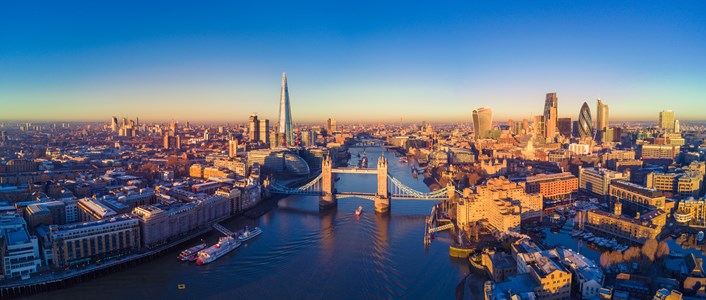 London hotels and venues prepare for industry reopening with new launches
Number of highly anticipated hotels set to open in the UK capital this year
As the vaccine rollout picks up pace across the UK and the government creates a path to safe recovery, London's MICE industry is getting ready to reopen with a host of new hotel openings and venue refurbishments underway.
The city is set to see a number of highly anticipated hotels open their doors this year, as hotel operators show strong appetite for increasing hotel capacity across the city in expectation of an uptick in bookings when it is safe to do so. Venues and hotels in London have also undergone a number of redevelopments and new investments over the past year.
Worth £23bn to London's economy and £70bn across the UK1, the events industry has a vital role to play in London and the wider UK's economic recovery. While the UK capital awaits the return of business events and travellers to the city, venues and hotels have been investing in smart stages and hybrid event studios, undertaking refurbishments, increasing sustainability measures, and getting ready for new openings.
Several international hotel brands have chosen London as their location of choice for their first venture into the European hotel market, with NoMad London, Mondrian Shoreditch and Pan Pacific London to open in the first half of the year. London is also set to play host to the world's first super boutique with the highly anticipated opening of The Londoner by the Edwardian Hotel Group. With a strong focus on sustainable luxury, this five-star hotel delivers on opulence with sophisticated rooms, private cinemas, and a state-of-the-art ballroom.
During the pandemic, MICE venues have also enhanced their business offerings through redevelopment projects, increased hybrid solutions and the creation of virtual platforms. To help bridge the gap between in person and online events, Tobacco Dock has created an immersive virtual reality platform, Tobacco Dock Virtual, that will cater to a global audience. Looking ahead, the £1.3 billion redevelopment project at Olympia London is on track to launch in 2024, expanding the venues cultural spaces and eateries and incorporating two new hotels and 550,000 square foot of office space.
Tracy Halliwell, Director of Conventions & Major events at London Convention Bureau said: "London is a city that is constantly reinventing itself and we have been impressed by how London's venues and hotels have adapted and innovated during a year of huge challenge and uncertainty. The city is a truly dynamic destination for meetings and events and these new hotel openings and venue developments are a vote of confidence in the future of the sector and will provide even greater choice for business events and visitors.
London's meetings and events industry is vital to the economic health of city and the wider UK, providing strong financial benefit, new business opportunities and job creation. As we look towards the future, we are optimistic that the industry in London will recover and we are committed to making future events in the capital a huge success. We cannot wait to welcome major events, conferences and exhibitions back to London when it is safe to do so."
London's new event spaces and hotels set to open in 2021 include:
Kingsland Locke, spring 2021 – Drawing inspiration from trendy East London, Kingsland Locke will feature 124 signature studio apartments with fully equipped kitchens, appliances and living spaces. On-site you'll also find a microbrewery, gin distillery, all day restaurant, co-working spaces, workout station and coffeeshop.
Courtyard Marriott London City Airport, April 2021 – Conveniently located near London City Airport and along the Dockland's Light Railway, the new-build seven story, 184-room property offers a comfortable stay for guests flying into the city. The hotel includes a bar and restaurant, gym, and meeting facilities.
The Londoner, June 2021 – The Londoner, which at its heart is a sustainable luxury hotel from the Edwardian Hotels Group, has had more than £300m in investment. You can expect expertly designed rooms, private screening rooms, six concept eateries, meeting spaces and gym and spa facilities.
NoMad London, early 2021 – Inside the former Bow Street Magistrates Court and Police Station and opposite Covent Garden's Royal Opera House you'll find NoMad London. As the first international venture for NoMad Hotels, NoMad London showcases Mexican inspiration mixed with the historic origins of the building in their 92 rooms and food and beverage outlets.
Mondrian Shoreditch, spring 2021 – Taking over the Curtain Hotel and opening as the European flagship property and the sixth hotel for Mondrian, the Mondrian Shoreditch will embrace carefully curated interiors and exceptional culinary experiences. The Curtain Members' Club will remain intact alongside the re-brand of the hotel.
Pan Pacific London, spring 2021 – As the first European property in Pan Pacific's portfolio this multi-use development will be located on Bishopsgate in the City of London. The property will include luxury apartments, the hotel, a public plaza, mindfulness studio and spa facilities, One Devonshire House, high-end retail and a destination restaurant and cocktail bar.
Nobu Hotel Portman Square – The hotel features a world-class restaurant and bar, and a range of meeting spaces, from boardrooms for small meetings to a ballroom for drinks receptions for up to 700 guests.
Canopy by Hilton London City – Complete with a rooftop bar for open-air dining and networking, the 340-room hotel offers a stylish setting and convenient London location.
The Peninsula London – Find the best of British culture at The Peninsula London with 190 exquisitely styled guest rooms and suites. The hotel also features a grand entrance and colonnaded courtyard reception, as well as a grand ballroom to host spectacular events.
Charles Oak, Hotel Director of The Londoner, commented: "We hope that The Londoner will stand as a beacon of hope for London's ever resilient hospitality industry and are proud to be recruiting a world class taskforce made up of the city's most hardworking and talented individuals. Together, we are looking forward to opening our doors and welcoming guests from all over to their new home from home, in the heart of the capital's most vibrant neighbourhood."
London's event spaces and hotels that have undergone developments in the past year include:
Tobacco Dock – In partnership with Sansar, Tobacco Dock is taking its event space digital with 'Tobacco Dock Virtual'. The virtual venue will allow users to experience immersive, real life conferences, seminars and events online using the pandemic-proof platform.
Hilton London Metropole – One of Europe's largest conference and events hotel, with close transport links to Heathrow Airport and Central London, is undertaking a multimillion-pound refurbishment. Renovations will be made to the hotel's 1,096 guestrooms and suites, 35 event spaces and meeting rooms, four restaurants and bars, executive lounge and state-of-the-art 200sqm gym. The renovation is due to be completed by summer 2021 and will provide visitors with a completely new and upgraded stay. No element of the hotel will be left unchanged.
The Carlton Tower Jumeirah – Following a £100 million renovation, The Carlton Tower Jumeirah is set to open with a revamped spa, 20-meter indoor pool, health club, restaurant and balconies looking out onto iconic London views. The hotel's new design will draw inspiration from its rich heritage, location, and modernist architecture.
Olympia London – The £1.3 billion redevelopment project for Olympia London will launch in 2024 as a world-leading cultural destination includes a four-screen arthouse cinema, 1,500-seat theatre, live music venue, restaurants, shops, cafes, two hotels (Hyatt and CitizenM) and 550,000 square foot of office space.
The Westin London City – The Westin London City is located on prime riverfront in the heart of the City of London and is a key part of the redevelopment of the former Queensbridge House site. The hotel will feature ultra-modern meeting and event facilities, 24-hour business centre, a Junior Ballroom, indoor swimming pool, spa, and fitness studio.
Marriott Kensington – The London Marriott Hotel Kensington has undergone a phased renovation project transforming the hotel's guest rooms and public areas. Featuring intuitively designed accommodation, a seven-story atrium and restaurant. Marriot Kensington is in an ideal location with close links to Central London and Heathrow Airport.
Leonardo Royal London City Hotel – The £11.5m large-scale refurbishment of Leonardo Royal London City will transform the hotel's public areas, notably the lobby and reception, and includes renovations to the hotel's bedrooms to create a new relaxed and restful environment.
Jonny Read, Commercial Director at Tobacco Dock London said: "Live events and face-to-face experiences are vital for businesses and for London as a thriving business hub. However, by creating a virtual venue we offer the best of both worlds – in person and virtual - where online users can experience being at an event in real time by engaging with presentations, interacting with products, accessing content and networking with other attendees. While we wait to come together at live events in the next couple of months, Tobacco Dock Virtual acts as an alternative venue to help break the barriers between face-to-face and online meeting experiences. The next phase of events will see the physical and virtual running simultaneously and across a wide range of devices, meaning our venue is accessible to a truly global audience. As we've seen the business event landscape adapt and prepare to re-open in London, we believe Tobacco Dock Virtual will allow more individuals and businesses to engage in powerful, immersive experiences blurring the edges between the real life and the virtual."
For more information and inspiration about London's MICE offering, check out the London Event Planner Guide 2021.
Notes to editors
All press images can be downloaded here.
Visit London's Virtual Site Visits here.
The UK Events Report, Business Visits & Events Partnership, May 2020. Full report available here.
About London Convention Bureau
London & Partners is the official convention bureau for London. As part of London's international trade, investment and promotion agency, our team can help you access the widest range of London event space, unusual conference venues, business hotels and event planning available in this top congress destination. http://conventionbureau.london/