London's visitor accommodation has more overnight stays than ever before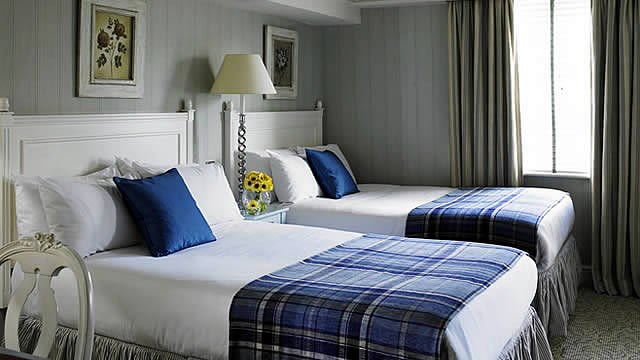 London's hotels and other accommodation recorded over 56 million overnight stays last year
London's hotels and other accommodation recorded over 56 million overnight stays last year, more than any other city in Europe, new research released today reveals
According to European Cities Marketing (ECM) there were over 41million overnight stays from international tourists, proving that the city remains open to visitors from all over the world.
Overall London grew 7 per cent year-on-year. Paris had the second most number of overnight stays followed by Berlin, Rome, Barcelona, Madrid, Prague, Vienna, Munich and Amsterdam.
Rajesh Agrawal, Deputy Mayor of London for Business, said: "These sensational figures show London's enduring appeal as one of the most popular international destinations.
"With our world-class sport, culture, art, history and architecture, it is not surprising that visitors continue to flock to the capital, proving that London is open to people from all four corners of the world."
Ignasi de Delàs, ECM President, explains: "We saw another exceptionally successful year for city tourism in Europe. London and Paris remain by far the two most popular cities in Europe, although there is very strong growth from many other cities. Europe offers tourists an unrivalled array of culture, history and food experiences which, coupled with a diverse accommodation sector, means cities across the continent are hosting more and more travellers."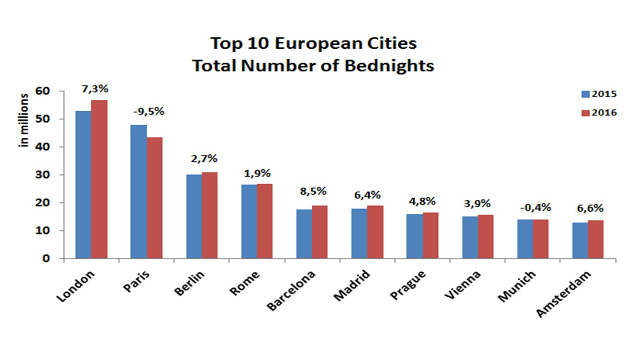 For international overnight stays, the list of the cities are the same as compared to 2015. London (+1.3%) and Paris (-12.9%) are the top two cities with highest number of international bednights. The Spanish cities of Barcelona (+8.5%) and Madrid (+9.4%) had the highest growth in the top 10 list.
Visitors from the USA (11%), Germany (9%), and UK (9%), make up approximately 30% of the source markets to European cities. The results indicate that overall European city tourism is growing, with the growth coming from European markets.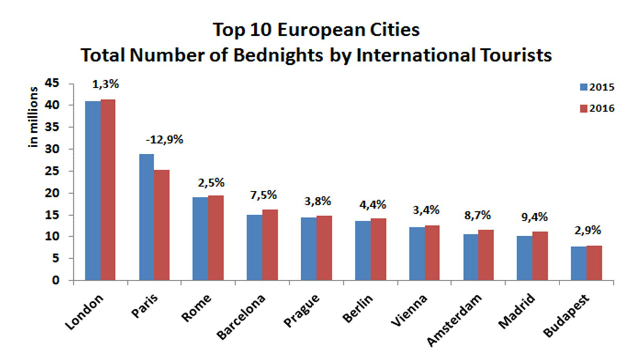 London has a thriving hotel sector with over 140,000 rooms which is set to grow over the coming years. Traditionally investment in hotels in London has focused around central areas, however, new infrastructure improvements and a booming digital economy has created a "Knowledge Corridor" that stretches from Bloomsbury to Paddington, taking in Fitzrovia and North of Oxford Street. Hotel activity is increasing as these areas grow, with Premier Inn recently opening another hotel on Tottenham Court Road and US-based hotel operator Standard International opening its first hotel in 2018 in the former Camden Town Hall.
Shoreditch has also become a hotspot for hotel development due to building availability and lower costs compared to more central locations with new hotels including Z Hotels and Nobu Hotel Shoreditch opening up.
Charts and further data are available for free at www.europeancitiesmarketing.com
The 13th edition of the European Cities Marketing Benchmarking Report will be available from June 2017, representing the leading source of European city tourism statistics in the world. The report can be pre-ordered at a discount rate of -20% until the end of March.
Enquiries
European Cities Marketing, Flavie Baudot, press@europeancitiesmarketing.com, +33 380 56 02 00
MODUL University Vienna (Scientific Partner), Karl Wöber, karl.woeber@modul.ac.at, +43-1-3203555-300
London & Partners:
Becka Cornell 020 7234 5787 or bcornell@londonandpartners.com
Notes to editors
About European Cities Marketing
European Cities Marketing is a non-profit organisation, promoting and linking the interests of members from more than 100 major cities in 36 countries. Its mission is to improve the competitiveness and performance of leading cities of Europe by providing a platform for convention, leisure and city marketing professionals to exchange knowledge, best practice and widen their network to build new business.
Further information & pre-order special