London powers record growth in global climate tech investment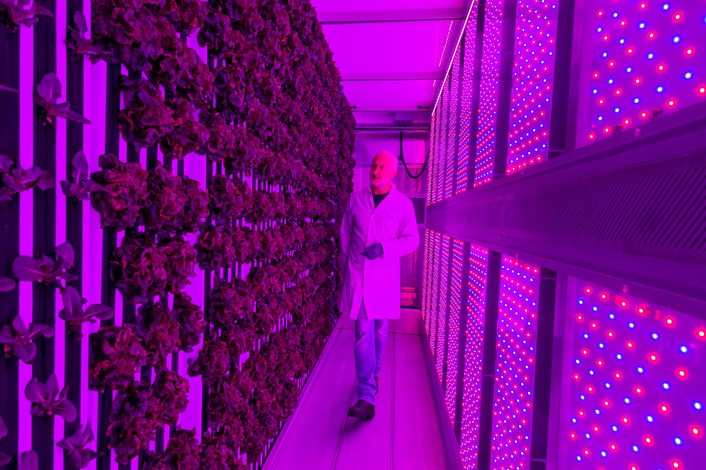 Image: London climate tech startup and urban farm, Crate to Plate ©Stephen Chung/PinPep
Global climate tech investment sees rapid growth since Paris Agreement, with record $32.3bn raised in 2021
UK firms raise $4.3bn in VC funding since 2016, ranking 4th globally
London is home to more climate tech companies than any other European city
Europe is the fastest-growing region for climate tech investment since 2016
London and the UK are at the forefront of a global boom in climate tech investment since the Paris Agreement, according to a new report today by London & Partners and Dealroom.co. Released to coincide with the upcoming 2021 UN Climate Change Conference in Glasgow, the research shows global climate tech VC investment soared from $6.6bn in 2016 to $32.3bn in 2021 (YTD), an increase in funding by almost five times. UK climate tech companies are a driving force behind the rapid growth in investment, ranking as the fourth nation globally for total VC funding between 2016-2021, behind the US, China and Sweden. UK climate tech companies have raised a total of $4.3bn since 2016, with London-based firms accounting for over 70% of UK funding.
2021 investment levels have already exceeded the whole of 2020 for global climate tech investment, demonstrating the importance of the global tech industry in the fight against climate change. Europe is the fastest-growing region globally for climate tech according to the findings, which analyses technology companies working to reduce Green House Gas emissions or addressing the impacts of climate change. European VC investment into climate tech firms is seven times higher this year than in 2016 (up from $1.1bn to $8bn), with 2021 seeing significantly more investment than the $4.8bn raised in 2020.
London is one of the world's most advanced ecosystems for climate tech, with the UK capital's startups raising $3.3bn since 2016 and investment growing 6.3 times over this time period, faster than the global average. London is also home to 416 climate tech companies, the biggest cluster in Europe. The combined value of London's climate tech startups has almost tripled in the last year alone, thanks in part to big exits from Arrival and Depop. The combined value of London's climate tech startups is now $28bn, the largest in Europe.
Future growth looks strong for London's climate tech sector, with the UK capital ranking second globally behind the Bay Area for number of funding rounds raised by climate tech startups, demonstrating an active early-stage ecosystem. Some of the largest deals involving London climate tech companies in 2021 include a $800m Growth Equity round for unicorn clean energy company Octopus Energy; a $118m deal for Newcleo and a $43m Series B round for OLIO.
Laura Citron, CEO at London & Partners said: "The tech industry plays a fundamentally important role in helping drive forward innovation in the fight against climate change. Today's findings demonstrate the creativity of climate tech firms in London tackling the climate crisis. Home to the largest cluster of climate tech companies in Europe and a thriving ecosystem of dedicated VC funds and accelerators alongside world-class researchers and talent, London's tech sector is coming together to tackle the global climate crisis."
James Byrne, Partner at Sustainable Ventures & Co-Founder Sustainable Workspaces said: "London is home to a diverse network of climate tech companies, including Europe's largest collocated cluster of sustainable organisations within our curated Sustainable Workspaces in London. Today's report is confirmation of London and the UK's leading role in driving tech and innovation to tackle the climate crisis. We are now on a mission to ensure London continues to be one of the best cities in the world to build businesses which deliver the ambitious Net Zero targets currently being set."
Digital Secretary Nadine Dorries said: "The cutting-edge green technologies being developed in the UK right now will be vital in helping us switch to cleaner energy and tackle the pressing threat of climate change. Through our comprehensive investments in digital skills, digital infrastructure and R&D, the UK government is supporting dynamic entrepreneurs who are pioneering technology that will help us build back greener and reach Net Zero by 2050."
Climate tech startups in London have access to deep pools of dedicated climate tech capital, with the city home to 18 dedicated climate tech VC firms, more than anywhere else in Europe. London-based VC funds have also raised over half of all European dedicated climate tech funds in the last two years, further evidence of the huge potential for future growth of London's climate tech sector. The largest climate tech funds raised in 2021 include a $900m fund by London-based Lightrock, a $312m fund by London-based 2150 and a $200m fund by Munich-based Blue Horizon.
London is also producing some of Europe's fastest growing climate tech companies, with three climate tech unicorns and six potential future unicorns, tied with Stockholm for the most future unicorns in Europe. Future unicorns in the UK capital include food-sharing app OLIO, nuclear energy company Newcleo and energy storage company Highview Power.
Further analysis of global climate tech investment flows shows that London is well placed to take advantage of some of fastest growing climate tech subsectors. Growth in climate tech is being driven by significant investment into transportation and energy solutions, accounting for a combined total of 78% of global climate tech investment in 2021. A similar trend is reflected in London, with 60% of VC investment into climate tech going into energy companies, while enterprise software, circular economy and food startups are also attracting an increasing share of investment. The number of innovative companies in these climate tech subsectors in London is growing and firms such as urban farm Crate to Plate, the climate risk platform Cervest and circular economy platform Circulor are all addressing key challenges.
Remus Brett, Partner at LocalGlobe said: "The UK is well on its way to becoming a climate tech powerhouse thanks to its combination of world-leading research, thriving ecosystem and creative entrepreneurs that are using technology to solve the most pressing issue in our lifetime. It's no wonder then that investors across Europe and the world are taking note of the startups and scaleups being created in London and the rest of the country. With sustained investment and the right support, these companies will have the tools they need to successfully reduce greenhouse gas emissions and fight the climate crisis."
Christian Hernandez, Partner and Co-Founder at 2150 said: "At 2150 we seek to back technologies that will have a significant impact on achieving the goals of The Paris Agreement and we focus on the broad urban environment, which represents 70% of global emissions. We recently raised one of the largest climate tech funds in Europe and are actively deploying it into the thriving climate tech ecosystems in the UK and across Europe. London, and the UK in general, is clearly one of the leading centres for climate tech worldwide and it is exciting to see solutions and technologies that can have gigaton level impact at scale being built and backed here."
Tessa Clarke, Co-Founder and CEO at OLIO said: "The very first OLIO pilot took place in five postcodes in North London in 2015, and ever since then London has played an integral role in getting us to where we are today. We've benefitted from programmes such as the Mayor of London's International Business Programme – which took us on an incredibly helpful & inspiring trade mission to Silicon Valley - and Tech Nation's Upscale; as well as the rich ecosystem of events, investors and peers which have enabled us to learn fast and unlock funding. London is also leading globally in the emerging tech 4 good and impact spaces, so it's been brilliant having that support as we've been breaking new ground."
Notes to editors
Download the full report here.
Press images are available here.
All 2021 data covers a January to September timeframe.
About London & Partners
London & Partners is the business growth and destination agency for London. Our mission is to create economic growth that is resilient, sustainable and inclusive. We are a not- for-profit company and operate as a social enterprise, half funded by the Greater London Authority (GLA) and half from other sources including our portfolio of commercial ventures. For more information, visit: www.londonandpartners.com
About Dealroom.co
Dealroom.co is the foremost data provider on startups, growth companies and tech ecosystems in Europe and around the globe. Founded in Amsterdam in 2013, Dealroom.co now works with many of the world's most prominent investors, entrepreneurs and government organizations to provide transparency, analysis and insights on startups and venture capital activity.