London & Partners showcases UK capital as destination for Nagpur innovators and entrepreneurs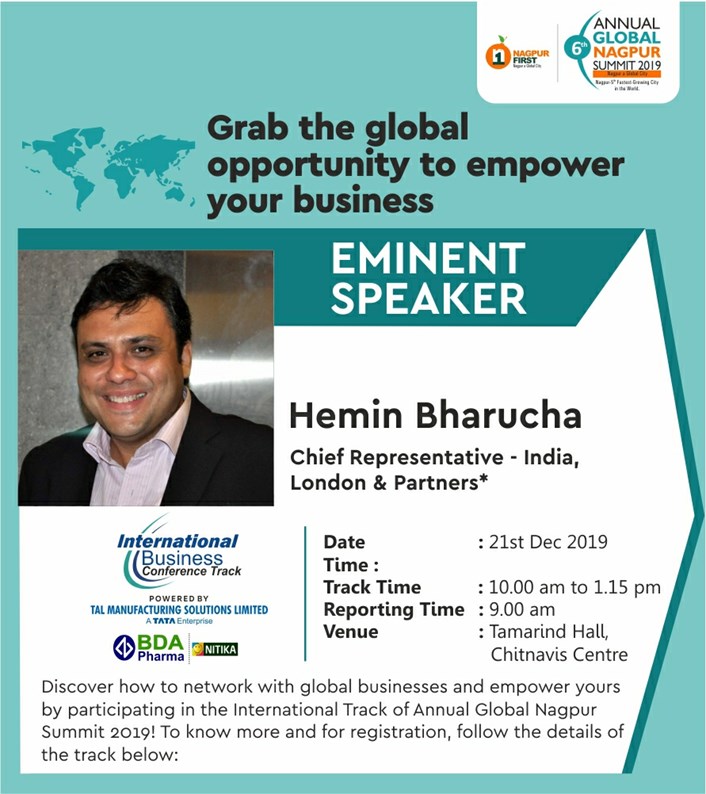 The 6th edition of the Global Nagpur summit witnessed the top industry stalwarts from around the world including London & Partners
Nagpur, December 21, 2019: The 6th edition of the Global Nagpur summit witnessed the top industry stalwarts from around the world. The purpose of this summit was to identify and recognise Nagpur's growing potential as a hotspot for conducting business, where various global entities showcased their business objectives and offerings to budding Nagpur entrepreneurs.
One of the eminent speakers at the event was Mr Hemin Bharucha, Chief Representative India, London & Partners, who spoke at length about the diverse offerings and increasing opportunities for aspiring entrepreneurs who wish to set up their business in London.
During the session, Hemin Bharucha talked about some of the key areas for business growth in London such as FinTech, Life Sciences, Creative and Urban amongst many other sectors. He stated that London's low taxation economy, highly skilled talent pool and ease of doing business are some of the factors that are driving companies and entrepreneurs to take their businesses from 'Local to Global'.
Hemin Bharucha, Chief Representative of India for London& Partners said
"London is a great destination for Indian businesses looking to expand internationally and India ranks amongst the top three investors in London. Nagpur has an abundance of companies that have the potential to go global by expanding their business in London.
"The city has a strong ecosystem of thriving enterprises and talented people that have an appetite for global markets, especially London, which is the best place to reach a wealth of customers,"
Eye on London
Do you love London and can't stop talking about it? Join our community and receive regular news and updates about London.
Media contact:
Devanshi Jain
8107785811