London launches Beyond HERizons programme to target funding gap and support female founders to secure investment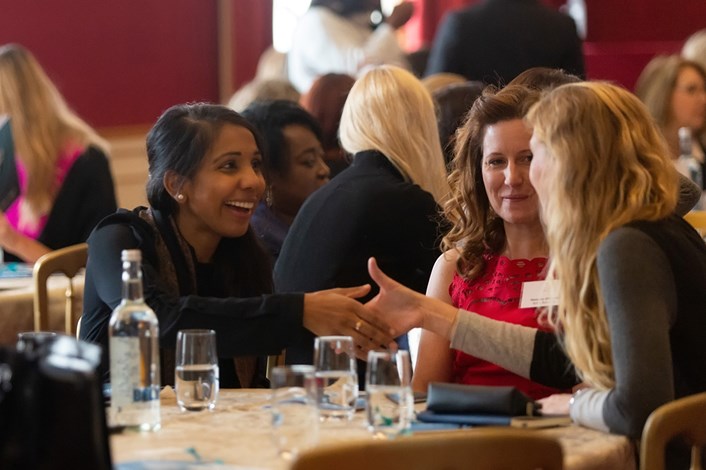 New initiative from Silicon Valley Comes to the UK is laser-focused on closing the funding gap in the investment landscape
Recent data shows less than 0.5% of VC funding into London tech firms in first four months of the year was received by all-female led companies
Beyond HERizons, a new initiative from London & Partners' Silicon Valley comes to the UK (SVC2UK) programme designed to specifically tackle the funding gap that exists in the investment landscape, launches its inaugural cohort of female founders today.
The 12-month business support programme will provide 15 female entrepreneurs with the skillset, network and confidence to scale their businesses and secure investment. Female founders joining the programme have been selected following a competitive application process and are actively looking to secure Series A investment within the next year.
There is a stark funding gap between men and women in the investment landscape, with recent data from Dealroom.co and London & Partners revealing all-female founded businesses received just £22m, less than 0.5%, of the total £5.3bn VC invested into London tech firms between January and April this year1. Research from Extend Ventures also shows Black and Multi-Ethnic entrepreneurs are at an even greater disadvantage, with 0.02% of total VC invested from 2009-2019 going to Black female founders2.
Female founders face particular barriers at the later stage of VC funding, with data showing that in 2020 77% of VC funding rounds into London-based all-female teams were at seed stage or earlier, while 19% were Series A and only two rounds were at Series B or later funding stage. The new Beyond HERizons initiative aims to specifically target the funding gap in the UK investment landscape that exists for female founders, in particular at Series A stage and beyond, and to build an inclusive and diverse network passionate about balancing gender inequalities in the investment ecosystem.
The entrepreneurs taking part in Beyond HERizons span a range of tech sectors from digital health and the circular economy to robotics and edtech. They include Letizia Gionfrida, Co-Founder & CEO of Arthronica, a digital-health diagnostic platform, Rahel Tesfai, Founder & CEO of FroHub, an Afro hair and beauty community and Mikela Druckman, Co-founder and CEO of Greyparrot, an AI-powered computer vision software increasing transparency and automation in recycling.
Other women joining the programme are Rene Perkins, Founder & CEO of CityMaaS.io which helps organisations to grow their inclusion using its cutting edge technology, Jill Hodges, Founder & CEO of Fire Tech, the UK's leading provider of tech education for 8-17 year olds and Kike Oniwinde, Founder & CEO of BYP Network, connecting Black professionals with each other, careers, events, mentors and Black businesses.
Janet Coyle, Managing Director Business Growth at London & Partners, said: "We are excited to have some of UK's most inspirational female founders joining the first cohort of our Beyond HERizons programme today. London and the UK are home to thousands of innovative female founders, but they so often struggle to scale due to the current funding gap in the investment ecosystem. Beyond HERizons will bring together a community of diverse female founders to access impactful, practical support and investor networking opportunities and engage London's extensive network of investors committed to increasing accessibility to funding in the UK."
Sherry Coutu CBE, Founder & Chairman at SVC2UK, serial entrepreneur and angel investor, said: "We know that more diverse and inclusive businesses generate greater economic growth and benefit to society and women-led firms are shown to perform better over time. Yet female entrepreneurs continue to face significant barriers accessing funding. Beyond HERizons will work with the extensive network of tech investors who are dedicated to addressing this funding gap in the investment landscape to drive progress and contribute to undoing the current investment gender bias. I am thrilled to see so many innovative female founders joining the programme's first cohort."
The programme will offer a balance of education, support and networking opportunities, ensuring founders receive tangible and sustainable support from experts including the SVC2UK Beyond HERizons partners; Mastercard, HSBC, Wilson Sonsini, Ada Ventures, Merian Ventures and FieldHouse Associates.
As part of the programme, the cohort will be introduced to relevant investors from across the UK and European ecosystems where they will have the opportunity to pitch their ideas and products. The founders will also participate in a trade mission to Silicon Valley in early 2022 where they will meet and spend time with North American investors and build their international networks.
Kike Oniwinde, Founder & CEO at BYP Network said: "I am thrilled to join an incredible group of female founders for the new Beyond HERizons programme. I have been part of the London & Partners and SVC2UK networks for three years now and have benefited hugely from their support through two accelerator programmes, events and female founder trade missions. BYP Network has so much potential to continue to break down barriers, bringing about change for the Black community. I look forward to connecting with a strong global network of investors and founders and gaining support to secure funding to help fulfil our global growth ambitions for BYP Network."
Deirdre Mc Gettrick, Founder & CEO at ufurnish.com added: "I'm really looking forward to meeting a network of like-minded female founders through Beyond HERizons and sharing learnings, wisdoms and experiences. Ufurnish.com has a unique proposition, offering an online furniture marketplace for consumers all in one place and through joining the programme we hope to succeed in securing our next funding round, allowing us to continue to grow and reach new customers."
The full list of female founders involved in the Beyond HERizons programme is below:
| | | | |
| --- | --- | --- | --- |
| | Ieva Balciute | Co-founder | Aequem is the easiest way to shop sustainable fashion and lifestyle products. |
| | Letizia Gionfrida | Co-Founder & CEO | A digital-health diagnostic platform for remote monitoring in arthritis through proprietary AI. |
| | Bibi Nelson | COO & Co-founder | Bare Conductive built a global community around conductive paint, hardware and software. LAIIER, applies the printed tech developed at Bare to smart buildings. |
| | Kike Oniwinde | Founder & CEO | BYP Network connects Black professionals with each other, careers, events, mentors, and Black businesses. |
| | Aowen Jin | Co-Founder & VP of Sales | Chicmi is the number one physical fashion event discovery, and Sample Sale site in the UK and the US with a fashion community of 1.5M users. It works with 6000 luxury to indie brands. |
| | Rene Perkins | Founder & CEO | CityMaaS.io helps organisations to grow through inclusion using its cutting-edge technology. |
| | Jill Hodges | Founder & CEO | Fire Tech is the UK's leading provider of tech education for 8-17-year olds. Now fully online and looking to scale globally. |
| | Rahel Tesfai | Founder & CEO | FroHub is an Afro hair and beauty community and global marketplace. It empowers customers to discover and book professionals and buy products from independent sellers and brands. |
| | May Al-Karooni | CEO & Founder | A B2B reuse marketplace that connects enterprises to charities and people to redistribute unneeded items. It also generates ESG data on the impact. |
| | Mikela Druckman | Co-founder and CEO | Greyparrot provides AI-powered computer vision software to increase transparency and automation in recycling. |
| | Dr Ruby Pillai | Co-Founder & CEO | A platform for consumers to consolidate all their product warranties, make claims, and access repair networks affordably and quickly. |
| | Deirdre Mc Gettrick | Founder and CEO | ufurnish.com is an online furniture search and discovery website, that brings 130+ retailers onto one website to make searching for the perfect furniture items simple for consumer. [ufurnish.com is home decor's equivalent to Rightmove for property search.] |
| | Zara Ransley | Cofounder & Co-CEO | MyPocketSkill helps to create a financially empowered Gen Z by connecting them with opportunities to earn, save and learn about money. |
| | Ariana Alexander-Sefre | Co-Founder & CEO | SPOKE is a new app and movement (currently in private Beta) that personalises mindfulness and self-therapy through music by working with world-leading musicians. |
| | Katherine Jillings | Co-Founder | ToucanTech's powerful CRM and website software is used by schools, charities and clubs in 20 countries to manage all their data and comms in one easy system. |
Notes to editors
Dealroom.co 2021
Extend Ventures, November 2020, Diversity Beyond Gender
Dealroom.co 2021
Beyond HERizons partners:
Mastercard
HSBC
Wilson Sonsini
Ada Ventures
Merian Ventures
FieldHouse Associates
About Silicon Valley Comes to the UK
Silicon Valley Comes to the UK (SVC2UK) is a not-for-profit programme run by London & Partners (London's business growth and destination agency) together with volunteers, advisers and partners. It was founded by Sherry Coutu CBE, Reid Hoffman and Ellen Levy. Now in its fourteenth year, SVC2UK brings together the top entrepreneurs and VCs from Silicon Valley with students, early-stage CEOs, serial entrepreneurs, and policymakers in the UK with the singular goal of inspiring entrepreneurship, innovation, and economic prosperity. The annual summit takes place in November each year with prominent serial entrepreneurs from Silicon Valley typically visiting London, Cambridge and Oxford. To find out more please visit: http://www.svc2uk.com
About London & Partners
London & Partners is the business growth and destination agency for London. Our mission is to create economic growth that is resilient, sustainable and inclusive. We are a not- for-profit company and operate as a social enterprise, half funded by the Greater London Authority (GLA) and half from other sources including our portfolio of commercial ventures. For more information, visit: www.londonandpartners.com