London is Full of Beans!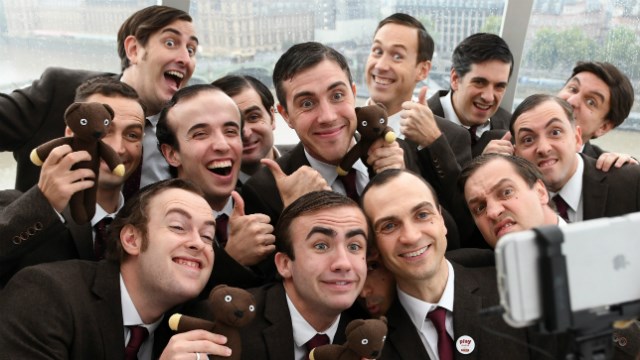 Britain's beloved Mr Bean takes a trip round London as part of new tourism drive for the city
Mr Bean lookalikes today (Thursday) descended on central London bringing smiles to the faces of commuters and tourists during the launch of a new mobile game aimed at bringing more UK and international visitors to the city.
A hill of Mr Beans, made famous by comedian Rowan Atkinson and dressed in trademark tweed jacket while each clutching the iconic 'Teddy' bear, travelled on the Underground, went for a ride on the Coca Cola London Eye and took selfies with passers-by in Trafalgar Square.
The Beans were out on the streets to celebrate the launch of a brand new mobile game called Play London with Mr Bean, which helps visitors discover the city's tourist highlights and forms part of a new drive to attract more UK and international visitors to the capital.
VisitLondon.com, Endemol Shine Group and Pointvoucher have worked together to develop the free to play mobile game which sees an animated Mr Bean visit London attractions. By spending time playing the game, players will be able to pick up vouchers which they can then cash in for discounts when they holiday in London, and also find great offers on locations around the city.
Andrew Cooke, Acting CEO at London & Partners, which runs visitlondon.com, said: "Mr Bean's humour transcends language barriers and, as one of the world's best known Londoners, he is the perfect person to help encourage more UK and international visitors to come to the capital. Play London with Mr Bean is a new and innovative way for visitors to discover new experiences and make the most of their time in the city."
Tourism in London is booming with new figures released today (Thursday) showing that London is welcoming record numbers of international travelers.
According to tourism industry analyst Forward Keys, the number of international travel agent bookings to London is up over 8 per cent in 2017 compared to 2016, which was previously a record year. Visits from the USA have grown by 15 per cent year-on-year, while the number of visitors from China coming to London is forecast to increase by 12 per cent year-on-year.[1]
Separate research from VisitLondon.com projects the city will experience a 30 per cent increase in visitor arrivals by 2025, taking visitor numbers to more than 40 million a year. Some of the fastest growing markets for visitors to London by 2025 are China (103 per cent growth), India (90 per cent growth), and the UAE (43 per cent).[2]
Mr. Bean, produced by Tiger Aspect, part of Endemol Shine UK, is broadcast in 195 territories with over 25 years in continual distribution. The brand has seen phenomenal digital growth, currently averaging 300 million monthly online views.
Recently overtaking the likes of Taylor Swift and Harry Potter, Mr. Bean is now the number 1 entertainment brand, and Brit, on Facebook with over 75 million fans, growing on average by 200,000 fans per week.
Download "Play London with Mr Bean" for free!
For more information visit www.play.london
Social:
https://twitter.com/playlondongame
https://www.instagram.com/play.london/
https://www.facebook.com/playlondon/

[1] Forward Keys - growth rates are based on a combination of actual arrivals from 1st January 2016 to 14th October 2017 vs. same period in previous year. Projections for the remainder of the year based on forward bookings made from 14th October to end of 2017.
[2] Taken from a 'Tourism Vision for London', published Sept 2017.
Premier Communications
Toby Leston
Toby.leston@premiercomms.com
Tel: +44 207 292 6451
Endemol Shine Group
Rachel Hassall
rachel.hassall@endemoluk.com
Tel: + 44 (0) 7970606803
London & Partners
Phil Nettleton
pnettleton@londonandpartners.com
Tel: + 44 (0) 20 7234 5787
Pointvoucher
Nicolai Elmqvist
ne@pointvoucher.com
Tel: +44 (0) 7534683813
Notes to editors
Images link
https://www.dropbox.com/sh/qmyjkelj2gsdpsm/AAADJj6LGBNyRQgyGjLzDrZDa?dl=0
About Endemol Shine Group
Endemol Shine Group is a global content powerhouse creating world class content for all platforms.
As a producer and distributor, Endemol Shine Group works on a unique local and global axis comprising of more than 100 companies in over 20 markets.
Delivering 700 productions in over 50 languages, the Group's portfolio enthrals and inspires across scripted and non-scripted genres; coupled with digital, gaming, brands and licensing and distribution operations. For more information, visit www.endemolshinegroup.com/

About London & Partners
London & Partners is the Mayor of London's official promotional agency. Its purpose is to support the Mayor's priorities by promoting London internationally, as the best city in the world in which to invest, work, study and visit. It does this by devising creative ways to promote London and to amplify the Mayor's messages, priorities and campaigns to engage international audiences. Its mission is to tell London's story brilliantly to an international audience.
London & Partners is a not-for-profit public private partnership, funded by the Mayor of London and our network of commercial partners. For more information, visit www.londonandpartners.com and www.VisitLondon.com
For high res, rights-free images of London, please register at http://photos.london/press/
About Pointvoucher
Pointvoucher facilitates the connection between consumers and brands by giving them a reason to engage in a fun, playful and rewarding way through branded mobile games and voucher shops. The concept enables people to get something of real value in return for the time they spend playing games connected to the Pointvoucher platform, while brands get a plug 'n' play marketing platform that delivers huge engagement rates, data & permissions, footfall, and access to new customers through the platform.
The company is based in London and have done successful games for brands, retailers and amusement parks.
www.pointvoucher.com