London fintechs weather the storm as digital adoption accelerates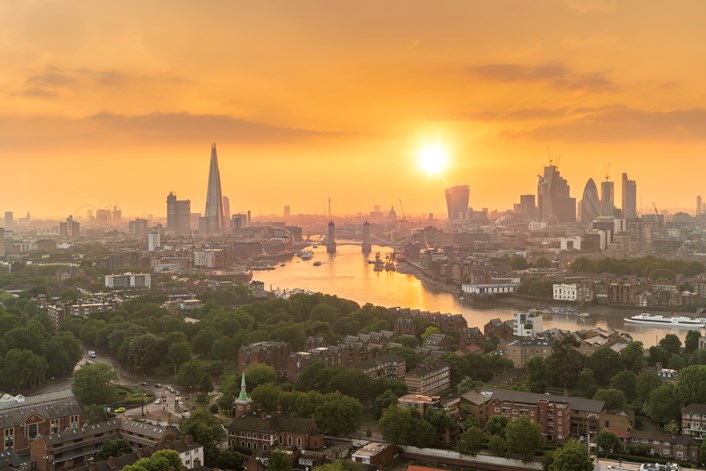 New data shows UK capital continues to dominate European fintech investment landscape
London companies respond to increased fintech adoption during lockdown
US fintech investors look to London for investment opportunities
Investors are continuing to pump money into London's fintech companies despite the pandemic, according to latest data from London & Partners and Dealroom.co today.
As coronavirus drives accelerated adoption of fintech products and services, London's fintech sector has attracted $3.6bn in VC investment between January and September 2020. This puts London in second place globally, behind San Francisco with $5.1bn and ahead of New York's $2.2bn.1
The UK capital takes the top spot for deal count with 169 deals so far this year, demonstrating confidence in the fintech sector from investors. San Francisco follows with 107 deals and Paris comes in second in Europe, with 40 deals.
While businesses around the world continue to tackle the impacts of coronavirus, London's fintech sector appears to be weathering the storm. In fact, recent data from Beauhurst suggests that 95% of UK fintechs have avoided the worst of the pandemic.2
Although global investment flows around the world are below last year's levels, London's fintechs have already topped 2018 VC investment total of $2.3bn. What's more, in the first half of 2020, London fintechs claimed 57% of European VC capital into fintech companies.3
Fintech remains one of London's largest and best performing sectors, accounting for 44% of all VC investment into London's tech companies so far this year.
Laura Citron, CEO, London & Partners said: "World-leading fintech scaleups were born in London out of the 2008 financial crisis and today London's fintech companies are innovating to respond to changing demands caused by the pandemic. These new investment figures show London is a well-established global fintech capital and I am confident we will continue to see growth in the city's biggest tech sector. The UK capital is a natural home for fintech because it combines the power of global financial markets with a deep tech talent pool, supportive regulation and an early-adopting customer base."
The UK has long offered fintech companies a captive audience of fintech savvy customers and recent data from Mastercard reveals rapid accelerated adoption of fintech products over the last six months.
Data from the global payments company shows that 66% of all their transactions in the UK now take place via contactless4, while retail sales growth in ecommerce grew by 64% in the UK in April 20205. According to London fintech firm Nucoro, 6 million UK adults downloaded a banking app for the first time during the coronavirus crisis (12% of adults)6. This gives fintechs in the UK and London an increased opportunity to tap into a growing customer base.
Home to 2,183 fintech companies, more than any other global city, London's fintechs are innovating to respond to these changing demands, enabling them to take advantage of new opportunities at speed and scale.
One fintech company which has experienced exceptional growth during the pandemic is London-headquartered Checkout.com, a graduate of the Mayor's International Business Programme. Named one of the world's most valuable fintechs following a $150m Series B fundraise in June, Checkout.com has experienced a 250% boom in online transactions between May 2019 and May 2020.
As fintech adoption accelerates, the payment solution provider has added 500+ merchants to its books in the last 12 months, including Swedish fintech Klarna, one of the biggest disrupters in the fintech sector right now.
Counting Checkout.com amongst its fintech unicorns, London also remains a top city for creating high growth fintech businesses, with 17 of the UK's 23 fintech unicorns based in the UK capital.
Bradley Riss, Chief Commercial Officer at Checkout.com said: "Checkout.com has thrived globally from London, a city with all the right ingredients from which to grow and scale internationally. Over the last eight years, we've maintained consistent profitability and organically grown to a team of 750 people across 14 offices worldwide. We are ambitious about powering even more businesses around the world as the pandemic accelerates existing trends to online and London is the ideal hub to bring connected payments and local expertise to global merchants."
The UK capital has historically attracted a wide international variety of investors and new research reveals that US investors are continuing to look to London's fintechs.
Out of the $3.6bn invested into London fintechs so far this year, $2.2bn came from 50 funding rounds including at least one US investor, accounting for 61% of total fintech investment into London companies. This is up from 32% in 2019 when $1.6bn of the total $5.1bn VC investment into London fintechs included a US investor.
Funding rounds including a US investor also tend to be significantly larger in value than those with no US backing, with the average deal value involving US investors at $44m compared to $12m without.
Major funding rounds for London fintech companies involving US investors in 2020 include a $500m Series D funding round for London fintech unicorn, Revolut, involving US investment firms Technology Crossover Ventures and Ribbit Capital and a $150m Series B funding round for Checkout.com, led by New York headquartered firm Coatue.
Despite the global slowdown of foreign direct investment over recent months, fintechs are continuing to look both ways across the Atlantic. Last week, some of London's fastest-growing fintech companies took part in a virtual trade mission to North America, hosted by the Mayor of London's International Business Programme.
London-based scaleups 11:FS, iProov, Tyk, ABAKA, SteadyPay, ClauseMatch, EmpowerRD, Paid, Recordsure, Suade Labs, Fiskl and Ten10 Group spent four days visiting six US states, pitching to a number of banks and investors across North America.
While London fintechs are exploring the US for international expansion, over the last few months notable US and Canadian fintech companies have also confirmed their commitments to the UK.
US fintech firm Plaid recently opened a London office in Shoreditch, opting for the UK capital as their new home outside of the US and Canada.
Last week, the world's largest eCommerce investor, Canada's Clearbanc also launched in the UK and committed to investing £500m in UK-based eCommerce businesses. Their first expansion outside of North America, the announcement shows confidence in the UK as a ripe ecosystem for fintech companies.
Keith Grose, Head of International at Plaid, said: "When we were looking to expand outside of North America, the UK was an obvious choice. We opened our first international office in London's Shoreditch as we knew there was a thriving and supportive ecosystem in the UK capital, home to like-minded fintechs. As a fintech company based in London you have access to investors, clients, world-class talent and savvy customers all in one city, making it a unique place to be."
Notes to editors
Press images available here.
1. London & Partners analysis of data from Dealroom.co, accessed 09/10/20
2. The Fintech Brief II, Beauhurst Oct 2020
3. The European FinTech Ecosystem Navigating Covid-19, Dealroom.co Oct 2020
4. Contactless payments have become the "new normal" across the UK, Mastercard May 2020
5. Mastercard Recovery Insights: The Shift to Digital, Mastercard June 2020
6. Nucoro Insights, April 2020
About London & Partners
London & Partners is London's international trade, investment and promotion agency. Our purpose is to support the Mayor's priorities by promoting London as the best city in the world in which to invest, work, study and visit. We do this by devising creative ways to promote London and to amplify the Mayor's messages, priorities and campaigns. London & Partners is a not-for-profit public private partnership, funded by the Mayor of London and our network of commercial partners. For more information, visit: www.londonandpartners.com

About the Mayor's International Business Programme

The Mayor's International Business Programme helps ambitious scaleups from London's technology, business services, life sciences, creative and urban sectors to expand their businesses internationally. The free, 12-month accelerator programme provides world-class support and advice for international business success, including bespoke, on-the-ground opportunities in key global markets.
Part funded by the European Regional Development Fund (ERDF), the Mayor's International Business Programme is also supported by its corporate delivery partners: Collinson, Globalization Partners, KPMG, Lloyds Banking Group, Microsoft, Taylor Wessing and Wilson Sonsini Goodrich & Rosati.
For more information, visit: https://business.london/go-to-grow

About Dealroom.co
Dealroom is a global company information database & research firm. Its software, database and bespoke research enable its clients to stay at the forefront of innovation, discover promising companies and identify strategic opportunities. Among its clients are world-leading strategy consulting firms, investment banks, multinationals, technology firms, venture capital & buyout firms and governments.