London Calling! Why the UK's families are heading away from the beach and into London this summer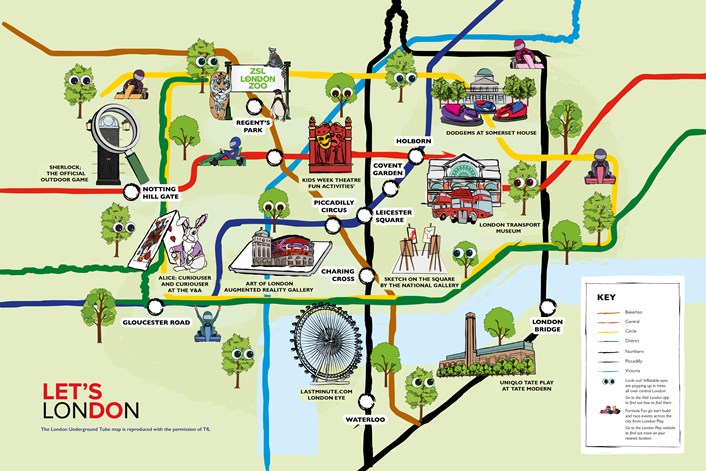 Over a third of parents (37%) are not organising their usual summer family holiday due to pandemic uncertainty
Almost half (47%) stating they would consider a London city break over their usual beach holiday
70% of parents cited 'keeping the kids entertained' as the number one challenge faced during the school holidays
Mayor joins with his new Mayors of Play to launch a reimagined version of the iconic London Tube map at ZSL London Zoo today to showcase the abundance of family-friendly indoor and outdoor events and activities across central London
Map has been curated by the new Mayors of Play – five lucky youngsters who are helping the Mayor to spotlight London's family-friendly offering this summer
The Mayor of London, Sadiq Khan, today visited ZSL London Zoo to unveil a reimagined Tube map co-curated by his five new Mayors of Play to encourage families from across the UK to spend their summer in the capital.
The map launches as new research reveals the pandemic has left many parents unable to plan summer holidays as they usually would, with over a third (37%) of parents stating that they've not organised anything this summer due to pandemic uncertainty. As a result, London, with its abundance of activities and experiences is a must-visit destination for families everywhere. And, with the same research showing that one in ten (14%) Brits have never visited London, 26% citing it is because they've never got round to it – this could be the summer where Brits choose the bright lights of the capital over often crowded coastal destinations.
Across the UK, parents in the North East are most likely to venture into London this summer, with 56% saying they'd consider a holiday in the capital. Parents in this region have stated that the vast choice of family friendly activities (18%), mix of outdoor and indoor activities (12%) and the city's accommodation (10%) as the top three reasons for their city jaunt.
Sadiq's Family Fun season is part of 'Let's Do London', the biggest domestic tourism campaign the capital has ever seen. The season showcases the abundance of activities on offer for all families of all ages this summer and celebrates London's status as Britain's biggest playground.
The reimagined Tube map has been curated 'for kids, by kids' with the help of his newly appointed Mayors of Play. Following a hotly contested competition, the five winning Mayors of Play - Maya, 8, Elliott, 9, Mateo, 9, Narumukai, 10, and Neveah 11 - attended a summit at City Hall in July to help select a raft of thrilling, family-friendly activities in the heart of the capital. The unique and vibrant guide invites families across London and nationwide to plan a day trip, mini break or a longer staycation in the city as it bursts back to life.
The new map focuses on Central London and features a mix of permanent and new accessible experiences indoors and outdoors that are open to families this summer – from firm favourites such as ZSL London Zoo, to the hottest new tickets in town including Sketch on the Square by the National Gallery and Alice: Curiouser and Curiouser at the V&A. Both a mix of free and ticketed events are present, accommodating all family budgets, which will undoubtably please parents given the strain of entertaining the family over the lengthy holiday period.
Across London, children under five travel free with a fare-paying adult, Children under 11 can travel free on buses and trams at any time, and on Tube, DLR, London Overground, TfL Rail and some National Rail services with a fare paying adult. Visitors to London can travel easily and conveniently by using pay as you go with contactless or Oyster.
When surveying the nation's parents, the key challenges which emerged during the summer break included the cost of keeping children entertained (45%), finding fun activities to suit the whole family (33%) and children saying they were bored (33%).
The Mayor of London, Sadiq Khan, said: "After a long period which has seen children in particular miss out on so much fun and play due to the pandemic, there's no time like the present to explore our city and enjoy all the fun and accessible activities London has to offer families this summer.
"The young Mayors of Play were tasked with helping me showcase the very best of family fun in London, and I'm delighted with the outcome of their hard work. This reimagined edition of our iconic Tube map showcases the breadth of the capital's offering through the eyes of little Londoners – it's for kids, by kids.
"With 70 per cent of families struggling to keep their children entertained during the school holidays, London – with its abundance of free things to do and exciting places to see – is an ideal holiday destination this summer and beyond."
Kathryn England, Chief Operating Officer at ZSL London Zoo, said: "We're delighted to welcome families back to our zoo this summer. Our hard working and passionate zookeepers, alongside our vast wildlife truly make this zoo a must-visit attraction in London – we're thrilled the Mayors of Play agree!"
Mayor of Play, Elliott, 9, said: "It was really tricky choosing what to go on the Tube map – there's so much fun stuff to do in London! Hopefully it will help other kids and their families explore this magical city this summer."
Notes to editors
Research conducted by Census Worldwide in August 2021: Based on 2,000 parents with children (between the ages of 4-14 years old) and 500 children (between the ages of 4-14 years old).
The Kids Tube Map, images of the Mayors of Play and more can be downloaded here: Mayor of Play - hero assets - Google Drive
For further information please contact 3 Monkeys Zeno at londonandpartners@3monkeyszeno.com
Visitors to London should check individual attractions and TfL website (www.tfl.gov.uk) for the latest covid guidelines. Oyster and contactless allows customers to travel flexibly by simply touching in and out and only paying for the journeys they make, reducing the need to queue or buy tickets in the station. Real-time travel information is also available via the TfL website or the free TfL Go app. For more information about visiting London by public transport - please visit www.tfl.gov.uk/visitinglondon.
Additional research insights of interest:
More than 1 in 10 (11%) parents surveyed said they are planning to visit London this summer as they are looking for a holiday filled with cultural and creative experiences and London offers just this.
The top 5 favourite sights/things to do in London for parents surveyed are:
The London Eye (30%)
London Zoo/and other animal parks (25%)
Buckingham Palace (24%)
Tower Bridge/Tower of London (24%)
Natural History Museum (23%)
Parents surveyed with children aged 7 are most likely to say that they are most interested by a parks and nature type of day out (43%), with parents surveyed with children aged 5 or 10 are most likely to say that they are most interested by a museums type of day out (20%)
On average parents surveyed plan to spend £388.73 entertaining their child/children during the school summer holidays this year.
The top 5 fun/playful activities children surveyed have missed most during the pandemic are as follows:
Meeting up with friends outside of school/home/park – 39%
Visiting the zoo/animal farms – 30%
Visiting theme parks – 27%
Visiting new playgrounds/play centres or splash parks – 31%
Going to the cinema – 29%
The reimagined Tube map features top attractions as voted for by children as part of the research and the Mayors of Play:
COVENT GARDEN: London Transport Museum
LEICESTER SQUARE: Kids Week – theatre activities
REGENT'S PARK: ZSL London Zoo
WATERLOO: The London Eye
CHARING CROSS: Sketch on the Square
LONDON BRIDGE: UNIQLO Tate Play (Tate Modern)
HOLBORN: Dodge: Dodgems at Somerset House (Somerset House)
GLOUCESTER ROAD: Alice: Curiouser and Curiouser at the V&A
NOTTING HILL GATE: Sherlock; The Official Outdoor Game
PICCADILLY CIRCUS: Art of London – augmented reality gallery
Across multiple London locations – Inflatable Eyes over London
Across multiple London locations – Play London, Formula Fun Fortnight
Let's Do London Programme – Family Fun Season: Here's a broader overview of some of the great Family Fun activities across London this summer:
Inflatable Eyes over London - throughout August. inflatable eyeballs will appear on trees inviting Londoners and visitors to 'see London differently'. Children can find the eyes hidden in trees across public spaces. Look out for the trail on the Visit London app.
Play London, Formula Fun Fortnight -Buckle up London because this summer push-powered go-karts will be the perfect vehicle for family fun. Built from scratch by children where they live and play, bringing colour and creativity to the fore as London Play's Formula Fun creates good times for London's children and their families, with a big finale in central London.
Dodge at Somerset House – 15 July to 22 August. Turbo-charge your summer as Somerset House welcomes back visitors with a thrilling new open-air experience in its spectacular courtyard. Featuring dodgems with a difference, bold installations from acclaimed artists and a delicious selection of food and drinks, Dodge is the perfect setting to celebrate quality time with family and friends once more. Under 12s to go free on the dodgems, Tuesday & Wednesday 12-3pm.
Network Rail & Busk in London - from 21 July - 5 September. Welcoming Londoners and visitors at rail stations with top class musicians and family fun entertainment
Art of London - launching summer 2021 (July-September) Art of London will celebrate art in all its forms across London's West End including a gallery without walls featuring work from five Royal Academy artists; pop-up exhibitions showcasing the work of up-and-coming London based artists and digital art takeovers of the iconic Piccadilly Lights every day at 20:21.
National Gallery, Sketch on the Square, until 2 September. An outdoor exhibition of over 20 life-sized replicas and digitally augmented art featuring some of the most famous and treasured paintings in the nation's collection; accompanied by a programme of free, daily alfresco art activities for Londoners and visitors alike.
Kids Week Summer Outdoor Experiences, 23 August to 27 August. Free outdoor theatre activities for families in Leicester Square Gardens featuring theatrical storytelling, singalongs, dance, demos, puppet workshops and more as part of much-loved summer initiative Kids Week offering free children's tickets to top London shows.
The Royal Parks, Discovery Days, until 26 August. This Summer the Royal Parks are welcoming families back to the LookOut Discovery Centre in Hyde Park for their popular free drop-in Discovery Days every Tuesday, Wednesday and Thursday. Every week there will be a different theme from Meadow Madness, Life Underground to Wild Water and the beloved Peter Pan.
Sadler's Wells, Breakin Convention presents, The King and Queen of the Cobblestones, featuring the best breakers in the UK battling it out Bonnie and Clyde style in the Covent Garden Piazza. Also, live street art featuring the NEWNION JACK with a variety of immersive performances to entertain and energise central London. Including freestyle dance sessions, spoken word open mic, and a "hip hop chip shop" rap battle! Lots of opportunities to participate in the festivities so bring your skills!
South Ken Green Trail, 23 July to 17 October. South Kensington is coming alive with family activities and a new green trail, creating pop-up nature hubs designed by architects, artists and garden designers buzzing with new ideas and inspiring visions for a greener future.
'Scenes in the Square' - a dynamic bronze statue trail celebrating classic movie moments and iconic characters from the past 100 years of film and entertainment, in Leicester Square, open now.
From 24 July at London Transport Museum in Covent Garden, visitors can enjoy family-friendly trails and storytelling exploring the capital's urban landscapes and wild-life hotspots
At the Tate Modern on Bankside, visitors of all ages are invited to transform the floor of the Turbine Hall into a giant work of art at UNIQLO Tate Play: Mega Please Draw Freely.
A giant temporary stage in Trafalgar Square will host Sir Simon Rattle and the London Symphony Orchestra, together with young musicians from the pioneering LSO East London Academy and 14-year-old violinist Leia Zhu, for the free BMW Classics concert on Sunday 15 August 2021 at 6.30pm.
Families can also enjoy live jazz music, yoga in the park, Wildlife Bingo, New Youthquake, Blue Badge tours and the Kensington & Chelsea Festival as part of the boroughs Summer of Love.
In the Square Mile, look out for free outdoor performances, walks and tours, music and installations including a celebration of beauty, love and truth – recurring themes in the poetry of John Keats, 200 years after his death
Free family tours of St Pauls Cathedral and a library installation of books for all ages, exploring ways to reimagine our future – The Apocalypse Reading Room.
Camden Together will take place from July to October, in partnership with British Museum, Roundhouse, London Irish Centre, Camden Black Creatives and more. Celebrating the boroughs rich cultural landscape, it includes free and low-cost activities for children, young people and families right through the school holidays. And as ever, families can download our free London Curriculum Family Explorer Trails, to guide their exploration of our great city and discover more about its culture, science and stories.
From 2 August until end of October, families aged 7+ are invited to the Barbican Conservatory for a free immersive storytelling experience and Play Packs Live will see Culture Mile reclaim the City streets for local families, culminating in a giant den-building workshop on 11 September as part of Whitecross Street Party.
There is world-class cricket with The Hundred coming to Lord's Cricket Ground and The Kia Oval from 21 July – tickets £5 for under 16s, and under 5s go free
Trolls World Tour experience touches down at Shrek's Adventure! London until 31 August
Dolly, Polly and Priscilla, giant Galapagos tortoises take up residence at ZSL London Zoo
Shakepeare's Globe has storytelling events for ages 3-12+
St Martin's in the Field has a free summer music stage every Thursday, Friday, Saturday and Sunday and a magical sphere leads outdoor sonic adventures in London Bridge; a fun family experience from Team London Bridge.
Full details about the campaign and all family experiences can be found here - www.visitlondon.com/FamilyExperiences
About Let's Do London
Let's Do London is a £7m initiative launched by the Mayor of London, Visit London, Transport for London and backed by industry, bringing together the capital's world-leading hospitality, culture, nightlife and retail venues to promote all London has to offer.
Let's Do London will reinvigorate central London and welcome back visitors from across the UK back to the capital with a curated programme of seasonal events and cultural activities designed to suit a range of age groups. The campaign will include a major advertising push supported by London & Partners and TfL, alongside new content on the Visit London website outlining all the campaign has to offer to Londoners and visitors to the capital. For more information, please visit: www.visitlondon.com/letsdolondon
About London & Partners and visitlondon.com 
Visitlondon.com is the official visitor guide to London and is run by London & Partners, the business growth and destination agency for London. Our mission is ​ to create economic growth ​that is resilient, sustainable ​and inclusive.​
Visitlondon.com is a comprehensive resource for everything that is happening in London. At any one time, this includes 20,000 event listings, plus content designed to inspire and assist visitors. Visitlondon.com is available in English, French, Italian, German and Spanish. Each month visitlondon.com attracts more than 3.5m visits and its social media channels have 1.75m followers. For more information visit visitlondon.com