London and UK top European tech investment tables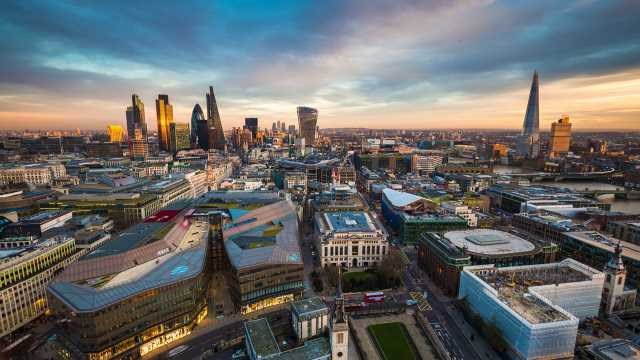 The UK and London continue to dominate the European tech investment landscape, with latest figures revealing Britain's tech sector attracted more venture capital investment and tech IPOs than any other European hub in 2018.
According to end of year investment data published today by London & Partners and PitchBook, London's tech companies provided a major boost to UK investment in 2018, with the capital's firms receiving £1.8 billion (72 per cent) of the total £2.49 billion raised by British tech firms1.
The research also shows that London-based tech businesses are benefitting from access to almost double the amount of growth capital than other European cities such as Paris, Berlin and Stockholm.
Long-term growth prospects for London's digital economy are strong, with further analysis of the findings revealing that international investors are increasingly backing companies from some of the city's fastest growing sectors. British companies developing innovations in areas such as Big Data, Artificial Intelligence (AI) and Blockchain have seen record levels of funding in 2018 and more investment than other European hubs.
Deputy Mayor for Business, Rajesh Agrawal, said: "These figures demonstrate that London is going from strength to strength as a global hub for technology, innovation and creativity. The fantastic success of our tech sector is rooted in our city's openness and our diverse, international talent pool. Regardless of the outcome of Brexit, London will remain open to innovation, talent and investment from all over the world."
Eileen Burbidge, Partner at Passion Capital added: "London is a hotspot for innovation and recognised as a leading centre in Europe for cutting edge technology development. London and the UK are creating world-class companies of scale, especially in high growth areas such as Fintech and Artificial Intelligence. This presents enormous opportunity for international investors, and today's data suggests that London's tech sector has a very bright future."
Table showing total venture capital funding into technology companies across major European cities in 2018
| | |
| --- | --- |
| City | Total Funding in 2018 |
| London | £1.8bn |
| Berlin | £936.53m |
| Paris | £797.04m |
| Stockholm | £224.23m |
| Barcelona | £182.74m |
| Amsterdam | £163.51m |
| Zurich | £156.97m |
| Copenhagen | £111.37m |
| Dublin | £104.13m |
| Cambridge | £97.2m |
Source: Pitch Book 2018
Investment into the UK's AI companies peaked at £736 million in 2018, representing a 47 per cent increase on the £499m raised in 2017.This year's figures were boosted by a number of larger deals including a £58.86m Series B round for London-based online travel firm, Culture Trip, which uses AI to tailor content to its users and a £153m Series D round for AI chipmaker Graphcore, helping it to become the UK's most recent unicorn.
Funding into businesses developing Cryptocurrency and Blockchain technologies also saw record growth in 2018, with UK firms receiving over £200m in VC funding compared with the amounts raised in 2017 (£19.11m) and 2016 (£51.96m). Major deals included a £61 million later stage funding round for Blockchain software firm, Bitfury, and a £12 million Series A round for London-based, TradeIX.
The UK's booming fintech sector also continues to be a major draw for venture capital investors, with London-based companies raising over £1.08 billion (over 90 per cent) of the total £1.17 billion received by UK fintech firms last year. Following renewed investment, several London-based fintech companies reached unicorn status in 2018 – this includes a £177m funding round for Revolut and a £84m Series E funding round for Monzo.
Laura Citron, CEO London & Partners said: "2018 was another great year for investment into London's tech sector and today's figures demonstrate that London is place where ambitious, international companies can thrive. With high levels of investment for growth sectors such as Artificial Intelligence, Fintech and Big Data, our research shows that London is producing game-changing companies and ideas to change the world."
Nikolay Storonsky, CEO Revolut added: "London provides you with access to some of the world's best tech talent, investment and expertise you need to grow your business. London is also a global hub for Fintech, making it a great place for us to expand into overseas markets."
Strong growth in funding for Berlin's tech companies in 2018 helped Germany to cement its status as the second largest European hub for VC investment behind London and the UK. However, Paris and France are gaining momentum with French tech firms raising over £1 billion in 2018, compared with the £748m raised in 2017.
Total European venture capital funding levels for technology experienced a slight decrease compared with the record levels seen in 2017 (£10.47bn), with £10.44bn raised in 2018. However, 2018 European VC funding levels were still higher than those seen from 2013-2016.
The strength of London and the UK's tech sector was also boosted by the high number of tech exits in 2018, with more IPOs for British tech companies than any other European business hub.
This year saw 17 tech exits from UK-based tech companies, including high profile IPOs for London-based fashion ecommerce firm, Farfetch and peer-to-peer lending company, Funding Circle. Sweden was the closest in terms of the second number of exits with 10 tech IPOs, followed by France (8) and Germany (6).
Notes to editors
Data sourced from PitchBook database. Data downloaded on 02.01.2019
1. Table showing total venture capital funding into London and UK tech companies from 2013-2018
| | | | | | | |
| --- | --- | --- | --- | --- | --- | --- |
| | 2013 | 2014 | 2015 | 2016 | 2017 | 2018 |
| London | £384.43m | £732.09m | £999.76m | £999.76m | £2.53bn | £1.8bn |
| UK | £603.24 | £1.02bn | £1.63bn | £1.50bn | £3.12bn | £2.49bn |
Source: PitchBook 2018
Table showing total venture capital funding into technology companies across major European countries in 2018
| | |
| --- | --- |
| Country | Total funding in 2018 |
| UK | £2.49bn |
| Germany | £1.38bn |
| France | £1.03bn |
| Switzerland | £531.80m |
| Spain | £275.05m |
| Sweden | £268.44m |
| Netherlands | £199.09m |
| Denmark | £122.54m |
| Ireland | £110.76m |
| Finland | £89.66m |
Source: PitchBook 2018
Table showing tech IPOs in 2018 and the total amount of capital raised (£)
| | | |
| --- | --- | --- |
| Country of Origin | Total no. IPOs | Total Capital raised (£) |
| United Kingdom | 17 | 1.3bn |
| France | 8 | 148.28m |
| Germany | 6 | 260.56m |
| Italy | 3 | 17.57m |
| Netherlands | 2 | 820.56m |
| Sweden | 2 | 6.61bn |
| Switzerland | 1 | 24m |
Source: PitchBook 2018