London and Chicago look to build on special relationship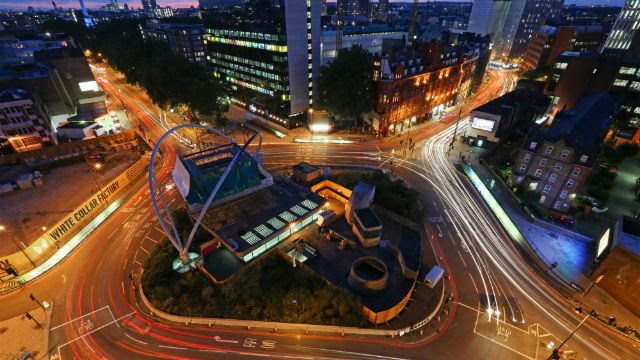 The Mayor of London has announced the opening of a new overseas office in Chicago to help US companies set up in London
The Mayor of London, Sadiq Khan, has announced the opening of a new overseas office in Chicago to help make it even easier for US companies to set up and expand in London.
London is the first major European city to open a standalone office in Chicago, as the UK capital looks to promote stronger trade and investment ties between the two cities.
Collaborations between London and Chicago have been boosted by a series of trade missions between the two cities and a strong relationship between the cities' Mayors. Sadiq, and his official promotional agency, London & Partners, led a trade mission of 30 London businesses to explore export and expansion opportunities in 2016. This was followed by a return visit from Mayor Emanuel and a Chicago business delegation to London in 2017.

Since the trade visits a number of Chicago-based companies have set up in London, including legal services firm Mindcrest and tech companies SpringCM and Devbridge, creating more than 100 new jobs for the capital.

Chicago and London already share a strong business relationship, with recent data showing that London is the top global city for Chicago companies looking to expand their operation outside of the United States.

Over the past ten years, London has attracted more Chicago businesses than any other European city and almost double the amount of the second ranked city globally – Singapore1.

As two of the world's leading tech hubs, a number of Chicago's fastest-growing technology companies have chosen London for their European expansion – including Chicago-based e-commerce firm Groupon and online food platform Grubhub. Major US technology companies such as Apple, Amazon and Google have all recently announced long-term investments in London and Facebook revealed plans to open a new 600,000 square foot office for around 6,000 staff this July.

London's strengths in financial and professional services have also made it a major draw for Chicago firms such as Aon, which relocated its global headquarters to London to bring it closer to the world-renowned Lloyds of London insurance market. Other Chicago professional services firms to establish a significant presence in London include Jones Lang LaSalle (JLL) and Chicago Board Options Exchange (CBOE), which made London its first international business development office to take advantage of the city's global financial centre.

The Mayor of London, Sadiq Khan, said: "This is an important step for both our cities. London and Chicago are two of the world's leading business centres, with shared strengths in areas such as financial services and technology. We have a special working relationship with the city and we've seen some great success stories of Chicago businesses using London as a launch pad for growth into Europe."
"The opening of a London overseas office will help promote even closer trade and investment ties between our two great cities and demonstrates that London is open to innovation, talent and business collaborations with Chicago and other US business hubs."
Chicago Mayor, Rahm Emanuel added: "Strengthening the bonds between two of the world's great global cities will benefit Chicagoans and Londoners economically, culturally and academically," Mayor Emanuel said. "A new London office in Chicago will help expand our robust existing relationship and create new opportunities for promising partnerships on both sides of the Atlantic."
Further analysis of recent investment data shows that London is the leading global city for foreign direct investment (FDI) from the United States, with over 1,700 investment projects creating over 70,000 jobs for the capital over a ten-year time period. Chicago is the 4th largest source city for projects from the US to London behind only New York, San Francisco and Los Angeles2.
Arthur Wong, Chief Executive Officer at Chicago headquartered, cyber security firm, Trustwave, who have a significant presence in London and were part of Mayor Emanuel's tech delegation in 2017 said: "As we continue growth and expansion in Europe to serve heightened need for security solutions and managed security services, our London office will continue to play a strategic role. London offers a pool of some of the world's most progressive computer scientists and technical engineers which has proved invaluable in Trustwave becoming a market leader. During our visit last year to accompany Mayor Rahm Emanuel we found that the cities of London and Chicago share deep synergistic qualities including a strong mix of well established brands, innovative start-ups, a growing technical workforce and a bustling lively culture."

Speaking about their recent expansion to London, Tony Kavadas (EVP Global Sales & Alliances) from Chicago based technology company Mediafly added: "London was the natural destination to help us realise the company's growth plans in Europe. Like Chicago, London is a hub for innovation and has a strong talent pool of tech workers and software developers that will help us reach our growth potential. London is also a global business centre and it will allow to reach new customers in international markets."
The opening of London & Partners' Chicago office will provide even greater on-the ground support to US businesses looking for advice on setting up and doing business in London. With the help of London & Partners, more than fifty Chicago-based companies have set up in London in the past ten years, creating more than 1,000 jobs for the city's economy.

To find out more about setting up your business in London, you can visit: http://business.london/
Ben Pattie - Senior Communications Manager for Business
bpattie@londonandpartners.com

London & Partners Media & PR Team
Tel: +44 (0)20 7234 5710
Switch: +44 (0)20 7234 5800
press@londonandpartners.com
Notes to editors
fDi Markets from the Financial Times Ltd (data for Jan 2008 - May 2018) showing all FDI projects from Chicago into global cities
fDi Markets from the Financial Times Ltd (data for Jan 2008 - May 2018) showing all FDI projects into London by country