London After Dark: City's world-famous nightlife scene is back in full swing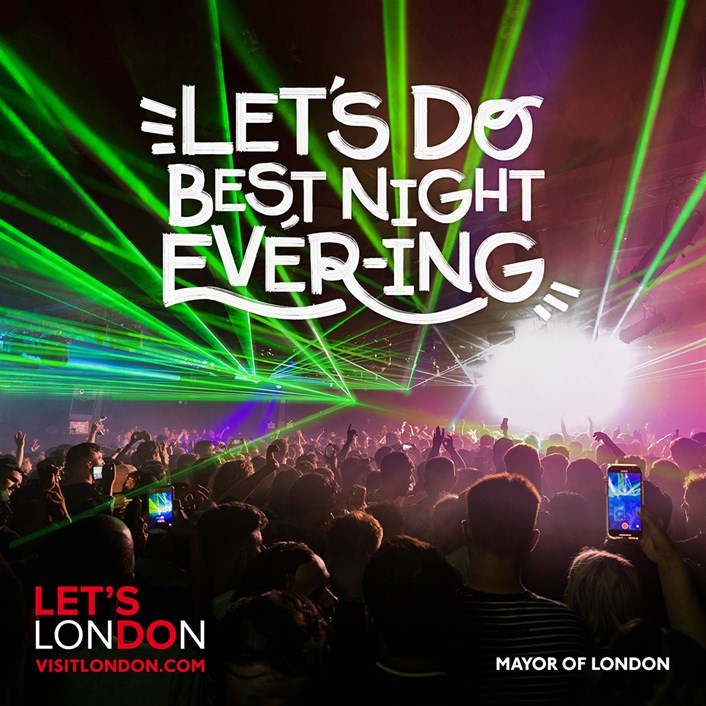 New London Lates season sees the city bursting back to life with unforgettable experiences supported by world-class actors, DJs, musicians and artists
Mayor of London invites the public to celebrate the return of the city's nightlife
Includes unique collaboration between Fabric nightclub and the English National Opera – 'One Night at the Opera
To celebrate the reopening of the capital's world-famous nightlife, the new London Lates season presents a series of outstanding experiences that we've all been missing over the past 18 months. The season brings together best-in-class actors, DJs, musicians, and artists to create unforgettable experiences for the public to enjoy.
The Mayor of London, Sadiq Khan has funded several events for the London Lates programme as the latest phase of his Let's Do London campaign, encouraging the public to get back out to celebrate the capital's unique and diverse nightlife. Whether you're a partygoer, art lover, foodie, opera fan or looking for a late-night adventure, there's something for every adult, with select events catered to children's entertainment too.
London Lates will see the city bursting back to life with unique collaborations and partnerships to deliver 'hottest ticket in town' experiences. The after dark events will include: Fabric Presents - One Night At The Opera; 30 Decades of Dance at Ministry of Sound, Royal Opera House; Carnaby Lates at the Museum of Youth Culture; Frieze at West End Night; Tate Modern Late; One Night Stand at London Dungeon; Science Museum Lates; Lates at the Saatchi Gallery, Crypt Lates at St Martins in the Fields; 1:54 African Contemporary Art Fair, and more.
Get ready for the return of one of London's most iconic nightclubs, Fabric, which will showcase a unique collaboration between its famous DJs and the ENO's award-winning singers to present 'One Night at the Opera' at the London Coliseum on 2 December – an event not to be missed.
Continuing the opera theme, the Royal Opera House will be celebrating the magic of the stage and queer club culture on 14 November, giving visitors a fresh look at the worlds of ballet and opera.
Join the world-renowned Ministry of Sound in celebrating its 30-year anniversary with a three-part '30 Decades of Dance' celebration in September. With performances from world-famous DJs including Judge Jules, Fat Tony, Armand van Helden, Tall Paul and Carly Wilford, it's time to hit the dancefloor!
Art lovers can enjoy evening exhibitions of artist Sophie Taeuber-App's creations at the Tate Modern Late. While explorers can head to the Science Museum for 'Space Lates' and the London Dungeon for 'One Night Stand' – a unique comedy-fuelled evening centred on breaking taboos around sexual health.
Following the successful launch of the Mayor's Back to the Big Screen initiative encouraging visitors back to indoor and outdoor cinemas, London Lates provides even more opportunities for late night adventures in the capital. James Bond fanatics can enjoy midnight screenings of 'No Time to Die' on 30 September.
And of course, London has a world-class diverse food and drink offer, so there are plenty of late-night bars, pubs and eateries to satisfy all taste buds.
The Mayor of London, Sadiq Khan, said: "I am delighted to unveil London Lates - a season of events and activities for all ages and tastes celebrating all that we love about London at night.
"London's night-time offering is not only the envy of the world but also a major contributor to our economy and it has been sorely missed during much of this pandemic.
"I'm proud to welcome Londoners and visitors alike to enjoy our capital's nightlife once again and would like to pay tribute to all those working in the hospitality and cultural sectors who have worked so hard to allow us to enjoy world-class entertainment in a safe and responsible way."
Deputy Mayor for Culture and the Creative Industries, Justine Simons OBE, said: "Culture is in London's DNA with our city boasting the very finest theatres, museums and music venues. I'm proud that our Lates season shines a spotlight on the fantastic variety of shows and exhibitions that are available for Londoners and visitors to enjoy. After an incredibly difficult last 18 months, it's vital that we get out and support these crucial cultural venues and help them to drive our capital's recovery."
Night Czar, Amy Lamé said: "London is vibrant and diverse at night, and our city after dark is central to our economic and social recovery. Our nightclubs, pubs, bars, restaurants and cultural venues are renowned across the world; it's more crucial than ever that we support and help them to survive and thrive. Our Let's Do London Lates season showcases a wide range of night time events and activities, and I urge Londoners and visitors to go out and enjoy the best of our capital at night."
Harriet Bliss, Manager, Fabric said: "All of us here at Fabric are so excited for our collaboration with the ENO, bringing together two different sides of music to create something truly unique all under the renowned London Coliseum's roof. Expect a blend of classic opera singers with live and remixed electronic music producers and DJ's. Thank you to the Mayor of London's Office for the support and making this very special event happen."
Annilese Miskimmon, ENO Artistic Director said: "Our collaboration with Fabric is a wonderful opportunity to show how diverse music can come together to make something truly exciting. This event will unify different genres of music in the beautiful London Coliseum in a unique way. Our gratitude goes to the Mayor of London for helping make this collaboration possible."
Royal Opera House: Jillian Barker, Director of Learning and Participation, said: "We are thrilled to be a part of Let's Do London Lates and can't wait to welcome you to this special evening of creativity, dance and live music, blending the world-class talents of the Royal Opera House and visiting artists to explore themes of identity and queerness."
Before the pandemic, London's night-time economy employed 1.6m people and contributed billions to the economy. It will be at the heart of the capital's social and economic recovery, and to ensure visitors feel safe when returning to the city's nightlife scene, venues are following strict Covid guidance.
Full details about the campaign and all London Lates experiences can be found here: https://www.visitlondon.com/things-to-do/nightlife/things-to-do-late-in-london
Notes to editors
For further information please contact 3 Monkeys Zeno at: Londonandpartners@3monkeyszeno.com
For press images – click here
Here's a full list of London Lates activities to enjoy:
Supported by the Mayor of London
Museum of Youth Culture delves into London's eclectic past, through a series of subculture inspired events celebrating London's rich musical heritage and a knack for outlandish self-expression as we start to re-open culture in the city and ponder the future of youth culture. The events invite Londoners to get involved by 'Live Scrapbooking' in the pop-up shop, by bringing down their own photographs to be scanned and incorporated into a new publication 'Grown Up in Britain: A Nationwide Photo Album' going to press in December 2021, and the first publication by the Museum of Youth Culture.
Supported by the Mayor of London
Come to the London Dungeon for a ONE NIGHT STAND late event on Thursday 16th September with a stand-up comedy routine from Grace Campbell (a comedian, writer, director and activist from London) and a no-blushes barred tour. Tickets include a welcome drink on arrival.
30 Decades of Dance at Ministry of Sound (17 –19 September)
Marking the 30 year anniversary of the opening of the London club, back in 1991. Ministry of Sound has grown from an underground club night in a derelict bus garage into one of the biggest electronic music brands in the world. They are holding a three-part celebration taking in all things Ministry of Sound.
Chelsea History Festival (17 – 26 September)
This year's Chelsea History Festival will bring the past to life through a series of talks, tours and events, both physical and virtual. The immersive programme will reveal history in all its variety, and demonstrate its ongoing resonance and relevance today. Join them for a range of events including a series of evening talks.
Crypt Lates at St Martins in the Fields (every Wednesday from 22 September)
Supported by the Mayor of London
Crypt Lates will turn the iconic underground crypt at St Martin in the Fields into a late-night jazz and music venue. Set within the stunning vaulted space beneath St Martin's on Trafalgar Square, Crypt Lates will feature live jazz from leading artists.
Saatchi Lates (23 & 30 September)
Your evening art adventures! Enjoy extended hours access to Saatchi Gallery until 9pm on 23rd & 30th September to explore RHS Botanical Art & Photography Show 2021. Plus don't miss the final chance to see our headline summer exhibition JR: Chronicles with Saatchi Lates.
Supported by the Mayor of London
Join us at Tate Modern for art-making plus enjoy access to exhibitions. This month's Tate Modern Late highlights the work of Sophie Taeuber-Arp, with a celebration of Dada's absurdist, playful and radical practices.
James Bond, No Time to Die (30 September)
James Bond fans can enjoy midnight screenings of the new film 'No Time to Die' as part of the Mayor's campaign to encourage Londoners and visitors back to the big screen.
Discover emerging artists and iconic names as galleries participating in Frieze London and Frieze Masters open late to all, with many spaces hosting special events and private views.
1-54 Contemporary African Art Fair is delighted to return to Somerset House from Thursday 14 - Sunday 17 October 2021 for its 9th London edition. Since its inception, 1-54 has established itself as a leading voice in the global discussion on contemporary African art and has been at the forefront of the African art market with annual editions across three continents. The public late night opening takes place on 16 October.
Royal Opera House, celebrating the magic of the stage and queer club culture (14 November)
Supported by the Mayor of London
A packed evening of live performance, dance and music celebrating queer culture at the ROH. Enjoy live performance, craft, or enjoy a drink from one of our iconic bars. The ROH celebrates queer culture and gives visitors a fresh look at the worlds of ballet and opera.
Esteemed online music publication Pitchfork will be hosting their first ever UK festival in iconic venues across the capital this autumn. The inaugural edition will feature live performances from over 50 artists including Stereolab, Moses Boyd, Black Midi, Bobby Gillespie & Jehnny Beth, Tirzah, Anna Meredith, Mykki Blanco, PC Music and more, many of them playing new music live for the first time. Venues include The Southbank Centre, Village Underground, Fire Nightclub, Fabric, The Roundhouse, Oval Space and Hackney Church
Supported by the Mayor of London
Adults-only, after-hours, nights in the museum are back from November. Lates explores the cutting-edge of science and culture to excite and inspire visitors.
Enjoy spectacular live demos, creative hands-on workshops, and fascinating talks from world leading experts. And, of course, the Space gallery Silent Disco.
Fabric Presents: One Night At The Opera (2 December)
Supported by the Mayor of London
Fabric's world-famous DJs are joined at the London Coliseum for a very special late-night collaboration with the English National Opera's award-winning singers. London venue fabric will be hosting alongside the ENO to bring opera and electronic music together under one roof, incorporating opera singers into their performances. 3-4 artists will take over the London Coliseum for 30 minutes to an hour on the 2nd December 2021, with the aim to make an adaptation of the artist's work into an opera performance, whether that be live or a DJ set.
Additional notes
Pay as you go with Contactless or Oyster allows customers to travel flexibly by simply touching in and out and only paying for the journeys they make, reducing the need to queue or buy tickets in the station.
Independent testing by Imperial College London has been carried out monthly since September, taking swabs of touch points in stations, buses and air samples in ticket halls and has found no traces of coronavirus on the transport network. More than 1,000 hand sanitisers are installed across the network, and 200 UV light devices are continually sanitising escalator handrails.
The Tube continues to operate between approximately 05:30 and 00:30 through central London from Monday to Saturday, and around 120 bus routes operate throughout the night across London to help people travel home safely.
About Let's Do London
Let's Do London is a £7m initiative launched by the Mayor of London, Visit London, Transport for London and backed by industry, bringing together the capital's world-leading hospitality, culture, nightlife and retail venues to promote all London has to offer.
Let's Do London will reinvigorate central London and welcome back visitors from across the UK back to the capital with a curated programme of seasonal events and cultural activities designed to suit a range of age groups. The campaign will include a major advertising push supported by London & Partners and TfL, alongside new content on the Visit London website outlining all the campaign has to offer to Londoners and visitors to the capital.
For more information, please visit: Let's do London - Things to Do - visitlondon.com