London achieves record Q1 tourist visits and spending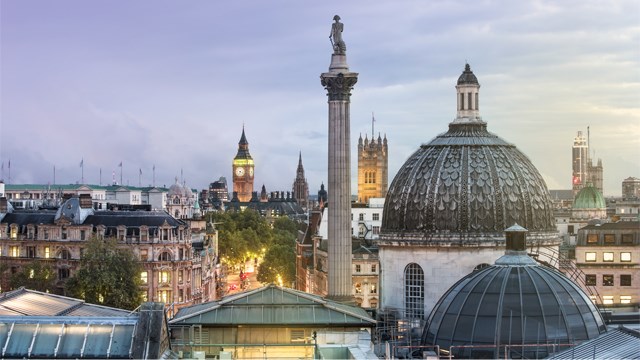 London welcomed a jump in tourism during the first quarter of 2017
London welcomed a jump in tourism during the first quarter of 2017, with 4.5 million overseas tourists visiting the city, making it the best on record according to new figures released today by the Office for National Statistics.
This represents a 15.6 per cent increase in visitor numbers to London between January and March 2017, compared to 3.9 million in the first three months of last year, the latest International Passenger Survey (IPS) results show. There was also record tourism spending in the capital over the first quarter, with the figure reaching £2.7bn against £2.3bn over the same period last year, a 17.6 per cent increase.
The forecast for visitors to London this summer also looks healthy. Data from Forward Keys, which is based on travel agent bookings, shows international arrivals in June were up 11 per cent year-on-year, while forward bookings for July and August are up nearly 10 per cent year-on-year.
In recent months, overseas visitors have been taking advantage of a more favourable foreign exchange rate making a trip to London better value for money. Based on the average exchange rate across the first quarter, visitors from Europe and America were getting on average 11 per cent and 14 per cent respectively more bang for their euro or dollar than at the same time a year ago.
The Mayor of London, Sadiq Khan said: "It is fantastic news that growing numbers of people are opting to visit London to sample the best of our capital. London is open to the world and has an appeal that clearly extends across the globe with its cultural, sporting and historical attractions.
"Tomorrow, our great city will host the biggest global sporting event of the year when the World Para Athletics Championships come to London, followed by the arrival of the IAAF World Athletics Championships next month – the first time the same city has hosted both competitions.
"I'll be there and I look forward to welcoming Londoners and visitors from this country and all over the world to this fantastic sporting spectacle – just one example of what our great city has to offer."
The World Para Athletics Championships and the IAAF World Athletics Championships will see tens of thousands of additional visitors, athletes and officials visiting London.
And then London's Autumn Season, which showcases the city's best arts and cultural offerings during the period, begins. It includes hit Broadway musical Hamilton opening in the West End in November, and Harry Potter fans will be visiting the British Library from October when the Harry Potter: A History of Magic show opens to celebrate the 20th anniversary of the first JK Rowling book being published.
For more information on what's on in London go to www.visitlondon.com
London & Partners Media & PR Team
Tel: +44 (0)20 7234 5710
Switch: +44 (0)20 7234 5800
Twitter: @London_PR
Notes to editors
About Office for National Statistics International Passenger Survey
Office for National Statistics International Passenger Survey (IPS) collects information about passengers entering and leaving the UK, and has been running continuously since 1961.The IPS conducts between 700,000 and 800,000 interviews a year of which over 250,000 are used to produce estimates of Overseas Travel and Tourism. Interviews are carried out at all major airports and sea routes, at Eurostar terminals and on Eurotunnel shuttle trains.
The figures are unique to the United Kingdom and cannot be used in comparison with other visitor/travel surveys.
About London & Partners
London & Partners is the Mayor of London's official promotional agency. Its purpose is to support the Mayor's priorities by promoting London internationally, as the best city in the world in which to invest, work, study and visit. It does this by devising creative ways to promote London and to amplify the Mayor's messages, priorities and campaigns to engage international audiences. Its mission is to tell London's story brilliantly to an international audience.
London & Partners is a not-for-profit public private partnership, funded by the Mayor of London and our network of commercial partners. For more information visit www.londonandpartners.com  
For more information visit www.londonandpartners.com/media-centre  
For high res, rights-free images of London, please register at http://photos.london/press/
Euro and dollar exchange rate calculations
The source for exchange calculations is based on figures from OFX. Averages are the mean of daily rates from 1st January to 31st March inclusive for the respective year.
Average GBP-EUR exchange-rate
Q1 2016: 1.29981
Q1 2017: 1.16240
% change: 10.6% cheaper for Eurozone visitors
Average GBP-USD exchange-rate
Q1 2016: 1.43277
Q1 2017: 1.23885
% change: 13.53% cheaper for US visitors