Jet Suit Racing Comes to London Tech Week 2019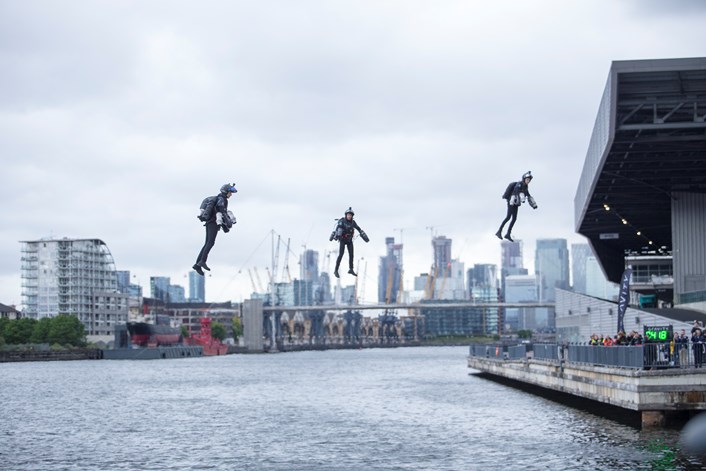 Gravity Industries showcases sport of the future in UK capital ahead of International Race Series launch
London Tech Week, Europe's largest festival of technology and innovation hosted the UK's first live multi-pilot Jet Suit race demonstration over the Royal Victoria Docks waterway. Gravity Industries, the designers, builders and pilots of the world's first patented Jet Suit, showcased their technology with an exhilarating preview event to close out the TechXLR8 conference on Thursday 13th June.
Richard Browning the Founder and Chief Test Pilot of Gravity Industries and 'real life Iron Man' joined two other pilots from Gravity Industries to give a first look of their Race Series concept ahead of the launch of Gravity Industries' International Race Series in early 2020. The pilots scoped out the Royal Victoria Docks waterway in East London as a potential race location.
The Jet Suits can currently reach speeds of up to 55mph safely and manoeuvre very quickly, Gravity Industries aims to make Jet Suit racing an exciting new global sport, which will see a diverse range of trained pilots putting their flight skills to the test, competing in teams, on courses around the world.
Gravity Industries is in advanced discussions with key global cities, broadcasters and sponsors to launch the inaugural race in early 2020. Gravity industries is planning to bring the UK leg of the international Race Series to London as part of its annual racing calendar.
Richard Browning, Founder and Chief Test Pilot of Gravity Industries commented: "London is a thriving centre for innovation and technology and was the natural place to host our first live UK Race Series demonstration. Gravity Industries was founded to challenge perceived boundaries in human aviation and to inspire others to dare to ask "What if? We see London Tech Week as a fantastic opportunity to do exactly that, showcase the new sport and let our technology inspire younger people into careers in engineering and STEM subjects.
Carolyn Dawson, Managing Director of London Tech Week added: "London Tech Week is all about showcasing the very best innovations from across the world and we're delighted to offer festival delegates the opportunity to watch this first of its kind Jet Suit race. London is a great place for testing out new ideas and technologies and with over 200 events at this year's festival, visitors will be able to interact and learn about some of the most exciting companies and innovations being created in our city."
Earlier this year, Gravity Industries secured the world's first official Jet Suit patent for its multi-gas turbine engine Jet Suit. The Jet Suit is a wearable flight system with turbine engines mounted to the wearer's arms and back. The five gas turbines that make up the Jet Suit produce over 1000bhp and are not dissimilar to those found on a jet fighter but the thrust to weight ratio of 1.3 is even more than virtually all combat aircraft. The suit can be purchased at Selfridges for £340,000.
The technology has broken multiple Guinness World Records, with test pilot Dr Angelo Grubisic breaking the Jet Suit speed record by flying at 74kph at the 2018 Bournemouth Air Festival. Founder and Chief Test Pilot, Richard Browning has since been able to reach 90kph and travel two kilometres but safety is paramount to the advancement of the technology – the reality is the Jet Suit could go much faster and higher.
Prior to the flight demonstration, Richard Browning spoke on the headline stage at London Tech Week's largest event, TECHXLR8, hosted at London ExCeL. In his keynote address he discussed his personal journey, failing to succeed, the future of the technology and revealed more details behind the launch of the International Race Series.
Notes to editors
For all press photos, b-roll and imagery can be found HERE and on YouTube
For interviews, please contact ​press@gravity.co
About Gravity Industries
Gravity Industries designs, builds and flies Jet Suits, pioneering a new era of human flight. The company, which is scaling towards an International Race Series, was founded to challenge perceived boundaries in human aviation and to inspire others to dare to ask "What if?"
Launched in March 2017, the business secured $650,000 investment within the first two months from Tim & Adam Draper, Tim best known for his early investments in Baidu Inc., Tesla and Skype. Founder and Chief Test Pilot, Richard Browning, leveraged cutting edge technology to reimagine human flight, forging an elegant partnership between mind, body and machine.
This vision led to the creation of the world's first patented Jet Suit. The Jet Suit currently can perform speeds in excess of 50mph and is technically capable of reaching an altitude of 12,000ft (although for safety purposes is flown lower).
Gravity Industries' extended team - made up of over 30 diverse and talented individuals, from engineers to pilots, across five different countries - has enabled the brand to be experienced by over a billion people globally to date, with video views alone running at more than 60million within seven days of launch. In the first 18 months Gravity executed over 60 flight events across 21 countries including four TED talks.
About Richard Browning
Richard Browning is Founder and Chief Test Pilot of Gravity Industries.
Gravity Industries designs, builds and flies Jet Suits, pioneering a new era of human flight. The company was founded in March 2017 to challenge the perceived boundaries in human aviation and to inspire others to dare to ask "What if?". It now scales towards an International Race Series.
Prior to founding Gravity, Richard was six years in the Royal Marines Reserves and an Oil Trader with BP for 16 years. He developed business in many countries including Azerbaijan, Mozambique, Russia and conducted trade relations with many more.
He discovered and implemented major new technologies in BP including turning a $30k ground-breaking trade flow analytics (ship tracking) platform still at the heart of the global commodity industry to this day. It won the BP Group innovation Award and generated in excess of $50m within 3 months. He has also been a key participant and investor in a number of successful start-up ventures externally and is a passionate STEM advocate.
Gravity has to date been experienced by over one billion people globally with Richard and his cohort of growing pilots completing nearly 100 flights around the world and speaking at dozens of events from TED Talks to XPrize.
About London Tech Week
The 4th Industrial Revolution is well underway transforming business, society and the way we live. The UK continues to innovate as a worldwide cutting-edge tech hub and as one of the world's most open & welcoming markets, the UK can lead the global conversation in designing and scaling tech business.
London Tech Week looks not solely at the technology, but at the opportunities and challenges that are forming around the digitisation of society – tech in a new era of trust, evolving the workforce and developing the UK & international talent pool are issues high on the agenda.
London Tech Week connects international communities from across the spectrum to address how access to tech for all can have a profoundly positive impact in society and business. https://londontechweek.com
London Tech Week saw 55,000 attendees last year. It is anticipated that this year's TechXLR8 will welcome more than 15,000 attendees, 8,000 companies, and 600 tech guru speakers. There is set to be more than 300 exhibitors, with at least 90 countries represented (with nearly 70% attendees at director level and above).