India's best companies selected for Mayor of London's IE20 business programme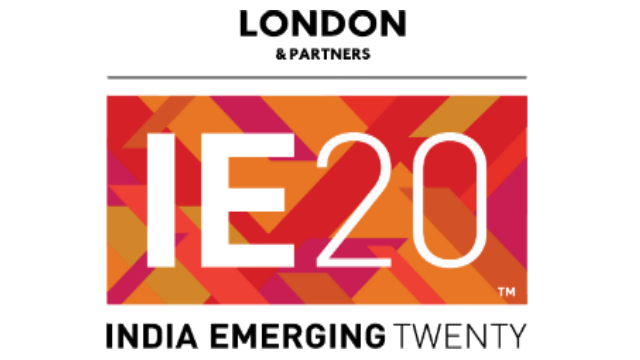 Twenty of India's fastest growing companies have been recognised by the Mayor of London Sadiq Khan
Twenty of India's fastest growing companies have been recognised by the Mayor of London Sadiq Khan, receiving a prestigious award to join the Mayor's India Emerging 20 (IE20) business programme. The winners were selected from regions across India and represent some of country's most innovative, high growth businesses specialising in technology, life sciences and business services.
The twenty winners were chosen from over 300 applications from some of India's leading business hubs such as Mumbai, Bengaluru and New Delhi. The India Emerging 20 programme was launched by the Mayor of London's official promotional agency, London & Partners, in collaboration with BDO and Lalit Hotels, with the aim to identify some of India's most ambitious companies that are considering international expansion.
The companies selected to join this year's programme will receive help in setting up or expanding their business in London. The winners will also have the opportunity to benefit from discounted rates on a London office and tailored expert advice on marketing, access to finance and local market analysis.
London is a leading destination for Indian companies looking to expand globally, with latest investment figures from London & Partners revealing that Indian businesses are the third largest investors into the UK capital, behind the China and the United States1.
Last December, the Mayor of London Sadiq Khan visited India on a trade mission to strengthen business links with London. During his visit he announced a number of Indian investment deals for London, including 400 new tech jobs for the capital. He also revealed plans to open a new Bengaluru office for his promotional agency, London & Partners, to provide further support for Indian businesses looking to expand in London.
The Mayor of London Sadiq Khan said: "London has strong cultural and economic ties with India, and Indian businesses make an important contribution to our city. Following my visit to India last year, I see lots of opportunities to strengthen investment between London and Indian cities.
"London is a truly global business centre and presents lots of opportunities for Indian companies looking to expand their business overseas. I am delighted that my India Emerging 20 programme is helping some of India's fastest growing companies with their international growth and London remains open to investment, talent and collaborations with India."
Rajesh Agrawal, Deputy Mayor for Business, added: "London is the best city in the world in which to grow a business, so I am delighted that these exciting companies will now be able to explore opportunities to expand here in the capital.
"It is now 16 years since I moved from India to London. This great city welcomed me with open arms and thanks to its entrepreneurial spirit helped me to launch two successful businesses. It is great news that these 20 companies will now be able to experience the same welcoming business environment that I enjoyed."
Further analysis of London & Partners investment data shows that 2017 was a record year for foreign direct investment from India into London1. Indian technology companies such as Wipro and Infosys have shown a strong appetite for London over the last ten years, accounting for over half of all businesses investing in the capital.
Entering its third year, the IE20 programme has helped a number of previous winner's setup or expand in London. Indian medical technology company, RX Prism, opened a £2 million innovation hub in London, while Chennai-based analytics firm LatentView and Curadev Pharma have also expanded their operations in London since their involvement with the IE20 initiative.
Arjun Pratap, Founder & CEO EdGE Networks and 2017 IE20 winner said: "The India Emerging 20 programme has opened doors for our business and helped us with our international expansion plans. Through our involvement in the programme, we have gained valuable insight into the UK market and understood how best we can bring future focused talent solutions to build the workforces of tomorrow. London and Bengaluru share strengths in technology and innovation and London was the natural choice for us to grow our business in Europe."
Arbinder Chatwal, Partner and Head of India Advisory Services team at BDO added: "London and India boast of a healthy trading relationship. London and other metro cities in India have thriving start – up ecosystems and it is important that Indian and UK businesses explore these opportunities across cities. London & Partners launched their proprietary property - India Emerging 20 with BDO as the nominating partner and has successfully completed 3 years of identifying high growth Indian companies, ready to scale into international markets."
"Companies in the Indian market have great business promise, innovativeness and immense potential to scale their businesses globally - this has been affirmed by the response of the 3 year's applicants and winners. Mirroring the last two years, we look forward this year too for great business expansion stories, with IE20 as their springboard."
Some of the winners selected for this year's programme include:
Hug Innovations (Hyderabad) – Hug Innovations is a wearable tech company developing IoT platforms that allows users to complete tasks including controlling apps, electronics, VR headsets, toys and home automation using just hand gestures. The startup currently has is also working with a number of leading companies to develop IoT solutions in personal safety, automotive, health & fitness and gaming.
Furtados School of Music (Mumbai) - FSM is a music education firm with a vision to provide accessible quality music education to all. The company works with schools and other institutions to provide training in musical instruments. The company, which first raised funds from angel investors in 2014, has grown more than 1,000% since then. FSM are currently testing a mobile application to bring together people interested in learning music and music teachers.
Ittisa Digital Media services (Bengaluru) – Ittisa is an innovative marketing technology company offering analytics, digital marketing, branding and strategy services with a strong emphasis on the use of technology. The company is already working with a number of leading Indian and global brands including Flipkart, Airtel and Vijay Bank.
Dineout (New Delhi) - Dineout is India's premier table reservation platform, operating out of 8 cities, with a listing of over 25,000 restaurants and real-time reservation enabled at over 3,500 outlets across the country. Currently Dineout seats more than 500,000 diners per month across its partner restaurants.
Chai Point (Bengaluru) – Chai Point, India's largest organized Chai retailer, brings a perfectly brewed cup of Chai made with fresh, natural ingredients to offices and working professionals around the country. Beginning with the first pilot store set up in Bangalore in April 2010, Chai Point has rapidly grown to become the go-to brand for a perfectly brewed cup of Chai with over 300,000 cups sold every day.
The finalists will be revealed at a ceremony in Bengaluru later this evening, attended by high profile business figures from the UK and India, where they will receive an award from Vani Kola, one of India's leading business women and venture capitalists.
Vani Kola, Managing Director of Kalaari Capital said: "India is producing an increasing number of high growth, scalable companies. Cities such as Bengaluru and Mumbai have developed clusters of start-ups with a strong culture of creativity and innovation that is similar to that of London. The twenty winners part of this year's IE20 programme demonstrate the strength of India's entrepreneurial mindset and the growing strengths in areas such as technology and life sciences."
British Deputy High Commissioner in Bengaluru, Dominic McAllister, added: "IE20 is an important element of the UK-India Technology-Partnership which was agreed by our two Prime ministers in April and formally launched in India last week by Digital and Culture Secretary, Matt Hancock. The UK and India are global leaders in technology and two of the world's most innovative countries. The new UK-India Tech Partnership will be testimony to that. A pilot soon to be launched In Karnataka will focus on augmented and virtual reality, advanced materials and artificial intelligence - technologies which a number of our winners today are already deploying. The Partnership will seek to: develop a network of people and programmes to facilitate ideas; provide access routes for British and Indian entrepreneurs and SMEs to each other's markets; and encourage broader innovation and productivity by helping businesses in the UK and India to develop closer relationships. We live in exciting times."
-ENDS-
London & Partners Media & PR Team
Tel: +44 (0)20 7234 5710
Switch: +44 (0)20 7234 5800
Twitter: @London_PR
Notes to editors
London & Partners investment data 2018. Based on L&P FDI projects.
 
Full list of Indian companies selected as 2018 winners for IE20 programme:
Chai Point (Mountain Trail Foods)
Happay
Intello Labs
Ittisa Digital Media Services
Senseforth
Chakr Innovation
Dineout / inResto
Fork Media
Lucideus Tech
Morph.ai
Videonetics Technology
Wigzo Technologies
Hug Innovations
FSM Education
Gaia Smart Cities               
Iksula Services                   
SaffronStays
 
Further background on India-London trade and investment
India is the third largest market for foreign direct investment (FDI) into London and has almost doubled since 2011. 
Some of the top Indian companies investing into London by job numbers in the past 10 years include: Developer Group; Sobha Europe, Lodha Developers; Dr P Banerji; Jaguar Land Rover; State Bank of India
London attracted 32% of all Indian FDI to the UK from 2007-2017
Over one third of FDI from India originates from three cities: Mumbai, Bangalore and New Delhi
2017 was the highest year yet for Indian FDI projects to London
Technology was the largest sector for foreign direct investment into London from India – accounting for 53% of all projects between Jan 2011-Sep 2017
Life sciences and healthcare is also an important sector for inward investment from India, accounting for 7% of projects. This makes India the second largest source market for the sector, following Japan
Further background on India-UK trade and investment
The UK was the second largest destination market for Indian FDI (behind only the US) – attracting 320 projects, with capital investment £10bn and 38,827 jobs created
Total trade in goods and services between the UK and India was £18 billion in 2017, a 15% increase from 2016.
UK exports to India, led by innovative machinery and mechanical appliances, form a large part of this and also increased significantly by 14.9%.
The most up-to-date figures show the UK exported £358 million of digital services to India in 2015.
Last month during Prime Minister Modi's visit to the UK, the UK government announced a UK-India Tech Partnership to identify and pair businesses, venture capital, universities and others to provide access routes to markets for British and Indian entrepreneurs and small and medium enterprises.
According to the India Meets Britain Tracker 2018:

There are approximately 800 Indian companies operating in the UK, with combined revenues of £46.4 billion (£47.5 billion in 2017) and employing 104,932 people.
In 2016, imports and exports worth £15.4bn flowed between the two countries
London's steady rise as the UK's leading investment destination continues, with more than half of all Indian companies investing in the UK (53%) choosing the capital. This is up from 44% in 2017 and 39% in 2016. In 2015, only a quarter of Indian investors chose London.
 
About IE20 programme
India Emerging Twenty (IE20) is an initiative created by London & Partners and launched by the Mayor of London with the mission to discover 20 of India's most innovative and high-growth companies to help them grow to London. 2018 is the third year of the programme.
The IE20 program supports innovative, high-growth Indian companies within the Tech, Media, Telecoms, Life Sciences, Financial and Business services sectors to grow their international business through London. It is a competition led by London & Partners in collaboration with a range of leading business advisers such as BDO and Lalit Hotels.
An initial 51 companies were shortlisted from over 300 applications. The shortlisted companies then pitched their business plans to a jury chaired by London & Partners and made up of senior venture capital investors, serial entrepreneurs, heads of leading in-market accelerator programmes and partner professional services firms for a chance to feature in the final 20.
As an IE20 winner, the companies will have access to a curated London business package, designed to make the process of setting up or expanding their business in London easy. The package could include tailored expert advice on marketing, access to finance and local market analysis.
About London & Partners
London & Partners is the Mayor of London's official promotional agency. Its purpose is to support the Mayor's priorities by promoting London internationally, as the best city in the world in which to invest, work, study and visit. We do this by devising creative ways to promote London and to amplify the Mayor's messages, priorities and campaigns to international audiences. Its mission is to tell London's story brilliantly to an international audience.
London & Partners is a not-for-profit public private partnership, funded by the Mayor of London and our network of commercial partners. For more information, visit: www.londonandpartners.com  
About BDO
BDO is the world's 5th largest professional services network, offering Audit, Tax & Advisory services, comprising of independently managed firms operating under the BDO brand. BDO is the market leader in the mid-tier segment, operating in 162 countries, with more than 73,000 people in 1500 offices worldwide.
BDO in the UK and India work in conjunction to highlight opportunities to companies seeking to do business in India as much as helping existing clients navigate challenges which may arise during their growth phase.
BDO LLP is the UK member firm of the BDO International network. For more information, visit: www.bdo.co.uk/en-gb/home
BDO India LLP is the India member firm of the BDO International network. For more information, visit: www.bdo.in/en-gb/home
About Vani Kola
Vani Kola is an Indian venture capitalist. She was listed as one of the most powerful women in Indian Business by Fortune India. She is the founder and Managing Director of Kalaari Capital, one of India's leading early stage venture capital firms.
Vani Kola co-founded IUVP, now Kalaari Advisors in 2006 to create an early-stage venture eco system in India. She focuses on technology companies, leveraging India's domestic growth to create high growth enterprises. To date, Kalaari Capital has funded more than 50 companies in India.  After raising a venture fund in the US, she moved to Bangalore, India, but travels extensively across the country and is actively engaged with startups. She has successfully led investments in e-commerce, mobile services, education and healthcare. Many of her investments have now become very successful, validating her aptitude for picking the best young minds and mentoring them to build successful enterprises.
Some of Vani's notable successes include: Snapdeal, Myntra, VIA, Apps Daily, Urban Ladder, Zivame, Power2SME and Bluestone.