Incredible summer of sport kicks off with UEFA EURO 2020 with plenty of places to enjoy the action across London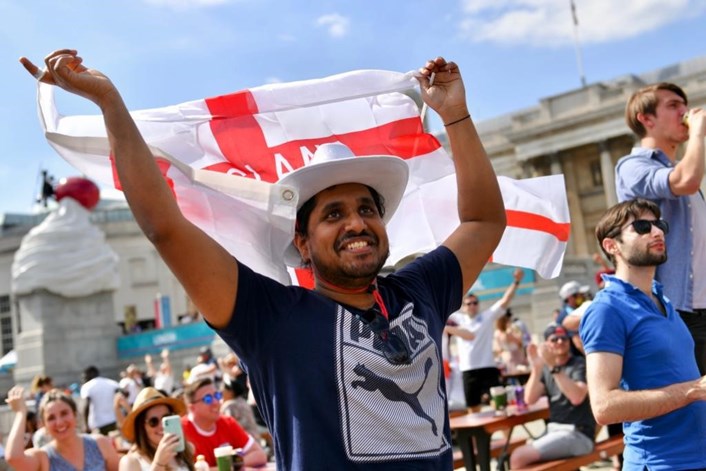 Hundreds of pubs, bars, and venues have installed big screens to watch all the best of the football at UEFA EURO 2020 across the capital
All roads lead to London as the city hosts eight UEFA EURO 2020 matches at Wembley, including both semi-finals and the final, marking the capital's return to major sporting events
Sporting action in London to continue with the return of major sporting events – including Wimbledon, NFL London, The Hundred and Formula E
London is coming back to life in summer 2021 with an amazing season of sport. England started their UEFA EURO 2020 campaign at the weekend, with pubs, bars and venues across London welcoming excited football fans.
Londoners and visitors who haven't yet booked their seats for the remaining group games and beyond don't need to worry: hundreds of venues across the city have added big screens, socially distanced tables and are offering table service to make sure everyone can enjoy the Euros safely.
UEFA EURO 2020 at Wembley will be the jewel in London's summer of sport. But there is so much more to come this season, from the return of Wimbledon (28 June – 11 July) to Formula E cars speeding through the Docklands (24-25 July) and brand-new cricket competition The Hundred (21 July – 21 August), plus the Rugby League World Cup, NFL games and the London Marathon later this year.
"These next few months promise to be a great summer of sport, with lots of fantastic events taking place in London. If you haven't got a ticket to one of England's EURO 2020 games, there is a great selection of pubs, bars and venues showing the action in locations across London. We would advise everyone to book ahead to avoid disappointment," said Georgina Warren, Director, Major Events & City Experience at London & Partners.
"From sporting events, gigs and theatre shows to museum exhibitions and new public art installations, there has never been a better time to get out and enjoy the best London has to offer. This is exactly what our Let's Do London campaign is all about: getting people back into the capital."
The Let's Do London campaign and events programme brings together the capital's world-leading hospitality, culture, nightlife and retail venues to promote London. The blockbuster events programme will run during all four seasons this year, kicking off last month with the capital's famous chefs, foodies and hospitality venues coming together to promote and celebrate London's unbeatable and diverse food scene as part of London Eats.
Now, the campaign says Let's Do Sport with the start of London's incredible summer of sporting and cultural events.
Here are Visit London's top 10 ways to enjoy UEFA EURO 2020 and celebrate a summer of unforgettable sport in the city:
1. Hang out at Potters Fields Football Village
Potters Fields Park is hosting the Football Village, which is open to everyone for the duration of the tournament. It will feature cultural entertainment, sports and community activities, food and drink stalls and screens to watch selected matches and highlights.
When: 11 June to 11 July
Where: Tower Bridge
2. Cheer on your team at Trafalgar Square Fan Zone
The UEFA EURO 2020 Fan Zone in Trafalgar Square will be open for England matches, the semi-finals and the final. Tickets for the first matches are exclusively for key workers who did so much to support the community during the pandemic. Seats for later matches will be allocated by a public ballot, with details to be announced shortly.
When: Selected dates from 13 June to 11 July
Where: Trafalgar Square
3. Take in some art with the Inside Out exhibition
As part of the Let's Do London campaign, five locations across the city will be pasted with more than 3,000 black and white portrait photographs in a cultural celebration of football and how it can bring people together. Renowned artist JR's Inside Out project will cover pavements, roads and buildings across the city with his epic black and white portraits – including a gallery longer than two football pitches along the road at Tower Bridge.
When: From 13 June
Where: Tower Bridge, King's Cross, Tottenham, Catford, Royal Docks and Wembley Park
4. Get swept up in the football frenzy at BOXPARK
BOXPARK, London's home for football screenings, will be showing all UEFA EURO 2020 matches live from its three London venues in Croydon, Shoreditch and Wembley. Alongside having the magic of the competition on BOXPARK's big screens throughout the venue, fans can tuck into street food and quench their thirst with plenty of beers and drinks from the bars.
When: From 11 June
Where: Croydon, Shoreditch and Wembley
5. Summer of Play free events for families in Wembley
The home of the Euros in London, Wembley Park is hosting a summer of free events including live music, public art trails, sporting events, outdoor cinema screenings and more in Wembley's pocket parks and pedestrian spaces. The Summer of Play is the perfect place to soak up the EUROs atmosphere between matches, a stone's throw away from England's home of football.
When: 11 June to 5 September
Where: Wembley Park
6. Enjoy the football alongside stunning London views at Skylight London
Skylight rooftop is famous for its panoramic views across London's skyline and they're offering fans three exciting ways to watch the games this summer, including a giant rooftop alfresco screen and indoor cinema experience.
When: From 11 June
Where: Wapping
7. Soak up football's history at Freemasons Arms
The song says "football's coming home", but did you know football's home really is in London? The Freemasons Arms pub has a great place in sporting history. It was here that the Football Association met in 1863 to thrash out the laws of modern football – a game now played in more than 200 countries across the globe. The pub has a great display of Football Association memorabilia alongside six HD TV screens featuring all the top matches.
When: From 22 June
Where: Covent Garden
8. It's game on this summer at The Refinery Bankside
With one of the largest outdoor screens in the capital, head down to The Refinery Bankside's alfresco terrace to enjoy the sun and catch what are set to be some of the year's most exciting football games. It's kitted out with plenty of deck chairs, a large HD screen and a fully stocked bar so you won't miss a single kick or penalty in this summer's tournament.
When: From 11 June
Where: Southwark
9. Join the party at a Euros Warehouse
London's biggest warehouse dedicated to football includes two giant screens, beer hall, street food, sun terrace and more. Costa del Tottenham is showing games on every match day and can seat 300 football aficionados at once, so the atmosphere is sure to be electric.
When: From 11 June
Where: Tottenham Hale
10. Settle in and hope for a win at Juju's Bar & Stage
Juju's Bar & Stage in Shoreditch is one of the top London venues for watching the Euros, with three huge projector screens, a beer garden and an expansive open-air terrace. Juju's is where you'll find the merriest (socially distanced) crowds enjoying craft beers, cocktails and scrumptious street food.
When: From 12 June
Where: Shoreditch
For more things to do in London for UEFA EURO 2020, visit UEFA EURO 2020 London guide - Sport - visitlondon.com
Notes to editors
Images are available to download here: https://www.dropbox.com/sh/xcju4y1div3xn9b/AADMO_HhPhTMMyFvgi5QnDFJa?dl=0
About Let's Do London: Let's Do London is a new promotional campaign – backed by £6m – to support the reopening of central London to kick-start London's economy. It is the biggest domestic tourism campaign ever undertaken by the capital. The campaign which launched on 10th May, will run until January 2022. It will include a programme of new events over the course of the year which we are organising with partners and nationwide advertising to promote central London to Londoners and visitors from elsewhere in the UK.
The campaign has been worked up by the Greater London Authority, London & Partners, Transport for London and hospitality and tourism industry partners. It is backed by a huge host of partners in London, including central London BIDs, major attractions like Merlin, cultural venues, nightlife venues, and the hospitality sector. For more information, please visit: Let's do London - Things to Do - visitlondon.com
About London & Partners and visitlondon.com 
Visitlondon.com is the official visitor guide to London and is run by London & Partners, the business growth and destination agency for London. Our mission is ​ to create economic growth ​that is resilient, sustainable ​and inclusive.​
Visitlondon.com is a comprehensive resource for everything that is happening in London. At any one time, this includes 20,000 event listings, plus content designed to inspire and assist visitors. Visitlondon.com is available in English, French, Italian, German and Spanish. Each month visitlondon.com attracts more than 3.5m visits and its social media channels have 1.75m followers. For more information visit visitlondon.com