Harlequins Partner with Dot London to Promote the 'Power of London' to Small Businesses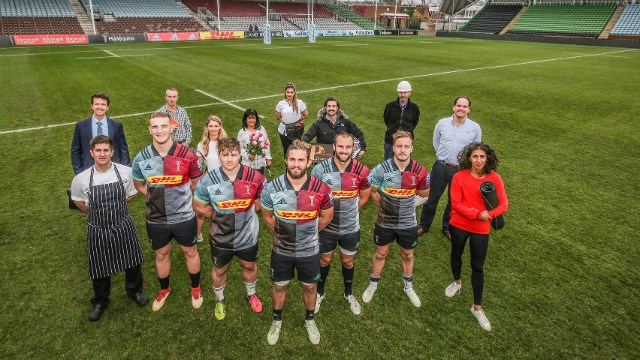 Dot London, the official domain name for the capital, has been unveiled as Harlequins' Official Online Partner
Dot London, the official domain name for the capital, has been unveiled as Harlequins' Official Online Partner and will be working with the London Club to help showcase the city's thriving small business community.
Dot London, an alternative to .com and .co.uk, encourages organisations and individuals to celebrate their association with London - something Harlequins have embodied throughout their rich history - and embrace the capital's global business reputation. To celebrate the partnership, Harlequins will be adopting their new web address www.quins.london for the rest of the 2018/19 season*.
London's domain name has been adopted by a number of small businesses, including South West London-based YogaHub, Twickenham-based bar and entertainment venue The Shack 68, and craft snacking brand Serious Pig. Using a Dot London domain name helps to localise businesses and allows them to shout about where they are based as well as adding the power of London to their brand.
Lara Helayel, owner of YogaHub, said: "When choosing www.yogahub.london I chose Dot London as it resonated with the fact that we are a community-based studio with a real sense of pride in being in London. It has helped us to connect with students who are passionate about supporting local businesses."
Like Harlequins, Dot London works closely with the local community to help highlight the important roles that small businesses play in London's infrastructure and help build the capital's appeal as the ideal city for innovative entrepreneurs.
Alex Goldschmidt, Harlequins' Commercial Director, said: "We are delighted to partner with Dot London. London is our home and like so many other organisations and businesses, whether they are 150 years old like us, or just starting out, we are proud to be part of the fabric of this great city."
Nick Mouton, Head of Dot London, said: "Dot London is popular with London's small business community and with Harlequins we aim to continue to show our support by helping to showcase and empower these thriving businesses."
The partnership will include a series of videos of Harlequins players visiting London-based businesses that use Dot London web addresses, discounted domain name offers for Club members and special player appearances.
Nick Mouton - Head of Dot London, London & Partners
Tel: 020 7234 5715

Email: nmouton@londonandpartners.com
Notes to editors
*www.quins.london will be launched globally for two months after which it will only be accessed within the M25 catchment area and Harlequins will revert to quins.co.uk globally
About Harlequin FC
Founded in 1866 Harlequin FC is London's only Premiership club. It has a rich heritage and has contributed to the development of rugby both on and off the pitch for over 150 years. The club has a reputation for producing and developing innovative and creative players who play an attractive style of rugby. The club plays at the Twickenham Stoop Stadium, named after Harlequins' legend Adrian Stoop which sits proudly next to the home of English rugby, Twickenham Stadium. Harlequins own one of the most distinctive jerseys in world sport. The quartered colours of Harlequins reflect a unique identity. The Club motto is Nunquam Dormio: I never sleep and Harlequins are focused on constantly improving our game on and off the field. The Harlequins Foundation makes a positive impact beyond rugby, connecting with new audiences.
About Dot London Domains Ltd
Dot London Domains Ltd is a subsidiary company to London & Partners, the Mayor of London's official promotional company, operating as the registry for the Dot London domain name. The Dot London domain name is one of more than 1,000 new gTLDs that have been released by ICANN, the global internet body, and are available to buy through a number of partner registrars. Any surplus profit from Dot London sales is re-invested for the benefit of London. Dot London's commercial partner is Minds + Machines Group Limited (MMX). More information can be found at www.makeyours.london. 
About London & Partners
London & Partners is the Mayor of London's official promotional agency. Its purpose is to support the Mayor's priorities by promoting London internationally, as the best city in the world in which to invest, work, study and visit. We do this by devising creative ways to promote London and to amplify the Mayor's messages, priorities and campaigns to international audiences.  Its mission is to tell London's story brilliantly to an international audience.
London & Partners is a not-for-profit public private partnership, funded by the Mayor of London and our network of commercial partners. For more information visit www.londonandpartners.com