Google to open Digital Skills Academy in Central London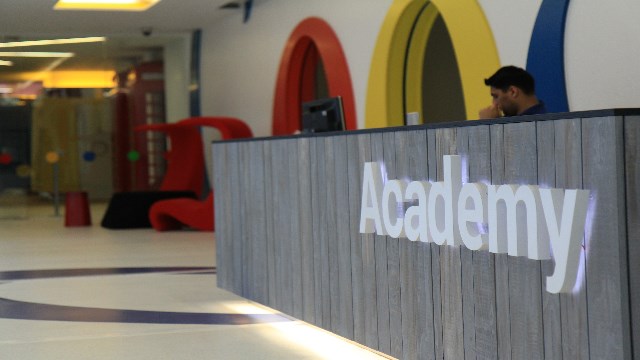 Google has today announced the opening of the Academy, a 40,000-square foot space in Central London dedicated to educating
Google has today announced the opening of the Academy, a 40,000-square foot space in Central London dedicated to educating and inspiring everyone from schoolchildren to CEOs in a uniquely Googley environment.
Opening to coincide with London Tech Week, The Academy, a Google Space demonstrates Google's commitment to both London and the importance of building digital talent and capability across the board. Googlers and external industry experts will be on hand to support the delivery of a wide range of educational and inspirational experiences to Academy attendees. It will also provide a base for capability building events in partnership with everyone from Government to charitable organisations to further drive the digital skills agenda.
The Academy comprises of a range of unique retro Brighton themed spaces including an Electric Cinema, Beach and Funfair styled auditoriums and the Cloud promenade a stripped back collaboration space providing access to the latest workshopping technology such as Jamboards.
The opening of the new Google Academy space follows the news that Google will open its new headquarters in London and provide up to 3000 new jobs by 2020.
Ronan Harris, Google UK MD said: "London's ambition to grow, harness new technologies, and build the brightest and best companies has been a constant over the last decade. When the tech community with industries ranging from fashion and music to automotives and AI have worked in partnership with government, the Mayor's office and passionate communities supporting startups and scaleups, new jobs have been created and London has shown it can lead the way in a competitive global environment.
"It's fantastic to welcome London Tech Week to Google's new Academy to discuss how we can ensure the next decade of growth for our capital city. With over 40,000 sqft of innovative educational space in central London The Academy has been created to educate and inspire everyone from schoolchildren to CEOs as part of Google's plans to help build digital capability across the country."
Rajesh Agrawal, Deputy Mayor for Business, added: "London Tech Week is shining a light on this incredibly important sector of our economy.
"The capital is already home to some of the best tech and creative minds in the world but we must continue to ensure that our city's workforce has the right skills to meet the jobs of tomorrow.
"I am pleased that Google is helping to make digital training and educational programmes available to people from all backgrounds.
"Schemes like this perfectly compliment the Mayor's Digital Talent Programme that will nurture the next generation of digital enthusiasts so we can continue to provide all businesses in London with much-needed home-grown digital talent."
The new digital skills hub will open its doors during London Tech Week, where the space will host the LeadersIn Tech Summit. The two-day event will bring together leading policy makers, entrepreneurs and tech leaders, with speakers including Sir Martin Sorell, Eileen Burbidge MBE and Google UK MD Ronan Harris.
Also taking place during London Tech Week, the Google Academy will offer a 'Get Started in Tech' course, run by the Prince's Trust. This unique programme will see participants receive training on how to use video and technology to create a brand story, culminating in a graduation ceremony at the end of the week.
London & Partners Media & PR Team
Tel: +44 (0)20 7234 5710
Switch: +44 (0)20 7234 5800
Twitter: @London_PR
Notes to editors
Press Images
Please see approved press images HERE.
About the Academy 
The Academy, a Google space constitutes over 40,000SQft of prime office space in central London given over entirely to educating and inspiring everyone from schoolchildren to CEO's in a uniquely Googley environment. It represents the coming together of a wide range of Google teams ((incl. the Google Digital Academy, Google Cloud, CS Education, Brandlab, the Zoo, Google Partners, Growth engine, Policy, Android Wear and Developer Relations to name a few) and is focused on helping to build digital capability across the board. The 'Academy' space will be officially launched at London Tech Week where it will host a range of educational and inspirational events in conjunction with London Tech Week including the C-level Leaders in Tech summit and the Prince's Trust 'Get started in Tech' initiative. 
About London Tech Week
London Tech Week is a festival of events, taking place across the city and representing the entire technology ecosystem. No other festival of live events brings together as many domestic and international tech specialists and enthusiasts to London for such a variety of networking, social, learning and business opportunities. Since its launch in 2014 London Tech Week has included more than 700 events and has welcomed delegations from around the world. London Tech Week 2017 will be organised by founding partners, KNect365, London & Partners and Tech London Advocates, with support from strategic partners Tech City UK, ExCeL London, DIT and techUK.