Ghostly guide to London's Halloween hostpots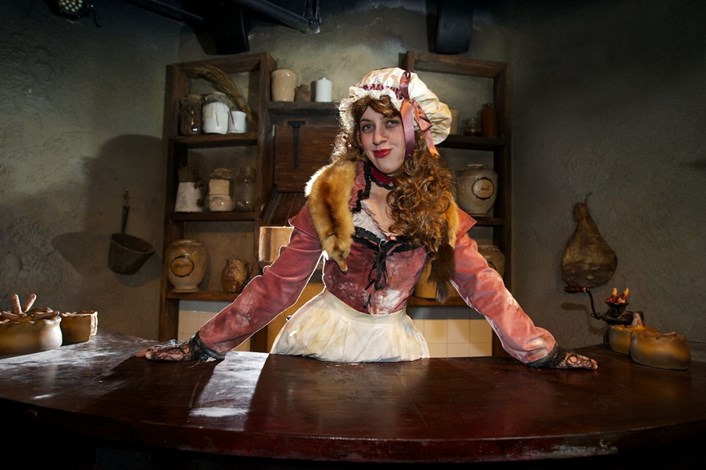 As Halloween draws closer, there's a cauldron of themed events and activities taking place around the capital to keep everyone entertained during the spookiest time of year.
For all the practicing wizards and witches out there, Warner Bros. Studio has transformed 'The Making of Harry Potter' film set for Halloween. With a special Dark Arts theme, the Great Hall has been decked with 100 floating pumpkins, just like the movie. Guests can learn the moves behind a wand combat scene and face a Death Eater in a duel, while over-18s can even attend a special spooky dinner on the haunting set.
From behind the scenes to in front of them, Halloween is a time for spooky films with some classics including, A Nightmare on Elm Street, The Thing, Beetlejuice and Hocus Pocus. All of these and many more can be viewed at the Prince Charles Cinema throughout October. Other cinemas showing a variety of Halloween themed movies include: Backyard Cinema and Crofton Park Pictures.
For those looking to get a little more immersed in Halloween, No Escape will have Halloween specials across an array of locations for a limited time. Each room will have a different Halloween theme attached to it and will see live actors locked in with teams as they try to escape. The London Dungeon will also have an escape room for visitors, as well as a limited time Surgery show for Halloween, where they will dissect the devilish practice of surgery from the Victorian era.
If you are an adrenalin junkie and love to be truly captivated by all things Halloween, then why not embark on some of London's best Halloween Tours! Discover the deep, dark secrets and gory history of London with The Ghost Bus Tours – an amazing opportunity to see all of London's most famed sites and learn all about their haunted history.
Discover the darker side to the scenic views of the Greenwich World Heritage Site. The River Thames offers the perfect backdrop to hear of the drunken sailors who were shipped halfway across the world, along with those who suffered from the Cutty Sark Curse. A lingering Royal spirit, hidden laneways and Charles Dicken's favourite haunted pub shows just how much history Greenwich has to offer.
Finally, for those who dare to relive spine-tingling stories of sinister happenings, explore the grounds of Eltham Palace and Gardens in the dark on a special Halloween tour.
Thrill seekers can celebrate Thorpe Park's 20th Fright Night anniversary, as the park's night setting and added spooky characters will leave visitors hearing screams from all directions. This year also sees the LEGACY awe inspiring fire and light show.
For the biggest Halloween parties in town, head to the Halloween x Oktoberfest mashup at the Wunderbar – Pergola Paddington. Three special Halloween nights will transport guests to a Transylvanian Castle with devilish decorations, moody lighting, and giant Frankenstein's of exclusive Oktoberfest beer.
Halloween activities for half-term:
Spirits are on the loose at the Tower of London and they need help catching them. A team of Ghost Raiders are on site but are looking for help throughout half term to capture the ghouls that are roaming the halls of the Tower. Families are welcome to join the raiders and help solve the mystery which will also give a grand tour of the iconic location. Spirit sightings won't end there, as Hampton Court welcomes everyone down to take its new self-guide trail, which uncovers the tales of Catherine Howard in her chambers, a grey cloaked lady named Sybil Penn, haunted portraits and much more.
Kew Gardens will have an enchanting tale of the Gruffalo's Child taking place throughout half-term. The perfect backdrop to match the popular kids' book, there's lots of fun surprises when taking this magical adventure, which includes lots of familiar faces from the book. The LookOut at Hyde Park will have an array of Halloween activities to enjoy including nature trails, creating potions in the Witches' Den, spooky interactive stories and science experiments.
At Big Fish Little Fish, kids can dance the day away at its family raves, as they hit the dance floors filled with bubbles and balloons, whilst listening to a collection of house, techno and drum'n'bass music. There's also chill out, play and craft areas.
The list has been curated as part of Let's Do London, a campaign launched by The Mayor of London, Visit London and the capital's tourism and hospitality industry's which looks to welcome back visitors to the wonderful city of London in a safe manner.
Notes to editors
About Let's Do London
Let's Do London is a £7m initiative launched by the Mayor of London, Visit London, Transport for London and backed by industry, bringing together the capital's world-leading hospitality, culture, nightlife and retail venues to promote all London has to offer. Let's Do London aims to reinvigorate central London and welcome back visitors from across the UK back to the capital with a curated programme of seasonal events and cultural activities designed to suit a range of age groups.
For more information, please visit: Let's do London - Things to Do - visitlondon.com