Exciting Range of New Hotels and Venues to Open in London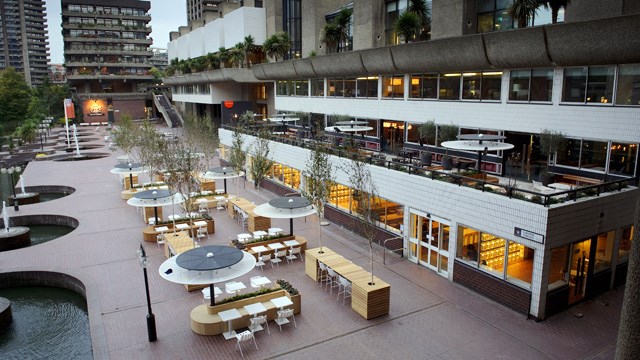 London's MICE offering has received another boost with the news that a number of new hotels will open in London
London's MICE offering has received a further boost with the news that a significant number of new and exciting, cutting-edge hotels and venues are set to open in the capital over the next few years.
According to findings from a new report monitoring hotel capacity across European cities, London is set to add 11,600 rooms to its hotel market by 2020, providing meeting and event planners with an even greater choice of accommodation and meetings options1.

Further analysis from the 2018 London Hotel Development Monitor Report published today by JLL and London & Partners, shows that the growth of the capital's hotel market is set to outpace a number of major European cities by 2020, including Paris, Berlin, Lisbon and Milan.

As London continues to attract high levels of business and leisure visitors, hotel operators are showing a strong appetite for increasing hotel capacity across the city, with an 8% uplift predicted by 2020.This growth will provide international MICE buyers with innovative options across a range of price brackets, with the research predicting increases for both high-end and economy hotels in London.
The report also highlights the growth of the lifestyle hotel market segment or those that place an emphasis on design, art and the latest technology features. Hotel brands of this kind in London include: CitizenM, Soho House, Rosewood and The Ned.

The findings of the report have been released to coincide with IMEX America, a worldwide exhibition for incentive travel, meetings and events buyers. The London Convention Bureau will showcase the very best of the city's MICE offering at the trade show alongside leading hotel and venue partners (see full list below).

Separate research found that London continues to be a hot spot for North American meeting and events planners, with latest data from the London Convention Bureau revealing that bookings for 2018 are already up 20 per cent compared with the same time-period last year.
London's largest conference venue, ExCeL London, is also reporting its busiest year for meetings bookings from North America with a 50% uplift in 2018. This follows the recent news that London was ranked as the top EMEA destination for meetings and event planners by the Cvent Top 25 MICE cities report and the Carlson Wagonlit Travel (CWT) Top 10 EMEA cities for corporate meetings and events in 2019.

Tracy Halliwell MBE, Director of Tourism, Conventions & Major Events at London Convention Bureau said: "London is a world class destination for leisure and business travellers and it's no surprise to see that hoteliers are showing a strong appetite for opening some of their best and most exciting properties in the capital. We've seen a number of different styles of hotel open across a range of price bands, providing even greater choice for visitors from all over the world."

"London's wide range of venues and hotels allow meeting and events planners the opportunity to be creative and innovative with their event concepts. From blank canvas warehouse spaces and trendy pop-ups, to purpose-built meeting rooms, conference centres and state-of-the-art-auditoriums, there's an outstanding solution for every event."

"We're delighted to hear that London is continuing to attract large numbers of North American meetings and event planners and the London Convention Bureau looks forward to helping even more MICE buyers unlock all that London has to offer."

Graham Craggs, Managing Director, JLL Hotels & Hospitality: "London is one of the most liquid hotel markets in Europe and a popular investment hotspot for both domestic and international investors. The weaker pound has attracted a variety of overseas hotel operators and investors to invest in hotel real estate."

"Despite political uncertainty, investors and hotel companies continue to view London as a key destination. This is evidenced by the willingness to consider new development opportunities and the number of new hotel brands opening in the London market."
Some of the top new hotels in London include:

• The Londoner: Located on Leicester Square, this ambitious hotel will aptly be called The Londoner, a name dedicated to the iconic city that inspired this pioneering purpose-built destination. Scheduled to open in 2020, this five-star 15 level hotel is set to transform London's hospitality scene. Designed for grand and intimate occasions; The Londoner has 350 rooms and 15 suites; five concept restaurants and lounges including a spectacular rooftop bar; a state-of-the-art ballroom for up to 1000 guests, two new Odeon Luxe cinemas and a unique subterranean spa.
• The Principal London –Opened earlier this year, The Principal London is a Grade II* listed landmark building that occupies the eastern flank of Russell Square in Bloomsbury. The opening of the 334-room hotel this spring has restored the original grande dame to her original glory while administering a shot of adrenaline to the heart of London's most literary neighbourhood. The Principal London hopes to create a hub not only for its guests but also for Londoners who have a passion for great food, fabulous cocktails and memorable nights in the city.
• Former US embassy turning into a Rosewood Hotel: The former US Embasy in Mayfair will be transformed into a world class, Rosewood Hotel. The property will offer 137 spacious guest rooms and suites, as well as a variety of dining and entertainment spaces, including five gourmet restaurants. The property will also feature a signature spa, which will provide guests with a luxurious retreat from the bustling streets of London, as well as six flagship retail spaces and a grand ballroom with space for up to 1,000 guests.
• Manhattan Loft Gardens design hotel: Planned to open in October 2018, a high-quality design hotel concept into this progressive new building marks an exciting chapter for the growing creative community that is London's East End. The Manhattan Loft Corporation is behind the stylish Manhattan Loft Gardens Design Hotel. The 150-room hotel occupies the seven lower levels of Manhattan Loft Gardens, a mixed used development with three 'sky gardens', ensuring that residents are not far from an outdoor space. Premium hotel facilities and services will include a gym, spa, restaurants, cafes and bars.
• Hard Rock Hotel London: Opening in spring 2019, London's first Hard Rock Hotel is taking over the site of the Cumberland Hotel. A stone's throw from Oxford Street, the hotel will comprise of 1,000 rooms and suites and, of course, a Hard Rock Café, as well as two bars. As with all Hard Rock properties, the London hotel will showcase its memorabilia collection, paying tributes to celebrities such as Jimi Hendrix, Diana Ross and Stevie Wonder.
• Art'otel London Battersea Power Station: Situated around the site of London's historical Grade II listed, Battersea Power Station, the property is expected to open in 2020. The 160-bedroom lifestyle hotel will boast a rooftop pool and bar, a signature restaurant and a gallery.
London is also home to more than 1,000 diverse venues, with event space for all your meeting and event's needs. Some of the latest venues and meeting spaces to open in London include:

• Design Museum: The Design Museum's new home is the only public building designed by John Pawson and features an incredible copper-covered roof. Located in Kensington, the museum offers a variety of spaces for hire suitable for conferences, dinners, drinks receptions and meetings. The space is ideal for cultural, tech events, entertaining and brand building.
• Here East: Here East is one of London's newest venues with 33,000 square feet of unique meetings and events space in the heart of the Queen Elizabeth Olympic Park. Here East has been transformed into an innovation campus for entrepreneurs, start-ups, universities and big brands. This exciting new venue combines unparalleled infrastructure with a unique environment and is a great venue for events with a focus on innovation and technology.
• Tottenham Hotspur New Stadium: Tottenham Hotspur is one of the most famous football teams in the world. Discover its new stadium, which will also be home to the NFL in the UK when it opens later this year. With more than 62,000 seats, it promises to be a grand addition to London's stadia and is set to have plenty to offer to event planners. Fit for small and large-scale events with a capacity of up to 1,500, you're sure to impress your delegates with an event overlooking the pitch.
• Kensington Palace: Soak up almost 400 years of history with a dinner or reception at Kensington Palace. Its new events space, the Kensington Palace Pavilion, which opened in March of this year, can host from 100 guests to the maximum capacity of 800. The Palace has been home to many popular royals including Queen Victoria, Diana, Princess of Wales and is now home to the Duke and Duchess of Sussex, Harry and Meghan. Other Historic Royal Palaces venue available for hire include: the Tower of London, Hampton Court Palace, the Banqueting House, Kew Palace and Hillsborough Castle.
• The Postal Museum: The Postal Museum is a venue with a rich history and a firm plan to deliver first-class events. Up top, the contemporary museum building suits receptions or networking events. But it's down below that will make the biggest impact! The Mail Rail is a blank canvas space that includes impressive architectural features from its working past. In a series of vaulted brick arches, it was a depot for a secret, six-mile-long mail railway. Fifteen-minute train trips around the original network and platforms beneath Mount Pleasant is a signature add-on to dinner. The venue hosts up to 275 guests for a reception, 140 guests for dinner and 150 guests for a meeting.
To find out more about all the venue, hotel and creative event concepts available in London, please visit the London Convention Bureau at IMEX AMERICA on Booth: #B3032. Find out more here: https://conventionbureau.london/about-us/trade-shows/imex-america-2018
Ben Pattie - Senior Communications Manager for Business
bpattie@londonandpartners.com

London & Partners Media & PR Team
Tel: +44 (0)20 7234 5710
Switch: +44 (0)20 7234 5800
press@londonandpartners.com
Notes to editors

1. London Hotel Development Monitor 2018 – produced by London & Partners and JLL. Full report here: https://conventionbureau.london/insight-and-inspiration/london-hotel-development-monitor-2018  
Full list of partners at London Convention Bureau booth at IMEX America 2018:

1. Barbican

Barbican is Europe's largest purpose built not-for-profit arts and events venue. Situated in the heart of the City of London amongst famous historical landmarks such as St Paul's Cathedral, the centre offers a wealth of space for conferences, exhibitions, banquets and corporate entertainment for 10-2,000 people.
2. Brook Green DMC

Brook Green DMC has been designing incentives throughout the UK, serving our clients with panache, competence and integrity since 1987. We believe in offering the best the UK can offer – by creating exciting programs and special, unique experiences. A friendly and knowledgeable team are at your disposal and make us your ideal partner for a successful incentive in the UK!
3. By Word of Mouth

By Word of Mouth is a specialist event planner with an intricate knowledge of London and over 30 years on-the-ground experience. We have a tailored approach, working closely with you to look at your objectives and help organise your full trip, conference or one-off event.
4. Central Hall Westminster

Central Hall Westminster is Central London's largest Conference & Events Venue is located opposite Westminster Abbey and holds a 2,200-seat auditorium plus over 20 additional conference and events rooms. The historical backdrop and 100-year-old architecture fuses with cutting edge conference technology, free Wi-Fi access and award-winning team and international cuisine.
5. Cliveden House

Cliveden House is situated in a leafy setting just outside the city. It is known for its professionalism, extraordinary service and attention to detail. If you are looking for a venue with a perfect location for business meetings and conferences – look no further! Cliveden's guest book includes dukes, America's rich list, prime ministers and every British monarch since George I.
6. The Doyle Collection

The Doyle Collection offers a selection of impressive hotels with meeting and event spaces in central London with tremendous state-of-the-art décor. Whether you're organising a conference, a banquet, or a press event, try The Bloomsbury Hotel and check out its enviable Instagram images.
7. 2B UK

2B UK (DMC) always make their clients happy with fresh ideas and well-connected partnerships. They challenge the norm and provide innovative approaches without compromising on service excellence, seamless operations and provide excellent value for your money!
8. Edwardian Hotels

Edwardian Hotels London is a family owned British Company with 12 four and five-star Hotels with the BEST locations in Central London, Heathrow and Manchester. Over 150 unique meeting spaces, we can accommodate up to 1,000 people. World class facilities and amenities, innovative gastronomy complimentary Wi-Fi and great service!
9. ExCel London

ExCeL London offers an incredible 100,000sqm of flexible event space, including the UK's largest auditorium (up to 5,000 delegates), London's largest banqueting hall (3,000 guests) and a stunning, multi-function conference suite with fabulous reception and registration areas (2,500 delegates).
10. Historic Royal Palaces

Historic Royal Palaces is one of London's most famous landmarks. From the majestic Tower of London to the romantic Kensington Palace, from the flamboyant Hampton Court Palace to the intimate Kew Palace, make your event an unforgettable experience at these unique venues.
11. InterContinental - The O2

InterContinental London – The O2 is a luxury hotel and purpose-built conference centre, featuring one of UK's largest pillar-free ballrooms, which can accommodate more than 3,000 delegates. Guests are welcomed via a bright entrance to the Arora Ballroom, with a dramatic double-height pre-function area and floor-to-ceiling windows, providing panoramic views of the river Thames, Canary Wharf and beyond.
12. Kings Place Events

Kings Place Events offers spectacular views directly over the river and is located in the heart of London - just a few minutes' walk away from King's Cross and St Pancras Station, which makes it accessible for anyone. Ask to meet them on the stand for a quiet corner in the bustle of London.
13. Marriott London Complex

The Marriott London Complex brings together five luxury hotels and award-winning brands from the West End to the buzz of East London, uniquely positioned offering a distinctive experience to guests.
14. Park Plaza Hotels

The Park Plaza® brand features individual design, city centre locations and excellent meeting facilities, ideal for both corporate and leisure guests. The hotels' contemporary function spaces are flexible for conferences, exhibitions and private event use and are perfectly complemented by stylish guestrooms, vibrant restaurants and bars.
15. The Principal London

The Principal London is a Grade II* landmark hotel in the heart of London. The original hotel ballroom has been restored and can accommodate up to 450 people. Eight additional event spaces have natural daylight and have been designed and decorated to match the aesthetic you will find throughout The Principal London.
16. The QEII Centre

The QEII Centre is the largest dedicated conference, events and exhibition space in central London. The venue offers world-class facilities for events ranging from an intimate gathering for 20 to a reception for 1,200 guests, or anything in between opposite Westminster Abbey.
17. SPECTRA

Spectra enjoys an outstanding global reputation, providing financial stability and longevity. Our professional and innovative teams help you plan flawless programmes and their extensive knowledge of the wealth of venues available ensures the perfect location for every type of event.  We are proud of our history, ready for the future!
18. Sofitel London Heathrow

Sofitel London Heathrow is directly connected to Heathrow's Terminal 5 and is one of the largest luxury airports hotels, meetings and events venues in Europe. The meetings and events facility boasts 45 meeting rooms with the Arora Suite seating 1700 theatre style or 1000 in dinner dance.
19. Spencer House

Spencer House is London's finest surviving 18th-century private palace. It was built in 1756-66 for the first Earl Spencer, an ancestor of Diana, Princess of Wales. Each client has exclusive use of the House, whatever the size or scale of the occasion. The eight state rooms provide an elegant backdrop for a diverse range of events.
20. The Stafford London

The Stafford is located in the heart of St James's, Mayfair, and is an inspired and sophisticated choice of for your next group visiting London. The 107 individually-decorated rooms and suites, combined with 5 elegant event rooms are the perfect surrounding to create seamless and memorable experiences for your guests.
21. Virgin Atlantic
Virgin Atlantic offers flights to over 30 wonderful destinations, which makes it easy to get your delegates to London from any part of the world. Virgin Atlantic operate a total of 32 daily nonstop flights between North America and the UK.
About London Convention Bureau
London & Partners is the official convention bureau for London. As part of the Mayor of London's promotional company, our team can help you access the widest range of London event space, unusual conference venues, business hotels and event planning available in this top congress destination. http://conventionbureau.london/