Europe's biggest Chinatown rings in the Year of The Rabbit – how and where to celebrate Chinese New Year in London's West End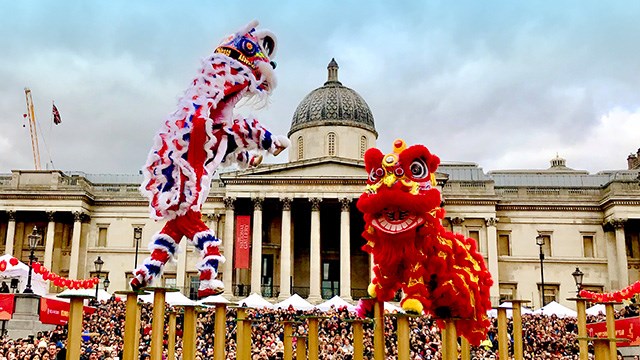 Visit London picks the top east and south-east Asian places to shop, dine and stay
The festival is back underway for the first time since the covid pandemic
Celebrations come at a perfect time as travel restrictions in China have been lifted
London, England 19 January 2023: Yet to make a start to your New Year's resolutions? Take another chance with Chinese New Year on January 22nd as we ring in the Year of the Rabbit at London's West End. Home to Europe's biggest Chinatown, join the millions of people across the globe who will be turning a new leaf filled with parades, live performances, dancing, music and as always, mouth-watering food.
Also referred to as the Lunar New Year or Spring Festival in some countries across east and south-east Asia, the West End will see thousands of Londoners and tourists gather for the biggest Chinese New Year celebrations outside of Asia.
Kicking off in Trafalgar Square at 10am, before snaking its way through Shaftesbury Avenue in Chinatown, watch more than 50 teams in colourful floats taking part in the vibrant parade. Enjoy the gathering of sailing lions and dragons, stage performances with Chinese dance and music, martial arts displays and an exciting line-up of artists from China.
Celebrations in London having been occurring for 50 years, and Chinatown has always been at the centre of the action. The festival is not only an exciting time for the Chinese community in London, but also those in China who look forward to celebrating it in the capital as travel restrictions in the country has been lifted. And while the spectacle makes an official bang on the 22nd, celebrations will run until Sunday 5 February with lots of exciting opportunities to ring in the Chinese New Year with east and south-east Asian places to shop, dine and stay.
Eat your heart out at…
Dumpling's Legend
No better way to kick start your Chinese New Year celebrations than with dumplings at Chinatown's most popular dim sum restaurant, Dumpling's Legend. Enjoy 47 variations of the much-loved dish that is so iconic to Cantonese culture, it's what a traditional Sunday Roast is to the UK.
BaoziInn
On a budget? Then look no further than the North Chinese inspired cuisine at Baozilnn. From Dan-Dan noodles and Baozi to mini burgers with a Chinese twist, delight in the restaurant's hearty and comforting meals that are guaranteed to keep you warm in this chilly January weather.
Plum Valley
For those who are feeling a little bougee, Plum Valley is the place for you – one of the best fine-dining restaurants in Chinatown. Transport yourself between the world of traditional Chinese culture to post-modernism with the restaurants jaw-dropping aesthetic and delightful dishes.
Bake
After spoiling yourself with delicious savoury dishes, it's time to treat your sweet tooth at Bake. Take a gastronomical tour of east and south-east Asia with treats that take inspiration from Malaysia, China, Japan and Korea. Make sure you get a taste of their superstar snack; a fish-shaped waffle cone served with a dollop of soft matcha tea ice cream.
Shop the night away at…
P2bus
If a new beauty regimen is part of your new year's resolution, then make your way to Newport Court where you'll find P2Bus ('proud to be us'). Feel inspired by their philosophy to empower customers through their lovingly curated selection of over 300 quality Asian skincare, make-up, hair and oral care brands.
Guanghwa Bookshop
Calling on all bookworms and culture enthusiasts, we have found your next creative space – Guanghwa Bookshop. Founded in 1971, the store is the perfect place for those looking for new inspiration. It has over 5000 tomes from novels, prose, herbal medicine and martial arts to history and philosophy. The chief editor of Cambridge History of China used to purchase reference books here!
Beijing Tong Ren Tang
Transport yourself to the 1600s with the Chinese medicine shop, Beijing Tong Ren Tang. Roughly translating to 'Hall of Benevolence', the business' expertise lies in ancient herbal medicine having been the exclusive medical supplier to the Royal Court family of the Qing dynasty for 188 years.
Bosideng
Feeling the January chill? Head on over to Bosideng – one of China's major fashion brands. Specialising in jackets and winter garments, the brand places innovation at the heart of its business. Every jacket passes through over 100 stages to ensure quality, materials and style are the highest level.
Rest, so you can do it all again at…
Mandarin Oriental
Sitting in the heart of West London is Mandarin Oriental hotel where you'll be able to rest your laurels after a long day of dining and shopping. Bask in the far-east feel of the place, unwind in the Asian spas, and if the restaurant recommendations weren't enough for you, enjoy the Japanese izakaya that is on offer.
Shangri-la
Get your head in the clouds at The Shard's Shangri-la. Perfect for those who want a quick escape from the West End without losing the feel of Asian hospitality. Contemporary in style but with plenty of Asian touches with its restaurant, TĪNG (deriving from the Chinese word for 'living room') offering a dynamic dining experience inspired by Asian cultures.
Dorsett Shepherds Bush
The Dorsett is another great place to stay for those who want to explore wider London without straying too far away from the Chinese New Year celebrations. From aesthetics that nod to 1930s Shanghai that come in Chinese and Contemporary styles, to a restaurant that specialises in authentic Chinese cuisine with Jin Bar and Shikumen.
Assembly London Hotel
On a budget? Don't you worry, Covent Garden's Assembly London Hotel is just a five-minute walk away from Chinatown. Located in the beating heart of central London, you might even be lucky to experience the Chinese New Year celebrations from your hotel room window!
Laura Citron, CEO at Visit London said: "London's Chinese New Year celebrations are some of the biggest and brightest outside of Asia. London is a truly global city and this year's events will see cultures come together from all over the world to celebrate the Year of The Rabbit. From some of the best Chinese restaurants, to our thriving Chinatown and Chinese community across the city, London has long standing cultural links with China. As travel restrictions for Chinese visitors continue to ease, we look forward to welcoming more Chinese visitors back to our city and hope that this year's Lunar New Year celebrations will provide them with a snippet of exciting things to come in London in 2023."
Notes to editors
For all available press images, please find the images here.