Europe's largest festival of technology to showcase very best of tech in London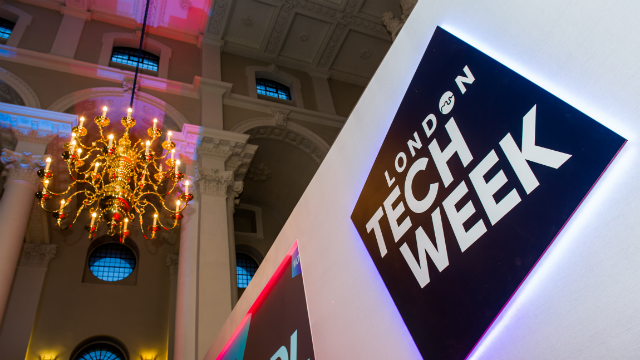 Europe's largest festival of technology to showcase very best of tech in London
The latest innovations in drones, artificial Intelligence, and robots will feature as part of a packed events programme for London Tech Week 2017, which will take place across the capital next month (12th-16th June).
Throughout the week, attendees of Europe's largest festival of tech will have the opportunity to attend a host of events including a concert with the award winning composer Hans Zimmer, the Drone Racing League (DRL) Season Finale and The Europas, which will welcome 1,000 European start-ups to the capital.
In anticipation of the festival, a short 50 second film has been created, spreading the message that London is Open to technology talent, investment and innovation from all over the world.
The film highlights that London is at the forefront of innovation, featuring scenes including a driverless 'POD', Londoners using VR headsets, Robots in the workplace and even The Mayor of London, Sadiq Khan, taking the first roboselfie of his Mayoralty. As London leads the way in the growth of smart cities, the film also illustrates how technology is already improving quality of urban life through smarter infrastructure and new approaches to health, fashion and transport.
The video is available to view here:
The Mayor of London Sadiq Khan commented "London is Europe's leading technology hub. Our talent, diversity, entrepreneurial spirit and global connections put us at the heart of digital technology. London Tech Week 2017 will be a fantastic opportunity to show that London is open to collaboration, innovation and ideas that could change the way that all Londoners live and experience the city."
London is home to over 46,000 technology businesses, contributing over 240,000 jobs for the city's economy1. Since the EU referendum, London-based tech companies have received over £1billion in venture capital investment2. Some of the world's largest global tech companies have also pledged long term investment into London. In 2016, Apple announced a new £9bn project to open a London HQ in Battersea, Google announced a £1bn investment for a new London headquarters and in 2017, Snap Inc. also announced it will open an international hub in the capital
Zoe Osmond, Festival Director for London Tech Week said: "Investors and business leaders are always attracted to London because it's home to some of the best visionary entrepreneurs and innovators in the world. But with other global cities increasingly looking to compete with London, it is important that we continue to shine a spotlight on London's global tech offering. With a wide range of events to appeal to different audiences, London Tech Week will bring together investors, entrepreneurs, policy makers and business leaders to experience London's strengths in innovation and creativity."
Throughout London Tech Week, over 40,000 visitors will be able to hear from tech, business and political leaders including the Rt. Hon Gordon Brown, Former Prime Minister of the United Kingdom, Sir Martin Sorrell, CEO WPP and Nicola Mendelsohn, VP EMEA at Facebook - to name a few.
Some events to look out for during London Tech Week include:
Festival Concert with Hans Zimmer: Hans Zimmer, world-renowned film composer, will play this exclusive London tour date during London Tech Week at SSE Wembley Arena. Academy Award-winner Hans has produced a number of classics, including the Pirates of the Caribbean, The Lion King, Gladiator, Inception and The Dark Knight. Buy tickets here.


Drone Racing League Season Finale: The Allianz 2017 World Championship Race will be the UK's first professional drone race and will take place at the iconic Alexandra Palace. The race will feature 8 of the top drone pilots from around the globe competing for the title of "World's Greatest" on a one-of-a-kind course throughout the entire building. Buy tickets here.


Rise of the Robots, organised by Worldpay: Daren Pickering from Worldpay's Technology Innovation team will talk about the impact robots are having on fintech and commerce and how AI is shaping our future. Read more here.


New Frontiers: The Technology Driving Extreme Exploration: Meet the mavericks of innovation who are inventing the technology that enables us to venture into unknown environments – from underwater to space. The event will feature the first-ever VR live-stream from the Aquarius Habitat, 10 fathoms below the ocean's surface, where training takes place for the NASA Extreme Environment Mission Operations.
The Tech Off: Soundclash 2017!: London Tech Week double teams with The Tech Off® to bring you The Tech Off: Soundclash 2017! A rogue's gallery of 8 music-tech artists, entrepreneurs and innovators will go head to head in a battle of ideas. Each speaker gets 5 minutes to impress you, and the winner will take away The Soundclash Belt Of Music Tech Glory – a custom made wrestling belt – and an invite to return in 2018 to defend the title. Read more here.


TechXLR8 - A festival of connected innovation: TechXLR8 showcases eight technology events, including the likes of 5G World, VR & AR World and AI & Machine Learning World. Speakers will include Hossein Moiin, CTO of Nokia, Brendan O'Reilly, CTO of O2, and Dave Coplin, Chief Envisioning Officer of Microsoft UK. Across the week TechXLR8 will allow visitors to interact with autonomous vehicles, robots and the latest VR and AR technologies. The event will also feature a headline speaker stage. Read more here.


LeadersIn Tech Summit: Some of the biggest names in European tech will descend on London this summer. The LeadersIn Tech Summit will see the likes of Ronan Harris (MD Google UK & Ireland), Sir Martin Sorrell (CEO WPP), Kristo Kaarman (CEO TransferWise), and Nicholas Cary (Co-Founder Blockchain.com), discuss the opportunities and challenges facing London's tech ecosystem. Read more here.


Can you code like a 3 year old? Organised by EdTech company Primo Toys, this event will test your tech skills in an afternoon of fun programming challenges with Cubetto, the coding toy from Primo Toys. Cubetto is the friendly wooden robot that teaches computational thinking to girls and boys aged 3 and up. Read more here.


Tesco T Jam: At this one-off speed networking event for start-ups, everyone will get five minutes to pitch before moving on to the next table and doing it all over again. If you're looking to explore how you might want to collaborate with Tesco, this is the event for you. Read more here.

The Europas in association with London Tech Week: 1,000 of Europe's key movers and shakers in tech be attending the conference and awards ceremony. The Europas are the top awards for Europe's hottest tech start-ups. While it concentrates on the newest companies on the scene, it also brings together the mid and late stage technology start-ups, as well as leading investors and media. Read more here.
London & Partners Media & PR Team
Tel: +44 (0)20 7234 5710
Switch: +44 (0)20 7234 5800
press@londonandpartners.com
Twitter: @London_PR
Notes to editors
References
1 Oxford Economics research. October 2016.
2 PitchBook Data. Sourced by London & Partners. March 2016
Video
The Smart London is Open video can be viewed here
Images
Accompanying imagery featuring a series of Robots standing outside iconic London doors can be viewed here
Image descriptions
Cutting-edge robot 'Sanbot' visits The Bank of England
'Sanbot' robot poses in front of Big Ben
Humanoid robot 'Nao' bot heads to Fabric nightclub
'Nao' bot heads through Harrods' iconic doors
Imperial College London's 'Robot De Niro'
'Nao' bot poses for a photo at the doors of The Ivy restaurant
'Sanbot' visits one of London's most famous doors – the blue door from Notting Hill
Locations featured in the London is Open film

Computer controlled driverless 'PODs' at Heathrow terminal 5, South Kensington tube station, Harrods, the Visa Innovation Centre, Founders Factory, Future Cities Catapult, Ticketmaster, Here East, Blain Southern Gallery, The Francis Crick Institute, The Science Museum, London Centre for Nanotechnology (UCL and Imperial College London), The Ned, Unruly, Kano, Shazam, Unmade, Abbey Road Studios, Blippar, Doordeck.
About London Tech Week
London Tech Week is a festival of events, taking place across the city and representing the entire technology ecosystem. No other festival of live events brings together as many domestic and international tech specialists and enthusiasts to London for such a variety of networking, social, learning and business opportunities. Since its launch in 2014 London Tech Week has included more than 700 events and has welcomed delegations from around the world. London Tech Week 2017 will be organised by founding partners, KNect365, London & Partners and Tech London Advocates, with support from strategic partners Tech City UK, ExCeL London, DIT and techUK.
More information on can be found https://londontechweek.com/
About London & Partners
London & Partners is the Mayor of London's official promotional agency. Its purpose is to support the Mayor's priorities by promoting London internationally, as the best city in the world in which to invest, work, study and visit. We do this by devising creative ways to promote London and to amplify the Mayor's messages, priorities and campaigns to international audiences. Its mission is to tell London's story brilliantly to an international audience.
London & Partners is a not-for-profit public private partnership, funded by the Mayor of London and our network of commercial partners. For more information, visit www.londonandpartners.com  
About Informa
Informa's Knowledge & Networking Division, which operates as KNect365, is the world's leading facilitator of knowledge sharing and business connections. The KNect365 portfolio connects communities around our leading brands, through year-round provision of high quality digital and face to face content, networking and professional development and learning opportunities.
About London is Open
#LondonIsOpen shows the world that London remains entrepreneurial, international, and full of creativity and possibility, while reassuring the more than one million foreign nationals who live in London that they will always be welcome, and that any form of discrimination will not be tolerated. The Mayor is urging all Londoners, organisations and businesses to show their support for the #LondonIsOpen message via social media, through other creative ways. The starting idea for the campaign is built around London opening its doors to welcome people in, and will encourage people to use this as a platform for their own contributions. A film of famous locations opening their doors is available here: https://youtu.be/ErLq9nir41E.
Key venues featured in the film:
About Ticketmaster
Ticketmaster is the world's leading ticket agent; www.ticketmaster.co.uk attracts 7.8M monthly visits alone and is one of the top five eCommerce sites. Ticketmaster has invested 100 million dollars in core technology, and in 2016 sold over 480 million tickets.  But what really sets Ticketmaster apart from the rest is Ticketmaster's people - with 970 dedicated, passionate and experienced staff at the top of their game working in the UK across London, Manchester and Glasgow.
About Science Museum Exhibitions
'Robots' 8th February – 3rd September 2017
This major new exhibition at the Science Museum explores humanity's 500- year quest to reimagine ourselves – not through paintings or sculpture – but as machines. This intriguing exhibition features a unique collection of over 100 robots, from a 16th-century mechanical monk to robots from modern-day research labs. We'll also be running late openings of 'Robots' every Friday until 10.00pm.
About Heathrow
Heathrow uses automated, zero emission PODs to transport passengers between our business car park and Terminal 5. The Heathrow PODs were the first personal rapid transport system in the world to be used at an airport. The PODs are capable of carrying half a million passengers every year, eliminating 70,000 passenger bus journeys.  The PODs save the equivalent of 100,000 tonnes of CO2, supporting our environmental objectives as laid out in our plan for sustainable growth, Heathrow 2.0. Heathrow is playing a key part in the very first public trials of driverless shuttles, which have been adapted for public use on the streets of Greenwich.